What is GitHub Campus Experts?
GitHub Campus Experts is a GitHub Education initiative focused on providing leadership and community skills to student leaders on their campuses. A GCE (GitHub Campus Expert) is a student with the ability to improve the technical skills of its community.
📌Note: A GitHub Campus Expert is not a Git or GitHub expert or GitHub ambassador, that's a common misconception.
Responsibilities
Our responsibility as GitHub Campus Experts is to build a strong technical community on our campuses. This can be achieved by running events, hackathons, meetings, workshops, study groups, or any other events where the students can improve their technical skills.
Benefits
GitHub is always providing tools and content that can help us build a better community and become better leaders, that's why we constantly have webinars and trainings to improve our technical and soft skills, led by people from the industry but also by Campus Experts (yes, we also share the knowledge amongst us). Another important part of the GCE journey is the events, where GitHub supports us with swag and budget, the devs are always motivated with cool swag and delicious food 😅 . We also learn about how to run good events by attending even bigger ones, for instance, we have the opportunity to attend the GitHub's global events such are GitHub Satellite and GitHub Universe.
How to become a GCE
Now, I want to tell you a bit about my process of becoming a GCE and my experience through it ✨.
Requirements
To become a GCE you need to fulfill three requirements:
To be studying at the university (I'm currently studying Software Engineering at Universidad de Antioquia).
To be passionate about community building and technology (I'll tell you later about my campus community).
To be at least 1 year away from your graduation.
Application
The first step is the online application. If you have the 3 requirements, you can fill the online application on GitHub's Education website. in this stage, you will be asked about some basic info related to your community and your motivation to be a GCE.
Online training
The second stage is the online training, on your email, you will receive an invitation to join a GitHub repository where you will find up to 7 different training modules focused mostly on soft skills and questions about your community, after completing the training someone from the GitHub Staff will check your solutions and give advice if you have something to improve, this process normally takes from 2-3 revision before your training is ready to be merged. In my case, those rounds of review took around two weeks each, and the whole training process around 3 months (Right now, they are taking around 6 months).
📌Note: Take into account that a few months can pass between the application and the online training, due to the high number of applications it can take a while, so, be patient if you don't receive a quick answer.
Videochat
The third and last stage is a zoom video call with the GCE program manager, this call is for you two to meet and to get to know more about you and your community. It's not an interview, so don't be nervous about tricky questions about Git 😅.
And that's it, you are now ready to be a GitHub Campus Expert 🥳
---
Now, I want to tell you more about my campus community and my experience being part of the program
My campus community: Codex
Three years ago, after participating in some local tech communities in the city and experiencing the impact it had in our careers, a friend and I decided to bring those kinds of spaces to our university, where students can share what they know, and improve both their tech skills and soft skills. At the beginning of this journey, the biggest challenge was to motivate the students to participate as speakers (sometimes we have the false belief that we need to be experts in something to talk about it). My friend and I ended up being the speakers for almost all of the meetings during the first year 🤓. Later we obtained support from local companies, and really talented people from the industry came to share their knowledge and to inspire the students. Now, 3 years later, about 1 in every 5 software engineering students in the university is a part of this group.
"Thanks to Codex I have known the wide experience of people from their personal and professional point of view, also some techniques that have helped me in programming, as well as different languages, workshops, exercises, challenges that make me love the infinite possibilities of the systems. Thanks Codex."
Danny "Pacho" Hernandez
"I like Codex because it's a space where you can learn and share with your friends about everything about technology💻 , soft skills💬, Interviews👨🏻‍💻, and more. In codex we can communicate freely in a friendly environment☕. For me, the best part about it is everyone tries to improve their skills using what we learn during the meeting, and if you want to be a speaker the organizing team is always there to give you a hand! 🆘, to sum it up Codex is great!
PST: The food is also great"
Santiago Sanchez
My GCE journey
I became a 🚩GitHub Campus Expert on march of 2019, and it has definitely been my best experience as a student. I've met a lot of smart and talented students from all continents, cultures, and tech backgrounds. Seeing what they do inspires me every day to keep moving forward on the tech community 💪.
Carlo is really good doing visual thinking, and summarizing tech events and conferences with drawings 🎨. His passion, has become a life project (with a really nice story behind it) called Visual Partnership. Juanpa runs an annual huge hackathon (~500 people) at his university 🧑‍💻. Fer rocks in all hackathons where she participates with her team "Bravers" 🏆, she also won the "Premio Estatal de la Juventud" (State youth award) in her city for the "academy and technology" category. Those are only a few examples from the amazing people from the GCE community. In total, we are ~200 around the globe, each one with an amazing story and different talents.
During this time, I've run and supported different activities on my community, most of them focused on Women in Tech 👩🏻‍💻 with Pioneras Developers, Vue Vixens and She Codex Angular.
At my university, besides our regular meetings, we also have had workshops, we've learned about open source and how to contribute, online activities during quarantine, and of course... about git and GitHub.
We can also support each others events, like Rodrigo, who came from 🇲🇽Mexico to give a talk at Campus Party Colombia last year.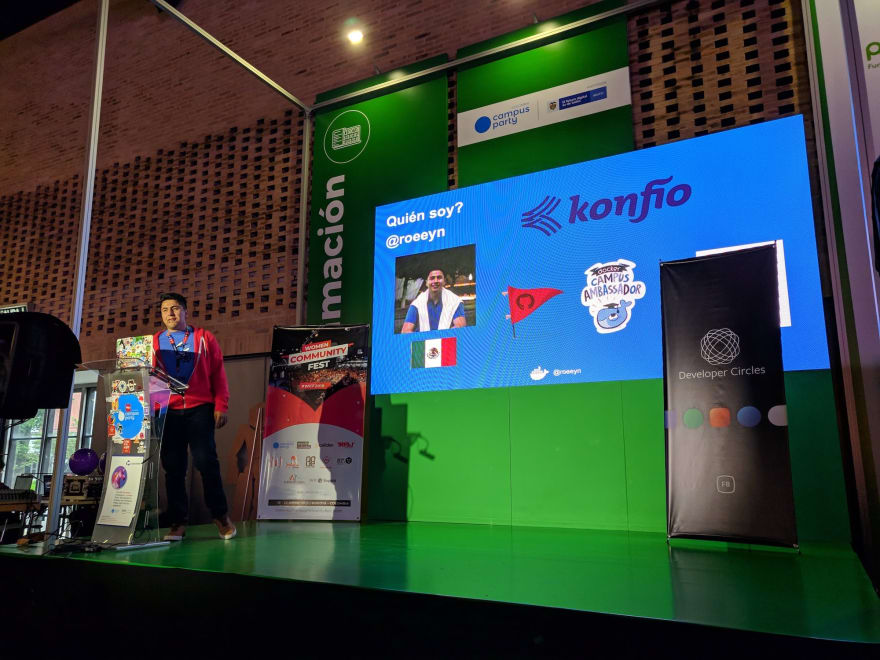 I've also had the opportunity to participate in two GitHub's conferences, the first one, was GitHub Satellite, in Berlin, where I got to meet other campus experts for the first time. The day before the conference, we had a meetup where we shared different talks and had time to just hang out.
The second one was GitHub Universe, in San Francisco, where we attended the conference but we also had the chance to share some time on outings at night, after the event.
The day before the conference, we had the 'Diversity and inclusion' panel. There, I met the 'Octogatos' (Latinxs employes at GitHub), they invited me to the GitHub office, and we talked about Latinxs in the tech community.
The day after the conference, we had the 'GitHub's Education Day' at the GitHub office, where we shared talks and shared time with some people from the GitHub Education Staff.
After this amazing experience I returned to my country, inspired and with new ideas, like running a conference about Git, which next year will be a reality.
This year, due to the pandemic situation GitHub Satellite was virtual, and we had an online watching party, where we watched the event together, and also had the opportunity to talk with some speakers and people from the GitHub Staff who joined the video call.
Thanks to the GCE program, I also had the opportunity to attend Grace Hopper Conference, in Orlando - Florida, the biggest gathering of Women In Tech around the globe (~20000 people), during 3 days we attend talks, ranging from career development to quantum computing, events, dinners, and parties hosted by the event sponsors, and met a lot of female inspiring leaders from all the world 🌎.
At this time, I'm the only GCE in 🇨🇴Colombia, and one of my goals is to empower more young leaders. I hope this motivates you and I invite you to build a community, in and out of your campus.
Hit me up if you have any questions about the program, or if I can help you build your community. ✨