These last couple days I've also been really unmotivated. My brain has been going every which way and I haven't been able to focus on anything for too long unless I see an immediate payoff.
Then I came across this tweet: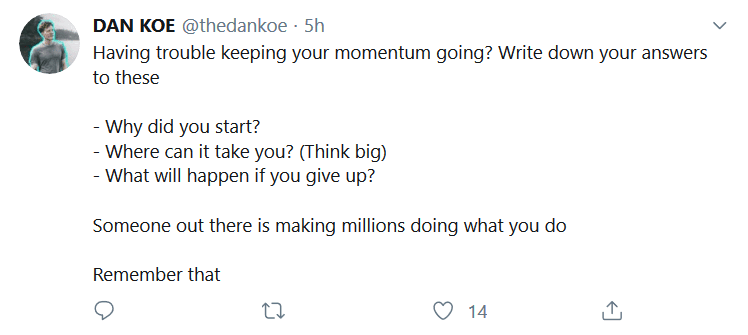 The answers can change but this really got me thinking about how far you can go if you put your mind to it and kind of gives more direction when you start thinking about the larger goals. I think about this all the time but I think I need to make a giant glowing sign with it on to see every morning.
Sometimes just thinking about goals doesn't help. Sometimes thinking about the future can be overwhelming. Just as looking up motivational quotes and looking at the Instagrams and videos of people who inspire you can have the opposite effect.
Here is how I've gotten back on track in the past:
List everything I need to do the rest of Dec, Jan/Feb, end of 2020, and goals for 2025 (I'm going to be honest there's a 99% chance the 2025 ones will change but just to get myself thinking of where I could go).
Make a plan. Put together a plan of what workouts to do what days, what lessons/ tasks to get done with and how many quality job applications to do each day. This helps with creating actionable and reasonable goals.
Put app timers back on and cut some back. My phone has app timers included and I have them set for a reasonable amount of time.
Get back to the gym. I've found when I'm physically in good shape my mind is a lot more with it and I think I'm finally over my cold.
Morning study sessions. It's so hard for me to pay attention to things after work. I honestly have no clue why. I tell myself I'll do something and hours later I still haven't done that one thing. So morning sessions help with that
Even going through the motions to try to get back on track sometimes helps. I think taking some time to plan out your upcoming days and get excited about life and changes will help a ton. 
How do you get your motivation back?
View full article here: https://jkimexploring.wordpress.com/2019/12/19/how-i-plan-to-get-my-motivation-back