A feature in Google Chrome helps you keep your personal information safe by hiding notifications in screen sharing mode.
Video conferencing has become commonplace in times of pandemic. Either for work, study or simply because we want to show something to someone while we share our screen.
Sometimes notifications that have nothing to do with the issue end up leaking. This could be avoided by disabling this feature, but it is not always so straightforward. The developers of Google Chrome have thought of a solution so that we do not reveal sensitive data.
A new feature in Chrome will allow you to hide the content of notifications when you are sharing the screen. Once you stop sharing it, all notifications will automatically show up. This can be very useful to maintain privacy without losing pop-ups.
As reported on the Google blog, this feature includes notifications from Google Chat, email notifications, and other third-party websites.
So ... how are notifications muted? You can prevent the content of alerts from being displayed by selecting the " mute " option. You can also configure the browser to not show any notifications until you finish sharing the screen.
Google also indicated that this function responds to the new ways of working in which many users use different applications to communicate: "We hope that this function reduces distractions and prevents confidential or personal information from being accidentally displayed while sharing the screen."
This Chrome feature will be rolled out gradually within the next few days and will be available for the following products: Google Workspace Essentials, Business Starter, Business Standard, Business Plus, Enterprise Essentials, Enterprise Standard, and Enterprise Plus, as well as G Suite customers Basic, Business, Education, Enterprise for Education, and non-profit organizations. It can also be used by users with personal Google accounts.
Google wants to protect your passwords in Chrome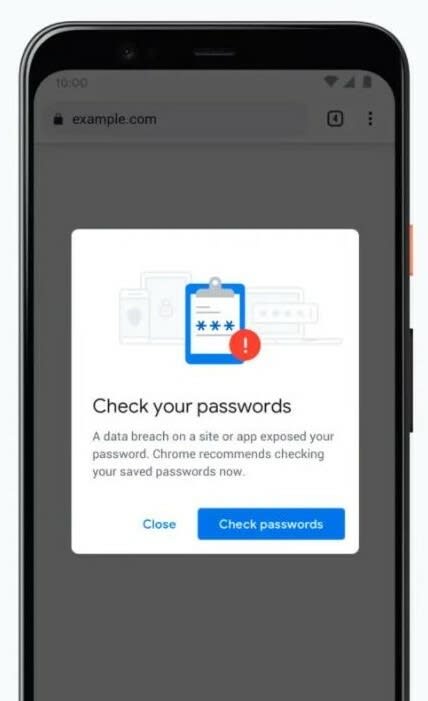 Google Chrome will enable a feature to help you strengthen the security of your passwords stored in the browser.
If it detects that a password is weak or has been compromised, it will notify you so that you can take the most appropriate measure.
For example, its modification. This feature will be available for the desktop and iOS versions in the coming days.
NB: If you want to know more about Google Chrome or any other browser you can go to this link.