Hi! My name is Lauren 👩🏼‍💻, I sometimes go by @LoLoCoding, my pronouns are she/her, and I'm so excited to know you.
I realized today that I started my podcast, We Belong Here: Lessons from Unconventional Paths to Tech exactly two years ago!
As a bootcamp grad and career changer myself, I remember craving community and wanting to know that I was not alone in my journey to tech.
I was curious to learn how other people framed their untraditional routes to tech as an asset to recruiters, their future employers, and colleagues.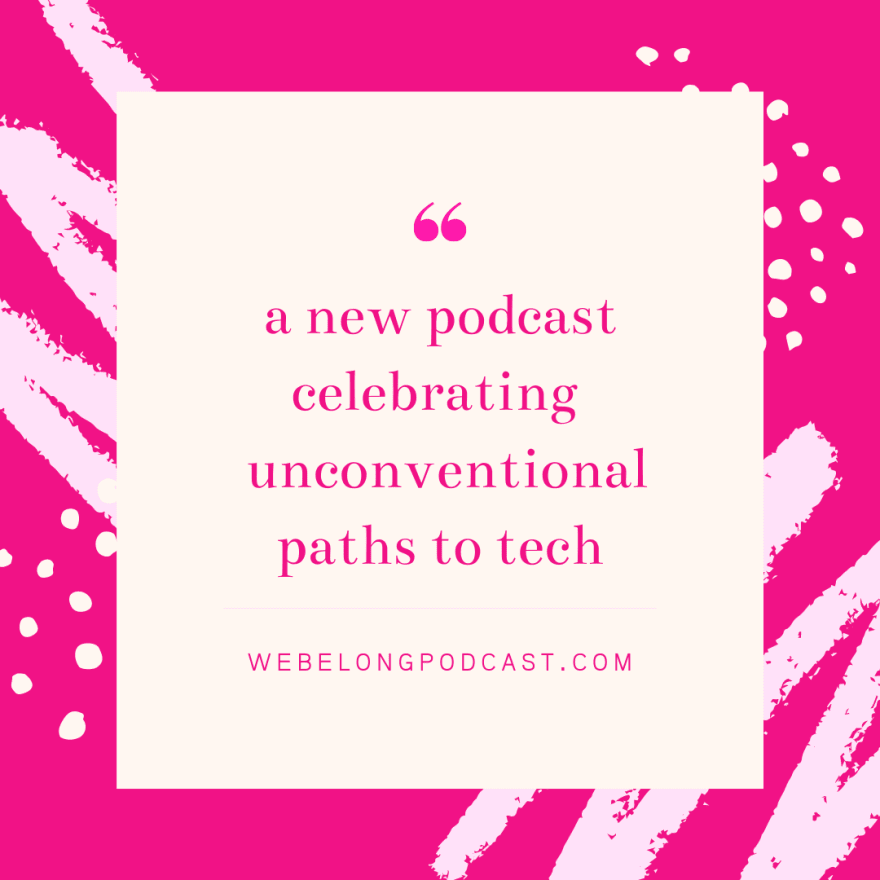 What transferable skills did the ballerina/barista/lawyer/scientist/teacher turned coder bring to the table and how did they differentiate themselves from CS grads?
My curiosity led to me asking a similar set of questions to my bootcamp classmates about their experiences in the industry. Slowly, I expanded beyond that network and began to record those conversations.
These are the questions I asked my guests:
Can you tell me more about the experiences you had before you entered the tech industry? Take me back in time and tell me what you studied in school or your early life passions.

How did you decide to learn to code and how exactly did you learn it?

What kept you from entering the tech industry before you did?

How has your past as an xyz helped you today in your role as a developer?

Or rather, do you ever find yourself using the skills you learned from those experiences today?

How do you spin your past and present it as an asset?

Can you tell me about a time you felt like an outsider and how you have dealt with that feeling?

Can you share any life lessons you've learned from your transition to tech?

Do you have any advice for those wanting to transition into tech that you can share?
All in an effort to create a community for career changers and those diversifying the tech industry.
So, in celebration of International Women's Day, the two-year anniversary of the #WeBelongHere podcast, and the #SheCoded movement, I thought I'd look back and share the lessons I've learned from those conversations and this incredible community:
There is so much to learn in tech that it is easy to become overwhelmed by it all. Try to learn one thing a day. Even if it's incredibly small.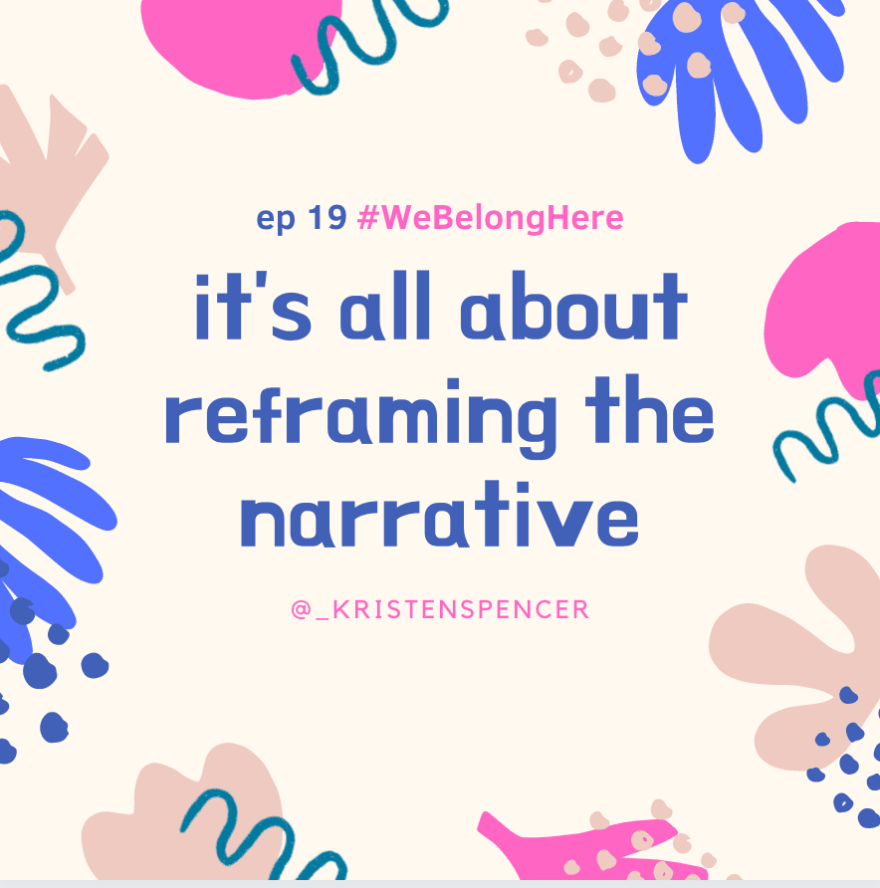 Be kind and give yourself the freedom to take days off from that learning goal though.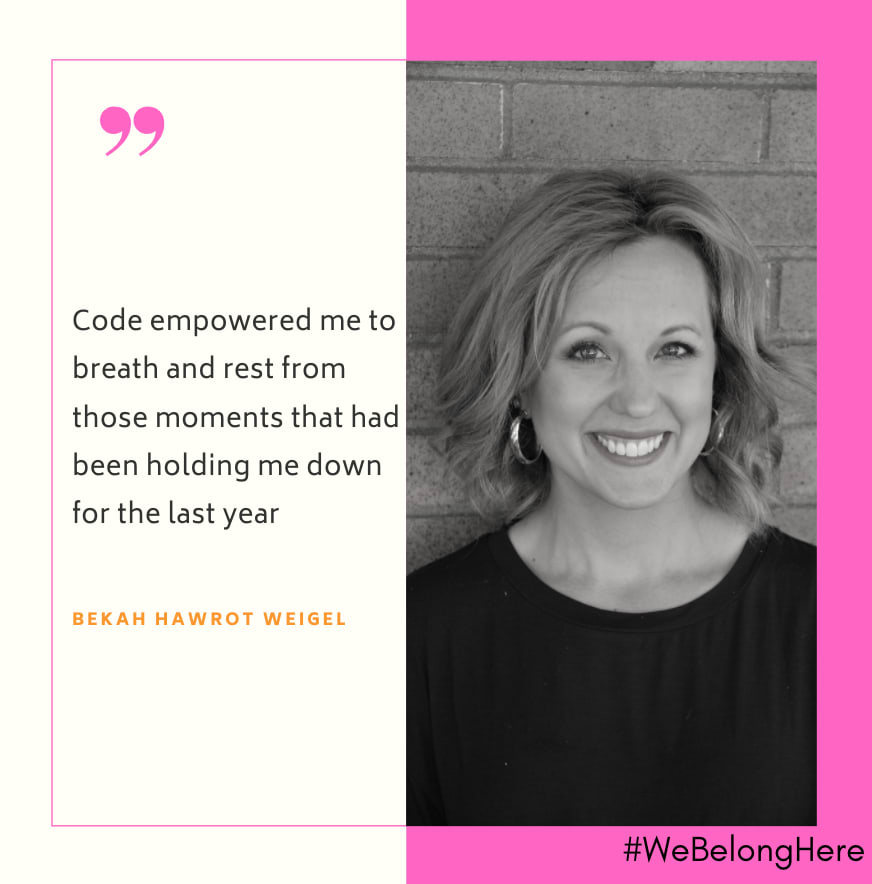 Keep a journal/log of what you're learning.
When you're battling with a particularly tough bug in your code and/or facing feelings of imposter syndrome and self-doubt, you'll have a tangible reminder of all the things you've achieved along the way.
Speaking of imposter syndrome, let me just say this now, we ALL face it.
You'll hear tons of people giving advice on how to combat, avoid, or overcome it. But frankly, I've learned to just own it. As in, to embrace it. To name it and move on throughout my day.
When those familiar feelings inevitably creep up and whisper the reminders that, I don't belong or I'm not smart enough, I've decided to simply acknowledge the emotion, welcome her to the party, and get to work. I don't let it overpower me - instead I allow myself to hold two truths at the same time:
I may be nervous or intimidated
But I am also capable and prepared
Speaking of feeling nervous or out of my comfort zone, I've learned to stop hiding from them and that there is joy to found when sharing those emotions with others.
In 2020, I dove headfirst into Twitch and live streaming. I started a series called, Lauren Learns Things where I quite literally, tried to learn new things live each episode.
A bunch of STRANGERS watching me debug or try to understand a new language?? Talk about a vulnerable-making experience.
At first, it felt terrifying.
I was going to admit that I hadn't ever written in PHP to everyone and try to build something alongside an expert? What was I thinking? Everyone would discover that I don't know anything!
But instead. I discovered the power of celebrating what I don't know. How incredibly fun it can be to say, "Yeah I don't know what's going on right now in the code, but let's figure it out together! That sounds fun, doesn't it?!"
I learned how relationships can grow from that sort of honesty.
When we model and share our vulnerabilities, authentic relationships can flourish from that honesty.
I've learned to stop struggling alone. And that community is, frankly, everything.
If you're learning to code, it's more enjoyable to do it collaboratively! Twitter can be great for that, but there are also a ton of online meetup groups such as Women Who Code that offer a sense of togetherness.
I've decided to only surround myself with people who embrace my authentic self and remind myself daily that the journey of learning is a part of the fun.
I've learned to speak up when confused. And to not suffer silently.
I've embraced being a forever-student
Sure, it is ego-boosting and sometimes fun to be an expert, but it's more rewarding to always be challenging myself to learn new things.
It's easy to get overwhelmed by all the things you don't know, but if you spin it to see it all as just new and exciting opportunities to learn, I think it becomes less daunting.
I've learned that growth comes from being uncomfortable. From pushing ourselves and our community to step outside of our safe spaces and learning from one another and from our mistakes.
There is room for all of us at the top. Collaboration over competition. Let's lift one another up and create space and opportunity for each other.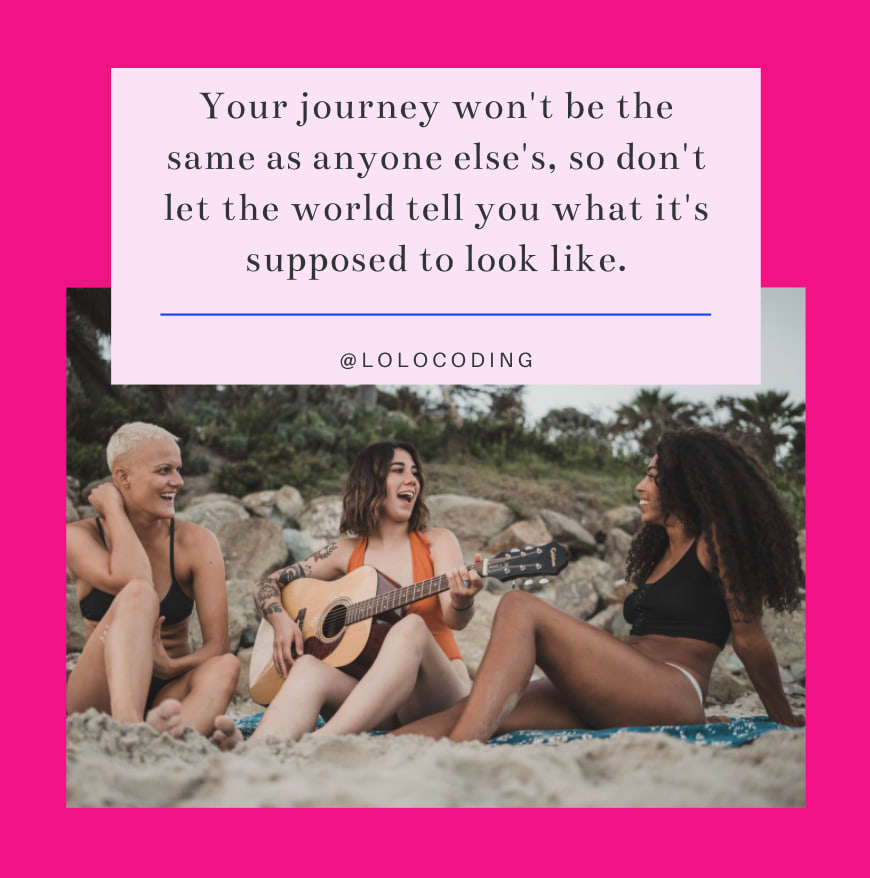 Ultimately, I'm so grateful for the podcast and the community we've created as it has grown into a space where we can connect, share resources, mentor, be vulnerable, know that we're never alone, and build community.
Be sure to subscribe wherever you find your podcasts to never miss a future episode✨
And come join the We Belong Here Discord and be a part of the community!
Thanks for reading! And for being my internet friend 💖 Happy #IWD2021 everyone 😊
📬If you want to be a guest on the pod, or know a career changer I should interview, be sure to NOMINATE them!
--
✨ Lauren Lee
@LoLoCoding