Almost every developer forum that I visit these days is talking about the stackoverflow developer surveys. But I choose to ignore it. Why? There are many reasons for that.
So let's address few of them.
Reality is different than Wishful Thinking
You can take a look at the bad advice given on sites like stackoverflow, quora, hashnode and even on dev.to. You will find preaching such as shown in image below.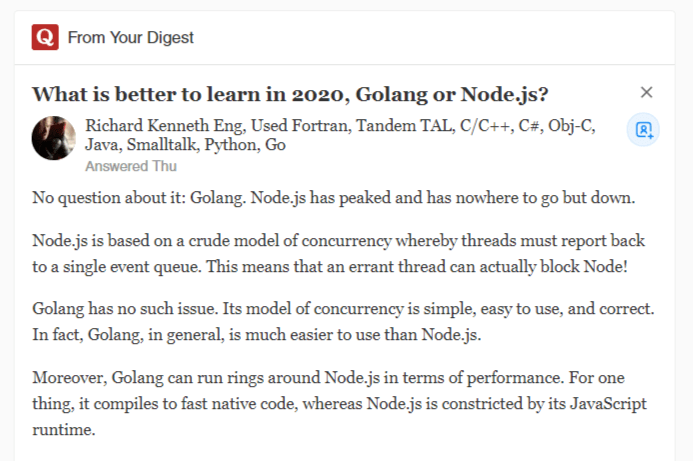 Noticed how this person who answered didn't mentioned a single framework of golang which is like React, Angular etc to save customers time and money. Yet this person thinks in 6 months Node will be dead and Go lang is the future.
Replace this Node hate with Anti C++ commentary in order to praise Rust.
Lot of developers spite hate against PHP. Call Python dead over Ruby (because they learned it instead of python). Call Node dead over Go lang.
Why give such bad advice to newbies in programming field?
Do try to understand the fact that clients and the big companies don't want to pay for wishful thinking. They look at the frameworks and the right tools to get job done and they use it. That's why your favorite Ruby, Rust, Golang is yet to be so common in industry, and spitting hate against PHP, Python and Node is not going to make them love Rust, Ruby and Golang.
If you happen to spend time in some developer forums and chat these days, it's usually a session of brainwashing of some sort. Especially when the people at top like John skeet, Jeff etc on Stackoverflow have some brainwashing to do on you. Look I come to your site for getting answers to my questions, not learn about socialism revolution of new age.
Lot of wrong things are being portrayed through such surveys and taken as potential industry standard. So here's the everything in short.
SO surveys don't define industry.
SO surveys does not mean X language should be dead.
SO surveys shows opinion of people who stay there ruminating the same old opinion echo chamber.
Opinion of popular SO member does not mean I have to accept it as industry standard.
Feel free to disagree with me. I just wanted to vent out. Lot of wrong career advice is being given by fanboys of the language while keeping the reality out. I hope this changes in future.