Hey there 👋, we are excited to introduce FontUltimate, a font icon library of beautiful vector icons which are scalable, easy to use & extremely fast to load. It's ready to use and free for any personal & commercial project.
♦ Features
✿ Explore the library, choose an icon, copy-paste the code inside your Web-App and It's done.

<i class="fu-solid fu-hippo" aria-hidden="true"></i>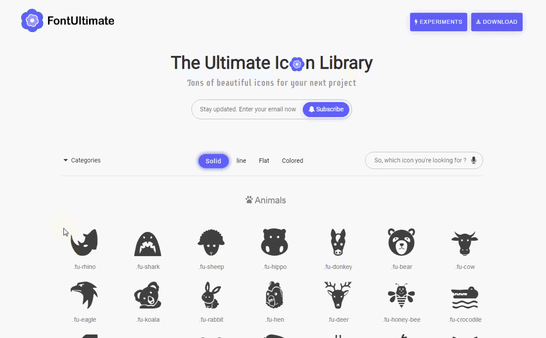 ---
✿ You can choose icons from different categories.
---
✿ You can also search for the icons, it's really simple.
---
✿ It's fast and ready to use, made specifically for developers & designers.
---
We are launching soon on Product Hunt. So if you would like to get an early access of FontUltimate and be the part of this project, please do Subscribe by clicking here. It's completely free to subscribe.
♦ Subscriber Benefits ( What subscribers will get? )
✿ Will get the early access to the full library for free.
✿ Can use it in any number of personal & commercial projects.
✿ Can give feedback.
✿ Will get an access to FontUltimate's private #Slack channel.
✿ Will get notified about the new releases before any other user (non-subscriber).
You will ♥ using it as much as we ♥ making it.
Looking forward to see you. Please do Subscribe .
Yours Sincerely,
Maroof Khan