Have you ever numbered how many tools and services you use, as a freelancer or online entrepreneur? I use almost 10 different web tools, from which 5-6 I use daily.
I use a WordPress theme, an invoicing software, the recently launched tool for real-time collaboration for remote teams, a time-tracking solution, a font finder, and the form builder.
All of you will find something useful or interesting in this showcase, but web designers will get the most out of this article. I included super WordPress plugins and themes, shop templates, invoicing software, a font finder, the best time-tracking software, and much more.
The web tools and services are picked randomly, from what I use, from I know, or just Googled.
Start
From an outsider perspective, a designer's job may seem as easy as pie. Little do they know about the complex analytical processes, countless brainstorming sessions and numerous tests running behind the development of a good design. This lack of understanding often becomes an issue for self-employed designers and creative teams alike. They always have to explain why the work on the project took as much as it did and why clients have to pay the price as it stands.
actiTIME is a great helper in this regard. This intelligent and user-friendly timesheet tool can be applied not only to track billing time and hours spent on different tasks but also to create a detailed work breakdown with the scope management feature.
In actiTIME, you can develop projects and add as many tasks as you wish to them. Then, you may track time for each of these tasks separately for greater process transparency. Besides, you can leave comments for every time tracking entry in the timesheet to clarify what you've accomplished during the day. In this way, you'll get a thorough overview of your progress and all the little components involved in the work on projects, which will explicitly justify both the timelines and the price of your service.
In addition to the above, actiTIME reduces the risk of errors in the process of data collection and streamlines many essential management processes – from billing and invoicing to leave request approval. Thus, it allows managers to get extra time for working on important matters as they won't have to spend hours on solving trivial administrative problems and correcting mistakes. Sign up for a free actiTIME trial and bring your productivity to the next level.
WhatFontIs – Best font finder
Looking to identify fonts from pictures and from the web for free? WhaFontIs will help you do that right away, in just 40 seconds from pictures and instantly from the web via a Chrome Extension (get it from here.
It is the only system that identifies both free and paid fonts, that works with all font foundries, including Google fonts, and which is having a huge database (over 600k indexed fonts).
The font identification process is very simple and you always get over 60 free and paid font alternatives.
Use WhatFontIs whenever you want to identify fonts for free, from pictures or from the web.
What everybody loves at Total? It is a super simple question to answer.
Total is loaded with:
4 premium plugins: Visual Page Builder, Templatera, Slider Revolution, and LayerSlider.
40+ demos that look awesome. With 1-click, your website will look exactly as the demo.
500+ styling options.
80+ builder modules.
Friendly and fast interface.
Designs for all kind of websites: business, one-page, portfolio, personal, creative, shop, blog, photography, and others.
With Total, you pay $59 and you don't need to make any additional purchase. You will have everything you need to create a gorgeous website.
Have you noticed the huge differences between online stores? And not only in design, but also how fast they load, how you navigate, and pay for a product? Some stores are awesome, while others are terrible.
If you a custom BigCommerce, Shopify, Shopify Plus or WooCommerce store that load fast, which is optimized for sales, and which in the end will help you develop your business, you should discuss with Xfive.
They are a unique agency because:
At Xfive, only mid and senior developers work.
Developers are always taking courses, to learn new skills or to improve the existing ones.
They have experience in working with international customers.
The process is transparent and they adapt to your particular needs.
Discuss with Xfive your project details to receive a quote.
On Codester you will find tens of thousands of PHP scripts, app templates, themes, and plugins, but also free stuff.
Browse it and pick everything you need for your projects.
UPQODE - eCommerce Website Development Agency
UPQODE is an award-winning, custom eCommerce web development agency that builds user-friendly online stores.
Is was rated as the 2nd best web design agency in 2019 by TechReviews and it has worked with over 400 satisfied clients.
The company offers its customers digital marketing solutions such as conversion optimization and SEO services in order to increase their customers' ROI. Moreover, they also offer services like Google Ads setup and social media ads.
If you have a Magento store and you want to bring it to the next level, to outperform your competition, and get more sales, then take a look at Swissuplabs. They will help you with 41 Magento 2 extensions and 46 Magento 1 modules that will quickly supercharge your store.
Find out more.
Creative Tim is a huge name in the UI kits, admin and dashboard templates, and different elements built on top of Bootstrap, Angular, React, and Vue.js. On their website, you will find both free and premium high-quality stuff, including huge bundles that area heavily discounted.
Check Creative Tim.
airfocus is the most advanced and simple to use prioritization and roadmap tool that you and your team will love to use. It is packed with tons of features and useful options, start a free trial and see how airfocus works.
Powered by Xfive, a super web development team that is delivering outstanding quality since 2005, goodiewebsite is a popular platform that connects designers and agencies with experienced web developers.
If you need a reliable web development partner, goodiewebsite is the right solution for you.
Bonsai is a popular name among freelancers, because they are offering a suite of tools for this niche. You can build contracts and proposals, you can automate your invoices, you can track time, and much more.
For all freelance professions, they are offer invoice templates that look great. Stop losing time preparing you invoices, and use Bonsai.
You can start use Bonsai for free.
MailMunch is a professional and complete lead generation software that will help you capture leads for your online business and increase conversions by up to 400%.
You can create unlimited forms and landing pages, in minutes, using the included beautiful templates and the intuitive drag-and-drop builder.
Use MailMunch and help your website do better from all points of view.
Unlayer is a plug and play email editor and page builder for your web application that cuts development time and cost. Your website customers will love to use it, as they don't need any special skills or experience to create engaging content with unlayer.
Find out more about unlayer.
Schema Pro will do something very useful for your WordPress website, it will make it rank higher in search engines and get more traffic.
With this plugin and 1-click, all the schema markups will be quickly added to the selected pages. It is simple to use and very efficient.
CollectiveRay is a place where experts write about WordPress, WooCommerce, Shopify, Joomla, and SEO. They create deep articles, tutorials, roundups, tests, and tips & tricks.
Always check CollectiveRay when you want a specific information about a specific product or service.
XSTORE is the single store theme that comes loaded with over 90 designs and with 7 premium plugins that are worth $304. Keep in mind that XSTORE costs $29 and you have everything included.
With XSTORE you can easily create a store that stands out of the crowd.
Business automation is the skill that you need to learn to master the future. Zapier Mastery is the right course that you can get to easily learn business automation. The speaker is a pleasant person that you can easily follow and understand, and the structure of the course is very well made.
The course was created by an expert automation engineer, the same person that also created Content Snare. After this course, you will know everything is needed about business automation.
Get more free time and scale your business as much as you want.
Controlio is a software used for monitoring your company employees' computers. It is a simple method to heavily increase productivity and security in your company, without spending tons of money.
Get a demo.
Heroic Table of Contents Plugin
Adding table of contents to all your articles will help you get happier and engaging readers. It is nice to navigate directly to a certain part of the article without scrolling, and to see the article structure before starting to read it.
Heroic Table of Contents is the most popular WordPress plugin for this scope, and it is free.
Best offline website builder 2020
Mobirise is the most complete website builder on the planet, coming loaded with over 3,000 awesome website templates, with elements, galleries, forms, popups, icons, eCommerce and Shopping Cart, and much more.
If you want a unique website that loads fast and that is optimized for heavy traffic, use Mobirise.
Rank Math is a professional, yet simple to use, WordPress SEO plugin that is simple to install and configure. After a basic setup, Rank Math will make your website rank higher in search engines and get more traffic.
Get it, Rank Math is free.
Ouch Illustrations is a growing library of free vector illustrations in over 30 design styles. It helps creators who can't draw and teams without illustrators to get quality images for their projects. The trendy vectors work effectively as visuals for typical UX screens, notifications, and messages as well as landing pages, emails, newsletters, and blog articles.
WrapPixel created some of the best UI kits, admin and dashboard templates built on top of Bootstrap, Angular, React, and Vuejs.
They are also highly appreciated for the big bundles which are sold with huge discounts.
uKit delivers a set of design tools for beginners to make users' websites look complete and coherent. The baseline instruments include various typography options to change fonts, different color schemes to choose applicable patterns, grid-based page structure to ensure clearness and user-friendliness. Thanks to inline editing, all changes made are implemented automatically so that you could see them live without switching to another window.
uCalc is an intuitive software to boost customer' loyalty and satisfaction. It is a simple form builder letting you create price calculators or product lists from scratch without technical skills. The software combines several vital features. It offers 100% responsive design, collects and keeps users' data safe, comes with a set of analytic tools to track sales, orders, and customers.
If you want to take the next step in analytics and have the most precise and complete information in front of you, in a super easy to read and understand dashboard, start using FoxMetrics – a modern cloud-based web analytics platform.
Start for free and see how it works. It is different from anything else.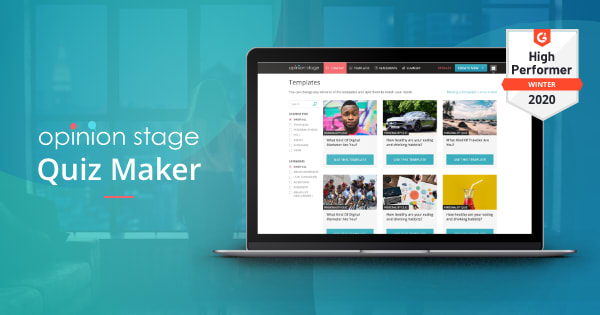 Opinion Stage will help you create engaging and converting quizzes, surveys and forms, with ease, without spending more than a few minutes with a nice interface in front of you.
SiteBuilders.PRO provides the top notch quality website transfer services to help their clients move projects from any website builder/CMS to another platform. They can professionally cope with the broad range of tasks including content and domain name transfer, web store data import, manual design replication, extra SEO/copywriting services and more. To have your project completed, get in touch with the team expert, provide the required website details, discuss the details, approve the suggested layout and wait for the project completion.
Shella - Shopify theme for fashion stores
If you have an online fashion store and you want to improve its design, loading speed, and converting rates, you should use Shella – the ultimate Shopify theme.
It comes loaded with tons of designs, styles, and elements dedicated to the fashion niche. Using clean and lightweight code, Shella loads very fast and it is to navigate it.
WordPressToWix.PRO - is a professional website migration service that helps clients move their projects from WordPress to Wix. The company employs web design professionals, who have the firsthand knowledge of all the stages and nuances of the website transfer process. This helps them cope with projects of diverse complexity levels. While working on their tasks, the company experts make sure that all the website entities are moved correctly and work seamlessly afterwards.
stepFORM is a well-known form builder that helps not only to engage with customers through custom surveys and quizzes but also create forms to accept online payments and let people make orders. Besides, the software is powered by analytic instruments to track orders and sales from one place. A created form can be easily added or shared via a link on social and other platforms.
If you like simple to use invoicing software, then you should take a look at InvoiceBerry.
It is a perfect fit if you are looking to send fully customized invoices with ease, to track expenses and payments, to create reports, and to manage customers.
Start a free trial to test it, no credit card required.
Wokiee - Multipurpose Shopify theme
Wokiee is more than a theme, it's a powerful design tool that is filled with tons of styles, elements, designs, and a brilliant editor that will help you customize each part of your store in seconds.
Pixpa is a professional website builder that is super simple to use. You need 0 creativity, 0 skills, and 0 experience, to create gorgeous websites.
Using the included templates, elements, and the intuitive drag-and-drop builder, you can create unique websites in minutes.
Testing mobile apps can be time-consuming and difficult. With pCloudy, you can forget all of these.
The powerful software supports all kind of tests (manual, automated, autonomous, etc.) from anywhere and anytime. It is cloud-based and it is loaded with lots of powerful and useful features.
Start a free trial to see pCloudy in action.
PxBee is the right place to visit whenever you are looking for high-quality stock photos, including girl photos. The website has over 60 million gorgeous pics, you will find quick any photo you are looking for.
With Astra, the fastest growing theme of all time, you can create any kind of website: personal, business, creative, one-page, agency, portfolio, etc.
It comes loaded with gorgeous designs, styles, and tons of elements.
Astra will help your website stand out of the crowd.
Brizy is an advanced builder, yet super simple to use, that will help you create high-converting and engaging landing pages and websites.
It comes loaded with an intuitive interface and with tons of elements, and the editor will help you customize everything you need.
Hongo - Modern & Multipurpose WooCommerce WordPress Theme
Online shopping is the future, that is why the competition is super strong.
If you want to make your store unique, engaging, and ready for lots of sales, you should use Hongo. This store theme is loaded with everything you need.
Mystik - Astrology & Esoteric Horoscope WordPress Theme
Make use of the Mystik WordPress theme to launch a multi-functional astrology-related website. Downloading the theme, you will get an impressive collection of inner pages and a set of 5 homepages demos. The theme contains all the tools and features that are needed for a quick start of your site. It is made with the Elementor page builder and works flawlessly with the most popular WordPress plugins. You may also integrate the theme with the Events Calendar. To start selling online, the theme is ready to be integrated with WooCommerce. A fully responsive layout of the theme contains adaptive images that make your content look stunning on all screens and devices.
RumbleTalk will quickly add a moderated chat on your website, in seconds, without requesting you to write a single line of code.
The platform is filled with useful features and option that you should check on their website.
They even offer a free forever plan, get it.
Helion - Personal Creative Portfolio WordPress Theme + Store
The Helion theme is made for creative people to showcase their artworks online. It features a variety of demo concepts that will cover the needs of different niche representatives. There are demos for a photographer, musician, videographer, graphic designer, architect, and more.
You can change the theme look using the user-friendly theme options panel. If you are new to WordPress, there is a drag and drop page builder included. This tool requires no interactions with code and allows you to apply changes in live mode.
Online shops are a great business that is hugely growing each year. During the huge Covid-19 crisis, online shops still generated huge amounts of money for their owners.
If you want to make your store to be unique, to smash your competition, and to get lots of sales, you should use Zento. This is the future in online shopping platforms. It is built on the strong foundation of Magento and it is using advanced technologies.
Find out more about Zento.
Prider - LGBT & Gay Rights Festival WordPress Theme + Bar
If you need to create a functional website for the human rights project, then Pride WordPress theme will perfectly suit this purpose. This is a mobile-friendly WordPress solution tailored to be easy to edit by users of all skill levels. The theme is easy to modify by means of the Elementor page builder. It contains sets of advanced customization options, tools, and compatibility with the major WordPress extensions. It includes a set of extra homepage demo styles and inner pages that you can add to your site and modify as per your preferences.
Abstract will help you automate your work with powerful and robust APIs.
Detect the gender of a name, geolocate any IP, get holidays from any country, and much more.
Get your API key for free.
Conclusions and what I kindly ask you to do
There are tons of useful web tools on the market that we can all of us use with huge success. There are also many new ones, launched a few months or 1 year ago, like Taskade – the new tool for real-time collaboration for remote teams?
Please let me know what tools you use, and why.
FYI - I am testing any web tool or service (full review) that is free, or that has a free trial, or that costs maximum $30, for free. Just ask me nice. :)