The notion is a great organizational tool to keep track of everything like creating lists and it basically lets you have your life together. The notion is great indeed but it's also very overwhelming because it gives you the option to create infinite templates or you have to go through their library and import other templates into your own workspace. If you're still thinking about getting started with the notion this is a great time to spend some time seeing how it works.
I think it's much better to start by downloading other people's templates than trying to figure out how to create your own and if you're already using notion and you know how it works importing other people's templates is also, a great idea to complete your own workspace and try out new things also if you need a specific template and someone has already created it why not save some time and just use it you will not be called lazy for it.
Most people know how the notion is a great place to keep a basic to-do list keep track of university assignments or build knowledge databases. But really there are other uses for the notion that maybe you haven't thought of before. Today I bring you 20 notion templates that you may want to import into your own workspace.
I've divided them into
Personal Productivity
Home
Learning and
Business/work
These templates are definitely not mandatory templates to use all the time some of these may be helpful others may not it really depends on what you have to plan
and how you like to plan finally let me just add that all the templates featured
in this article are offered for free by their creators.
Without further ado, let us see the 20 notion templates that you are waiting for!
1. Personal Productivity Templates:
i) Weekly Review:
The Weekly Review is a great spread to organize all of your events' thoughts and ideas in 10 categories. This allows you to basically do a brain dump of multiple tasks and then file them accordingly while keeping track of your short and long-term goals
This weekly review is a part of the getting things done system by David Allen and it's an exercise that you should do at the start of each week to avoid that overwhelming feeling you usually get on an early Monday morning
ii) Life Dashboard:
It's basically the main template for goals and tasks subdivided into life goals weekly
quarterly yearly etc. It also features a list with next actions or projects as well as a daily tracker and a list for quick references and other links. It's incredibly easy to use but a very powerful template to keep track of during the year.
iii) Year Manifesto:
The year manifesto is basically a place where you can write your targets goals milestones and habits for 2021. You have a situation summary that basically explains how you should do this exercise. It has different categories with outcomes for
personal and professional goals and milestones which are basically smaller objectives you accomplish towards your bigger goals. Finally, it has a section dedicated to habits too.
iv) Habit Tracker:
This Habit tracker template is created by the team at the notion. It's a very simple template that just lists your habits in a table format. You can start a new month by archiving the default template and clicking the start a new month
v) Workout Tracker:
This template allows you to keep track of your workouts. This template is a database to track training sessions and it features a lot of information like break times duration
level of difficulty and the type of training program you're actually using. For instance, if you are doing a mix of fitness blender workouts, strength training, and yoga classes you could register each of those as a program and just select them each time you completed one of those training sessions.
2. Home Template:
i) Maintenance and Cleaning List:
Although some household chores are obviously urgent enough and regular enough for you to remember when to do them like while taking out trash cleaning your kitchen and so on. Others are really not that obvious and you may be prone to forgetting them this template already features a weekly and monthly list of maintenance tasks around the house. So you can just keep track of their tasks and the specific tasks you need to tackle. It also comes with a handy list of the items you should be checking

ii) Plant Tracker:
For all the plant enthusiasts there's a planned tracker where you can enter details about your plans like acquisition date, location name and you can even attach
photos. You can also include information related to their maintenance like
watering and dates when they should be fertilized. Also, don't forget that with notions built-in reminder system you can actually create reminders in line with the table that will be sent to your email so you don't forget anything.
iii) Recipe Box:
If you usually search online for your recipes or even if you have pdf versions
of cooking books. Having a recipe box for all of your favorites is a great way to save time searching for the same recipes online over and over again you can insert the
name of the recipe in the table as well as tags that basically act as categories
and a link for the recipe too.
iv) Budget Planning:
Keep track of your expenses and how they compare to a monthly cap. Click All Expenses to view this data different ways using filters — like August expenses only, or home expenses only. Keep tabs on spending for every month of the new year to reach your financial goals.
v) Travel Planning:
Travel planning can be a fragmented mess with different documents and information scattered across email, files, websites, and more. With this template, you can pull all the essential details about your plans into one spot, including the addresses, contact info, docs (like tickets attached as files), notes (i.e. meet the tour guide at 5 p.m.), and more.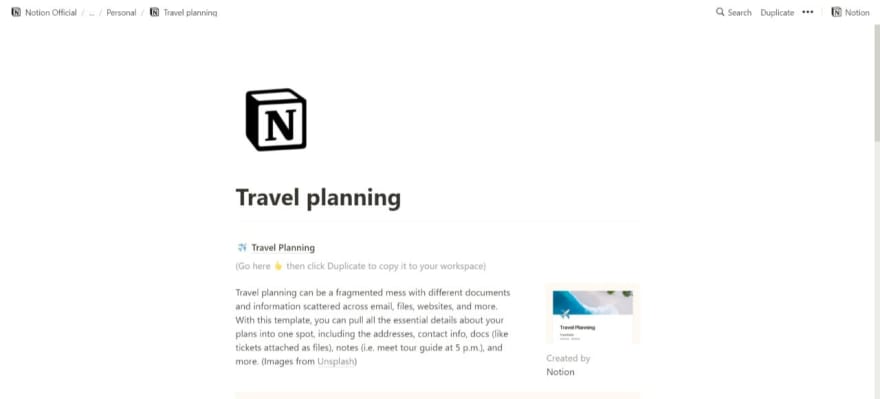 3. Learning Templates
i) Reading List:
You can use this template to plan out the books you'd like to read in 2021. Since it works like any other table in the notion you can click each page to write the notes for the book you're listing as well as any details regarding its genre the reading status and rating etc.
ii) College Hub/Dashboard:
If you are a college student getting the main college dashboard for everything related to your studies will probably be a good idea. This template is a pretty complex setup that has its own tutorial. By going through this tutorial video you can easily understand how to use it.
Video Tutorial: Click here to go to the video
Want to Know How to Use Notion Effectively For Students have a look at my friend Nick's Post Here
iii) Research Paper:
This template is essential for anyone engaging in any kind of research paper. It is a dissertation or any other type of project based on research. It gives you a good outline for any research or freelance project including pages for references and notes
from meetings with your supervisor. It features a calendar view, a quick note section, and a table of contents that you can then add to your notes to quickly structure your project.
iv) Five Minute Journal:
The 5-minute journal is a quick journaling experience with a bunch of prompts. It's a pretty simple template but can help you build a very rewarding journaling habit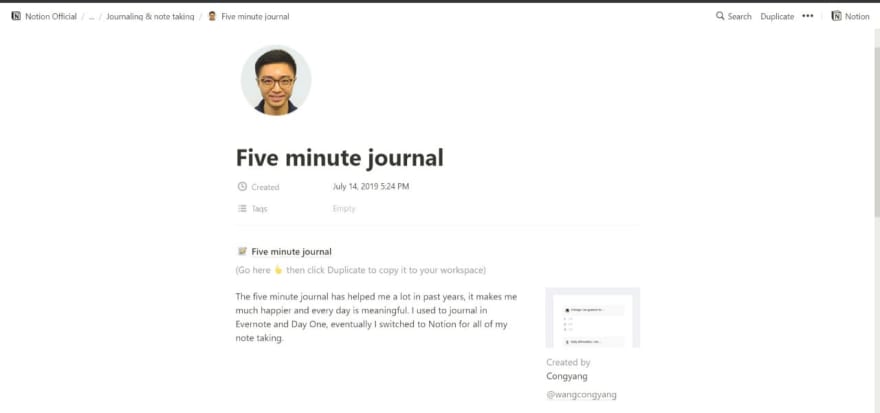 v) Simple notebook:
One place for all the notes you take throughout the day. Just click "New" and start typing.
→ Click "List View" to see separate notebooks for Work and Home, organized as galleries.
→ Customize your own tags to create notebooks that fit your work and life, or see all your notes at once.
→ Invite friends or your team, and see who added what and when — all at a glance.
4. Work/Business Templates
i) One-on-one meeting:
In this one-on-one meeting tracker, you can use the add 101 button to generate a new meeting template whenever you need one. Then you should move old conversations into the archive as you create more
ii) Work portfolio:
This template is a great way to quickly share the projects you are working on or have
worked on. You can easily add more projects and updates and turn the page private
or public according to your needs.
iii) Remote all-hands meeting:
This template is also created by the notion and helps you deal with a conversation
held with a lot of different people online which is pretty much important today. It allows you to seamlessly insert a q&a section, opening remarks action steps, and other notes. Just copy and paste whenever you have a meeting and insert it into the
corresponding group or project.
iv) Personal Finance:
This template is a bit related to personal productivity at home but well it's also related to your job or business. It includes a categorized kanban board of any expenses debts and extra expenses and cash flow calendars so you can see
when there's money coming in and out finally.
v) Project schedule:
You should definitely have a project schedule. The project schedule template has all the relevant notes and info about your project including meeting notes timelines and
calendars documents and streamlined processes
There you have it! Do you use any of these templates as well? What's your favorite Notion Template? Let me know in the comments 👇 😊
You can now extend your support by buying me a Coffee.😊👇
Thank you for Reading