What is MX Linux?
A linux distribution or linux distro is an open source (not all) operating system(os) that is based on the linux kernel mostly used in Dedicated Media Center or Video Game Machine, severs, Streaming, Torrenting and supercomputing sectors.
It is downloaded as a number of software packages and includes additional tools and applications.MX linux is a midweight linux os developed based on antiX and Debian stable (another linux distro).The name "MX" was chosen to combine the first letter of MEPIS (a set of Linux distributions) with the last of antiX, thus symbolizing their collaboration. It also adds its own software packages like KDE Plasma and Fluxbox. It is said to be a family of operating systems that are designed to combine elegant and efficient desktops with high stability and solid performance. It was first started in March 24, 2014 as 'MX-14' and there are 20 versions released till now and the latest version is MX-19.3 which is released on November 11,2020.
MX Linux features a clean desktop
The default Xfce desktop is quite appealing with a perfect mixture of simplicity, ease of use and appeal to more seasoned users.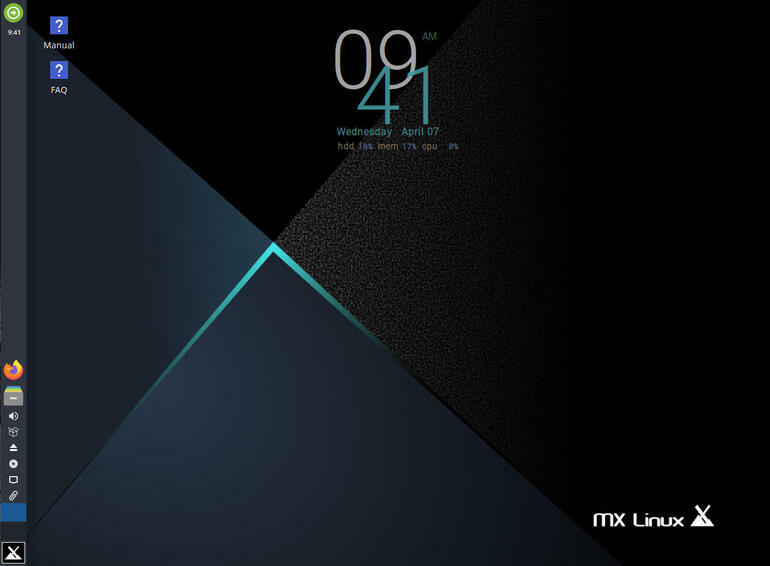 Although Xfce defaults to the panel being vertical on the side, the user is still instantly familiar with how the desktop works. Click the X button at the bottom to reveal a well-designed desktop menu that can be resized at will. You could even resize the Whisker menu so it fills the entire desktop
What do you get when you install MX Linux? A lot. The pre-installed app highlight reel looks something like this:
1.Firefox
2.Thunderbird
3.Catfish File Search
4.Bulk Rename
5.Conky
6.LuckyBackup
7.GIMP
8.LibreOffice
9.Clementine
10.VLC Media Player
11.PDF Arranger
12.antiX Advert Blocker
13.Asunder CD Ripper
14.Samba
So you won't be missing out on much of anything. As for package management, MX Linux includes Synaptic Package Manager. The inclusion of Synaptic is one of the few dings on the user-friendliness scale to be found in MX Linux. Not that Synaptic is challenging to use, but it's certainly not one of the more user-friendly tools to be found in Linux. When you compare Synaptic to, say, GNOME Software, Synaptic not only looks a bit antiquated, it's not nearly as simple. Given that MX Linux seems to be centered on being a Linux distribution for everyone, the developers might want to consider including a more modern take on the app store.
MX Tools
MX Linux includes a few very handy tools, aptly named MX Tools. These tools cover the following tasks:
Create system backup
Install drivers & codecs
Edit boot options & menu
System cleaning
Conky management
Bash configuration
Repository management
USB format
How to install MX Linux?
Go to the MX linux website through any browser and click on download MX Linux.
Under how to get it, beside direct download, click on mirrors.
In the Anywhere LinuxFreedom row click on X64.
Create a bootable MX Linux disk such as USB,CD,DVD. Note: whatever disk you select will have all of its contents deleted.
Download Balena or Rufus(applications to convert a flash drive into bootable USB drivers).
Launch BalenaEtcher then click select an image then select MX 19.3 then click on flash.
Now restart the system or plug the MX Linux Bootable Flash Drive in a computer on which you wish to install MX Linux and re-start/ start the system to boot from Flash Drive and Install MX Linux.
press F10 (or Del or F9 or F12 or Esc) to enter BIOS Setup. While the system would restart and initialize start pressing F9 (or Del or F10 or F12 or Esc) to display Boot Menu.
select Flash Drive as Boot Device and Hit Enter. Enter Login password and hit enter or press Log In button to Login to the MX Linux System. Minimum requirements are 512 MB of RAM,5 GB free hard drive space, Flash Drive, 4 GB free.
MX Linux is an increasingly popular Linux distribution. In addition to its impeccable stability – it comes packed with a lot of GUI tools which makes it easier for any user comfortable with Windows/Mac originally. Enjoy your experience with MX Linux.