Working from home has made us use even more tools that we would not necessarily have used if we would be working from the office. This process has made us become more aware of what is worth investing in and which ones can ease our work strategies and goals. These are the apps that we use and we figured you might find them handy:
Hubstaff
(Ranking: 4.5/5)
This application is the perfect one to monitor the work from home. It tracks the time and productivity by also being able to create reports and timesheets for more detailed information regarding what has been done.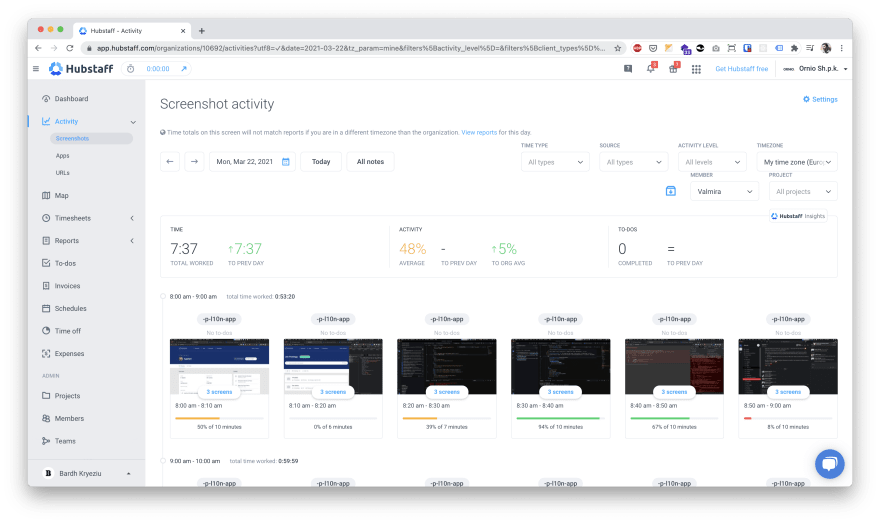 Why this is important for your business:
Hubstaff has more than 17 different reports that managers can use to gain insight into their operations, including daily productivity summary emails, which help managers monitor whether important deadlines are being met. It also helps managers see hours worked and work in progress without having to always check-in with their employees.
Jira & Bitbucket
(Rankings: 4.7/5 & 4.6/5)
Jira is a project management tool for all agile teams. It provides Scrum and Kanban dashboards, roadmaps, and agile reporting.
Why this is important for your business:
Jira connects all people involved together and allows all team members to know what stage a project is at and how progress is going. Tasks can be easily prioritized, and it's easy for team members to see what their next task is, reducing the amount of time wasted and improving productivity.
---
Bitbucket is a Git-based code hosting and collaboration tool, built for teams. It also allows you to Build and test automatically with built-in continuous delivery and secure your code with frequent checks to prevent issues before they happen.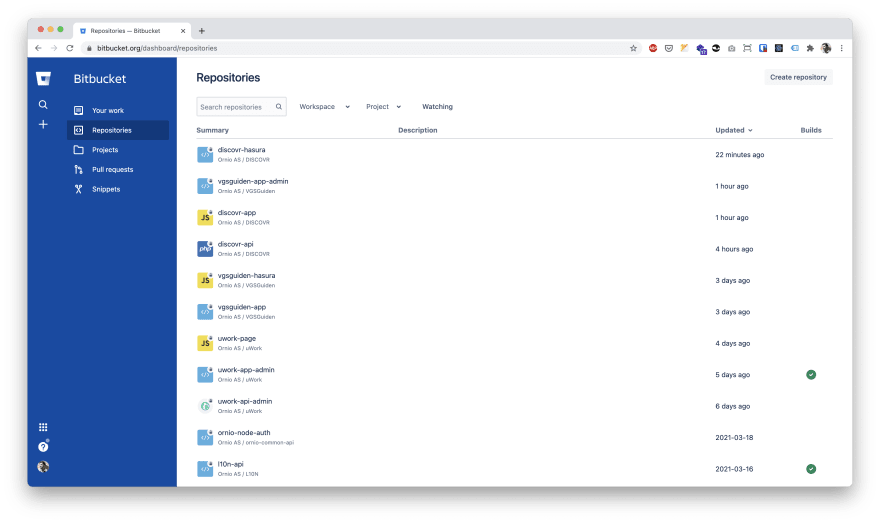 Why this is important for your business:
It provides a full-text search through all repositories of any account to locate a certain code since files are indexed. It allows you to push code up for review, be it for modifications, provide feedback, and approval. It can merge code allowing for teams to collaborate. After Pull request, you can merge it directly to your parent branch for testing the whole application.
Slack
(Ranking: 4.0/5)
A communication management tool that allows colleagues to communicate with one another in different channels through messaging and video/voice calls. It is easy to use for all sizes of companies. It has integrations with other services like Google Drive, Office 365, and many others.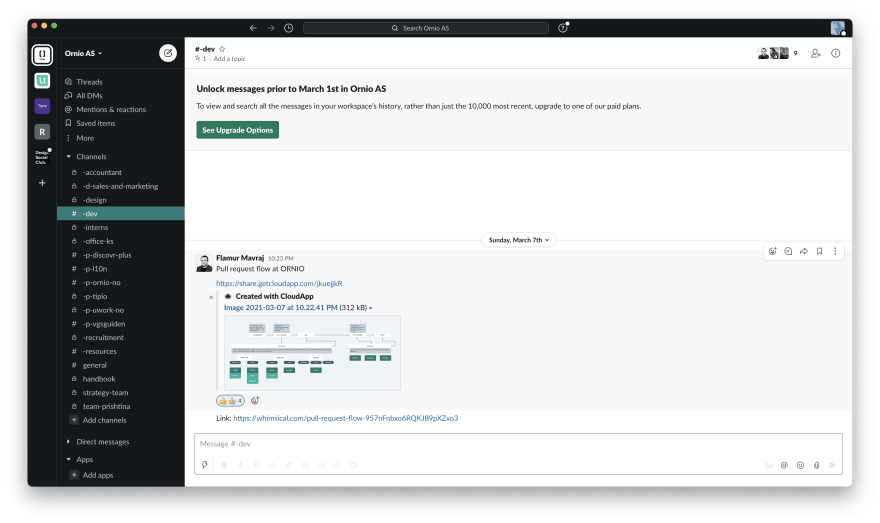 Why this is important for your business:
With Slack, all you have to do is sign up and create a team. And, signing up is completely free. Once you've created your team, you create "channels", which can be either private or public. Public channels are where your direct messages between you and your teammates live. If you have a client or contractor who needs to be kept in the loop, you can invite them, too. You can grant access permissions to outsiders with as many or as few privileges as your company sees fit.
Figma
(Ranking: 4.7/5) - based on Capterra
Figma is the world's first collaborative UI design tool built in the web browser. It supports excellent design, prototyping, and code generation tools.
Why this is important for your business:
Figma works in a browser, making it extremely available and simple. Any unsaved file is automatically moved to drafts. The application allows multiple team members to work on a single project in real-time. Another feature of Figma is commenting. You can simply leave a comment right in the file, so your team can discuss the project remotely.
Whimsical
(Ranking: 4.7/5) - based on Capterra
A collaborative virtual workspace that lets you create flowcharts, diagrams, and virtual sticky notes.
Whimsical is perfect for remote workshops, user flows, user journey maps, lean canvas, and much more.
Why this is important for your business:
Whimsical has a large open canvas just like any other design tool but the unique difference is the flexible libraries of elements used to generate flowcharts, wireframes, sticky notes, and mind maps, all in the same workspace. In addition to all the great features, this app has the ability to export visualizations in high resolution. The primary purpose of visualization is to communicate ideas, even office.
Other applications that Ornio uses and recommends are:
HubSpot, marketing, sales, and service software that helps any business grow rapidly.
CloudApp, a cross-platform screen capture and screen recording desktop client that supports online storage and sharing.
VSCode, a free open source code editor developed by Microsoft that allows easy debugging, multiple language syntaxes, code auto-completion, and easy git integration.
Intellij IDEA, is an integrated development environment (IDE) that offers great code assistance like code autocompletion, syntax highlighting and robust debugger, while providing a rich plugin ecosystem and variety of language support.