Excel is an excellent software application used for the purpose of storing, organizing and manipulating data in spreadsheets. Used for both individual and business purposes, Excel files usually have two extensions, XLS and XLSX. But sometimes, the excel file on your computer gets damaged or corrupted, due to reasons like computer crashes, hard drive crashes or virus attacks etc. Many users have encountered this problem and have complained about it on various online forums, asking for a solution. In this article, we will you more about the excel file corruption and how to open corrupted excel file.
---
Part 1. What is "Excel file corrupted and cannot be opened"
The "Excel file corrupted and cannot be opened" is one of the most common error messages that you will encounter while using Microsoft Excel. This error message appears when you try to open a corrupted excel file, but the Microsoft excel is unable to compile the file. When this message appears, you are no longer able to open the file through regular means. It can cause a lot of panic to the owner to the file as the file may contain some important data that they might need.
---
Part 2. Why does the excel error message appear?
The excel file corrupted and cannot be opened error message is directly related to the corruption of the file. There are various possible reasons that can cause corruption of the excel file. These are discussed in detail below.
Improper System Shutdown: Improper shutdown of the computer can lead to various types of troubles. The shutdown is a very important task for the system. Improper shutdown can lead to various problems in a system. Excel file corrupted and cannot be opened error may be a result of Improper system shutdown.
Virus or Bug attacks: Viruses or bugs are the most troublesome enemies of a computer. They are the biggest reasons for data loss and corruption on a computer. Once these programs infect your computer, they start a brutal attack on the data on your computer, leading, which may lead to data loss and file corruption. They may also infect excel files, resulting in excel file corrupted error.
Hard drive malfunction: Corruption of the excel files can likewise result from problem in data storage devices too. Hard drives are inclined to have bad sectors with time. Excel files stored on these bad sectors have a high possibility of getting corrupted.
MS Excel Malfunction: MS Excel is inclined to malfunctions like any other software or application. Improper or sudden shutting of open excel files can result in excel file corrupted and cannot be opened error message.
---
Part 3. Simplest Way to Open and Repair Corrupted Excel File
Facing the excel file corrupted and cannot be opened error message? Are you looking for a simple solution to fix this error message? Then, your search is over, as with Stellar Phoenix Excel Repair, it is possible to repair corrupted excel files.
Open corrupted excel file with Stellar Phoenix Excel Repair
Stellar Phoenix Excel repair is one of the best and the simplest third-party excel repair tool that you can find on the internet. Using Stellar Phoenix Repair Tool, you can easily restore the corrupted excel file to their original usable specifications. You cannot make the file usable, but also retain all of the properties of the file after recovery. The biggest benefit of this program is that it can repair all kinds of excel errors messages and give you error free excel files.
How to Open and Repair Corrupted Excel File
Step 1: Download and install Stellar Phoenix Excel Repair
First, download the Stellar Repair for Excel from their official website and then install it on your computer.
Step 2: Launch the program
Run Stellar Phone Excel Repair by double-clicking the desktop icon or start menu and then click on the OK button when a dialog box appears when you launch the program.
Step 3: Select excel file to repair
Select the excel file that you want to repair using "Select File" option(if you know the location of the file) or the "Search" option(if you don't know the location of the file). After selecting the file, click Scan.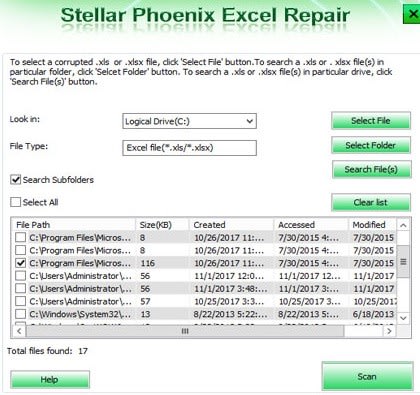 Step 4: Preview and recover the file
After the scan is completed, preview the file you want to recover. Select the location where you want to save the repaired file and click OK.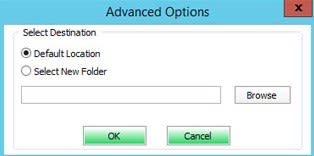 By the way, you can also open a corrupted Word file with the software.