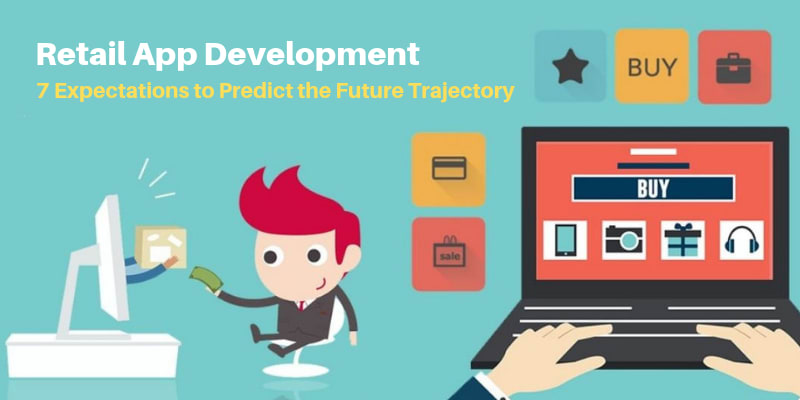 Currently topping $25 trillion dollars, retail industry- one of the most customer-centric sectors, is undergoing a major technology shift. While some of the most prominent brands are scaling down their stores and offline presence, eCommerce continues to register double-digit growth and accounts for a significant chunk of the market.
If we watch this shift through the lens of technology, it is evident that the two billion plus smartphones in the world are taking the center stage, sidelining the traditional shoppers and their shopping habits.
Top mobile app development companies are also aware of this fact and are gearing themselves for the next leap of innovation in the retail industry; some of them have already started. As more people go online and get acquainted with the convenience and benefits of shopping online, retail apps are gaining that trust and have eventually come out as the default channel for all shopping needs. So, let's look what more they will surprise us with in the days to come.
1. More Apps
The first thing you can expect from retail apps in the near future is that there will be a lot of them. From small business to large enterprises, who earlier had kept a blind eye to the online phenomena, will all jump in with their own apps in a hope to acquire a chunk of this immensely large smartphone market.
Irrespective of the industry, we can expect a major spike in the number of retail applications which will not only intensify this already competitive market but will also compel the existing applications to push for new innovations if they aspire to retain a dominant position.
2. Conversions
Online retailers often have to spend dollars in multiples on marketing and promotions to bring in new customers to their platform. But the biggest problem they face today is that even after such efforts and investments, the majority of hits do not convert into sales.
Apart from the basic things that a retail application must have, there is still a lot left to be explored in the future. From deploying efficient crawlers and algorithms to offering most competitive prices to better management of payment options that prevent cart abandonment, the retail applications will be built to aim that every customer who comes in leaves with purchase and no cart is ever abandoned.
3. New Technologies
Today, except for the basics, retail applications are almost the same as any other application. But that is all set to change in the future. With the improvements and consequent adoption of new technologies like AR & VR, chatbots retail applications are bound to advance them to gain an edge.
The shopping experience that current applications offer is quite boring where all you can do is judge your next outfit through pictures. But when virtual wardrobe are incorporated in the apps, the experience becomes quite interesting where you can actually see yourself wearing the outfit before purchase. Not only will these work as the virtual trial rooms but if properly integrated with social platforms, the possibilities are virtually limitless.
4. Targeted Marketing
Save few exceptions, the marketing today is done almost the same way it was done decades ago, where a stream of promotion is broadcast across every possible channel- from televisions to billboard to websites.
While this approach has proved to be beneficial in creating brand awareness, it brings little profit to compensate for the huge monetary expenditures. The retail applications are now realizing that since shopping is an intimate experience, the marketing too needs to be highly personal.
Take for example, if you sell baby food, broadcasting your application all over the internet may earn you a lot of eyeballs, but if you simply reach out to those customers that you know have babies and use that marketing budget to incentivize their purchase, you will witness much higher sales.
5. Content Dominance
As already realized by many industry experts, retail applications aren't all about shopping. More often than not, people visit online stores without anything particular in mind. In this case, simple product listing is not enough to keep them engaged but applications need more intuitive content to keep their interest brewing. From general shopping tips to well-curated blogs and videos about the product they intend to purchase, future retail apps will give reasons to their customers to head out for their shopping research.
6. Chatbots/Machine learning
Chatbots are a mix of technology with targeted marketing. Well-honed with sophisticated algorithms, these chatbots can work as the virtual storekeeper in the future retail applications. From offering personalized style tips to recommending products based on given requirements, these bots can indeed make the shopping experience more interactive and fluid.
Similarly, machine learning too will play a crucial role in years to come. Already used by eCommerce behemoth, Amazon, it enables the application to track the inventory, product views, orders, time of day, customer demographic and a host of other factors to determine the optimum price of a product- which may vary for different customers.
7. Instant Apps
When we mentioned earlier that there will be lots of more retail apps in the future, it was only half the story. Since the development and maintenance of native apps consume a lot of time and resources and also require commitment from users to allocate permanent space on their phone, instant apps are the feasible solution to bridge this gap. While such apps are currently limited only to Android, once in trend, these technologies can be expected to work well on other platforms as well.
Now that you have a clear picture of how the retail applications will shape out in future, do you believe that your current strategy and technology can sustain the upcoming transformation?
As important as this shift will be for the businesses, equally challenging it will be for top mobile app development agencies in India who would need to attain and showcase their prowess in relevant technologies. So, if you want your retail business to be future-ready, now is the time to build your eCommerce application before someone else with the same idea beats you at it.