Hello Guys!
These days we are flooded from all directions with BF offers and amazing discounts from 50% up to 95% for all sort of services, digital and physical products. Well, this list aims to provide another kind of Black Friday offer: 100% Free products published on Github - NO registration lock or newsletters subscription required to access the products. On top of this, all mentioned templates are actively versioned and supported by their vendors.
---
Thanks for reading! Feel free to suggest more free deals in the comments.
---
✨ Soft UI Dashboard React
Start your Development with an Innovative Admin Template for MUI and React. If you like the look & feel of the hottest design trend right now, Soft UI, you will fall in love with this dashboard! It features a huge number of components built to fit together and look amazing.
Soft UI Dashboard React is built with over 70 frontend individual elements, like buttons, inputs, navbars, nav tabs, cards, or alerts, giving you the freedom of choosing and combining. All components can take variations in color, which you can easily modify using MUI styled api and sx prop.
---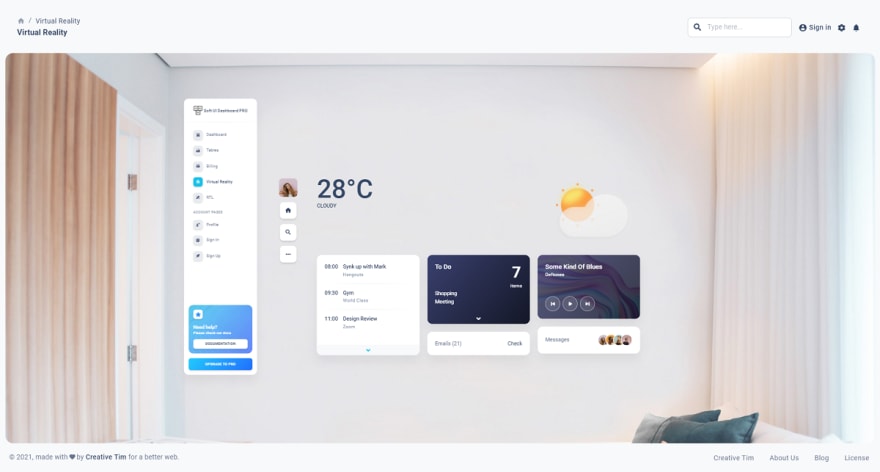 ---
✨ React Berry Dashboard
Berry is a free react admin template build using the M-UI. It is meant to be the best User Experience with highly customizable feature-riched pages. It is a complete React Dashboard Template with easy and intuitive responsive design as on retina screens or laptops.
Berry brings everything you need for dashboard development. We have added the following high-end features like modern aesthetics UI design, Material-UI components, easy to use code structure.
---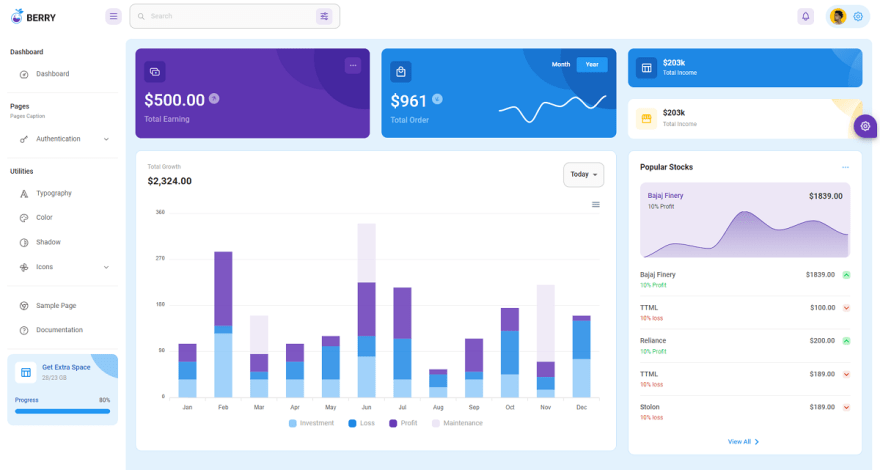 ---
✨ Pixel UI Kit
Pixel is a free, fully responsive, modern Bootstrap UI Kit that will help you build creative and professional websites. Use our components and sections, switch some Sass variables to build and arrange pages to best suit your needs.
Pixel is a premium extension of the famous Bootstrap CSS Framework featuring pricing cards, profile cards, timelines and many more and additional plugins for datepickers and input sliders which Bootstrap does not have by default.
---
---
✨ AdminKit
A professional Admin & Dashboard template based on Bootstrap 5 that comes with hundreds of UI components, forms, tables, charts, pages and icons. AdminKit does not require jQuery and neither does one of the 3rd party libraries AdminKit is using.
The theme includes a custom Webpack file, which can be used to quickly recompile and minify theme assets while developing or for deployment. You'll need to install Node.js before using Webpack.
---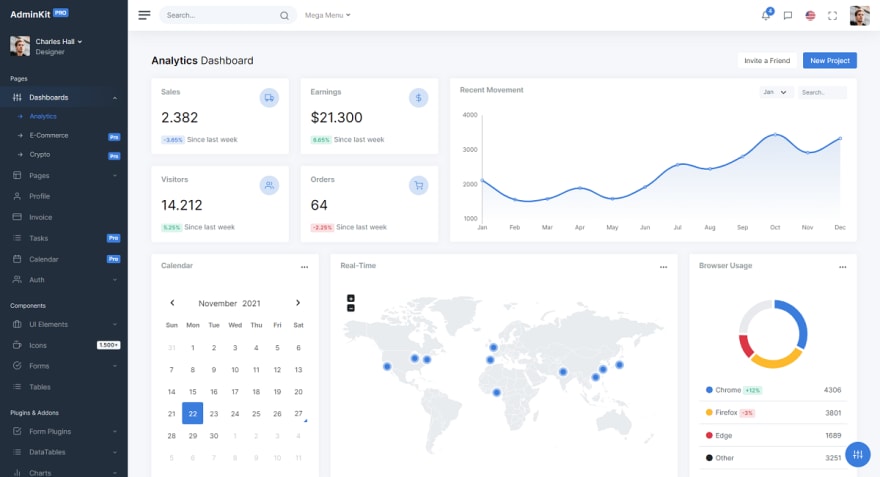 ---
✨ Material Kit 2
Material Kit is a Free Bootstrap 5 UI Kit with a fresh, new design inspired by Google's material design. You asked for it, so we built it. It's a great pleasure to introduce to you the material concepts in an easy to use and beautiful set of components.
Material Kit makes use of light, surface, and movement. It uses a deliberate color choice, edge-to-edge imagery, and large scale typography. The general layout resembles sheets of paper following multiple different layers so that the depth and order are obvious. The navigation stays mainly on the left and the actions on the right.
---
---
✨ Django Bootstrap 5 Volt
Open-source dashboard crafted in Django Framework. Volt Dashboard is a free and open source Bootstrap 5 Admin Dashboard featuring over 100 components, 11 example pages and 3 plugins with Vanilla JS. There are more than 100 free Bootstrap 5 components included some of them being buttons, alerts, modals, datepickers and so on.
👉 Django Bootstrap 5 Volt - source code
👉 Django Bootstrap 5 Volt - LIVE deployment
---
---
Thanks for reading!
In order to make this list more useful, feel free to submit more open-source & free BF deals in the comments.
The best ones will be added to the list.