Want to be a part of world's largest student developer community? Want to learn, empower and lead in your college campus? Want to Grow your skills and build your reputation as a tech insider?
Then this blog will tell you all about the Microsoft Learn student Ambassador (MLSA) program!
What is Microsoft Learn student Ambassador program?
Microsoft Learn student Ambassador or MLSA is a program for students around the world to lead a community of technical people and students to grow and develop their technical and career skills for the future.
The student ambassadors can connect with other students, host digital events, offer guidance to other students. Ambassadors also get support from Microsoft mentors, gets the opportunity to show off thier work in local and global challenges like the Microsoft Imagine Cup.
Who is a Microsoft Learn Student Ambassador?
A Student Ambassador is leader who leads in thier commmunity to help their peers in learning new microsoft technology or invites in attending virtual events held by subject matter experts from Microsoft or the student ambassadors. They also gets the opportunity to develop their leadership and entrepreneurship skills through hosting events on their campus, networking with other students and Microsoft professionals, and building interdisciplinary skills such as public speaking, social media and personal branding, and more.
Are you Eligible?
All applying students must
 Be at least 16 years old at the time of submission.
 Be enrolled full-time in an accredited academic institution (e.g. College, University).
 Have valid identification.
Experience in Coding/Technology can be an advantage but it's not required. There are students from different backgrounds who get selected and after that they start learning new skills and technologies.
What are the Benefits of MLSA?
The student ambassadors gets a lot of benefits while being an community member of Microsoft like they get access to unique resources like the world's largest student network, a Microsoft 365 account, and some additional benefits that are listed below:
You connect with other students worldwide and share each others passion in the leagues.
You get the trainings and certifications from Microsoft, support for organising events, etc.
You get recognized all over the community which you can share it in your resume.
What are the Milestones in MLSA?
There are 3 milestones in this program and the benefits of these are given below:
1. New Student Ambassador-
First, after acceptance to the program, you need to start with some learning paths and start engaged into the leagues to get promoted and unlock to the next level i.e, Alpha. You get some amazing benefits at this level which are given below:
i. Access to Office 365
ii. TechSmith Snagit and Camtasia screen capture and recording software
2. Alpha-
This is basically your first official milestone as a MLSA in which you come after unlocking the new student ambassador level. You get some amazing benefits at this level which are given below:
i. Free Linkedin Learning Premium Subscription
ii. Free Microsoft Technical Certification (MTC) voucher
iii. USD150 monthly azure credits
iv. Visual Studio Enterprise Subscription
v. Name.com domain name
3. Beta-
You can unlock Beta level after organizing and host a virtual event by demonstrating a Microsoft Technology. Once, you unlocked this level you get event supports from microsoft. You also get an invitation to attend the Microsoft Learn Student Ambassadors Summit
You get some amazing benefits at this level which are given below:
i. You get all above benefits.
ii. Swags like, T-shirt, MLSA ID, etc.
iii. Mentorship Support
iv. Event Support
v. Access to MLSA Summit
4. Gold-
Students who going above and beyond in hosting multiple events, serving regularly in the community, etc are invited to Gold level milestone. This level has multiple benefits which are given below:
i. All Alpha and Beta benefits
ii. You get access to special events and speaking engagements
iii. Program Leadership opportunities
iv. Participate in pilot programs
v. Microsoft Most Valuable Professional (MVP) Mentorship
vi. May be invited to MVP program
Checkout the picture given below:

How to Apply?
The application process is opened throughout the year and you can apply anytime but the application is accepted in 4 quarters and it is quite easy to apply.

The application form includes the sections like a written sample, technology skills, and a short video introduction to know you and why you're passionate about becoming a Microsoft Learn Student Ambassador.
Below are the steps with which you can apply:
Step1: Visit the Official MLSA site
First go to https://studentambassadors.microsoft.com/en-US/apply and Log in to your microsoft account or just Create a new one (If you didn't have already!). Now, Click on Apply Now button.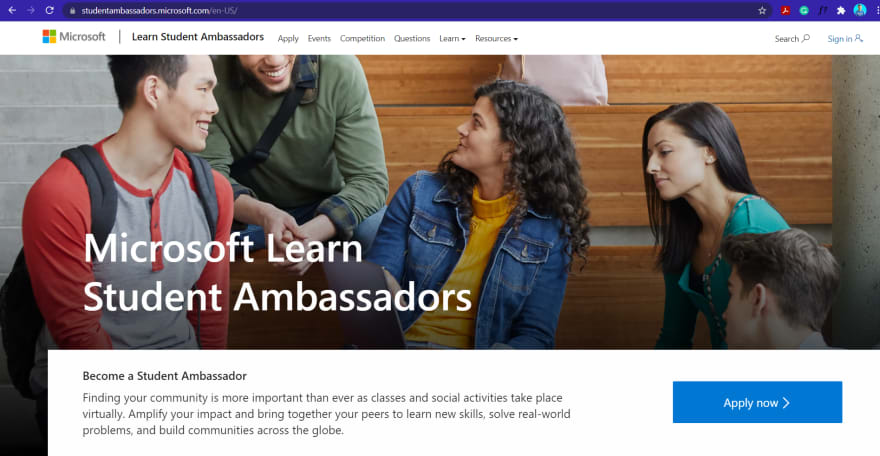 Step2: Logging in to the Application Form
Once you have logged in successfully, You will prompt with some Application Notification section which tells you about the Applications timeline. Just Read Once.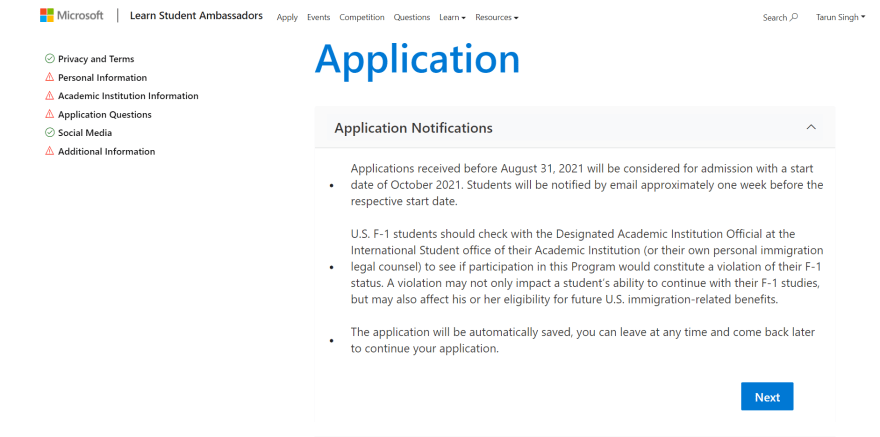 Step3: Checking Privacy and Terms
Click Next, and Read and Accept all Privacy and Terms Agreement and move on to next step.

Step4: Filling Personal Information
At this stage, you'll be asked to fill out your personal information like, Name, DOB, Gender, Contact, etc. as shown in the below picture. Once, you've filled all info., move on to next step.

Step5: Filling Academic Details
Now, here you've to fill you academic details like College Name, Year of Graduation, etc. Fill all information carefully.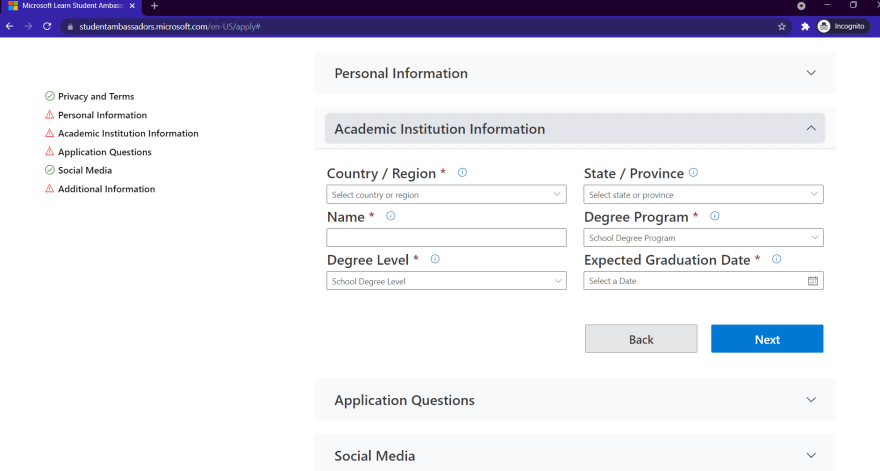 Step6: Answering Application Questions
Now comes, the main section which will decide your chances of getting selected ie., You have to answer 3 questions which should include 1 video of any one given question and 2 written answers of other questions.
Questions are given below:
What excites you about technology and why do you want other students to learn and explore?
How would you take a technical concept and teach it to a friend or peer that has never heard of it?
If you're hosting an event at your school, how would you get students to attend?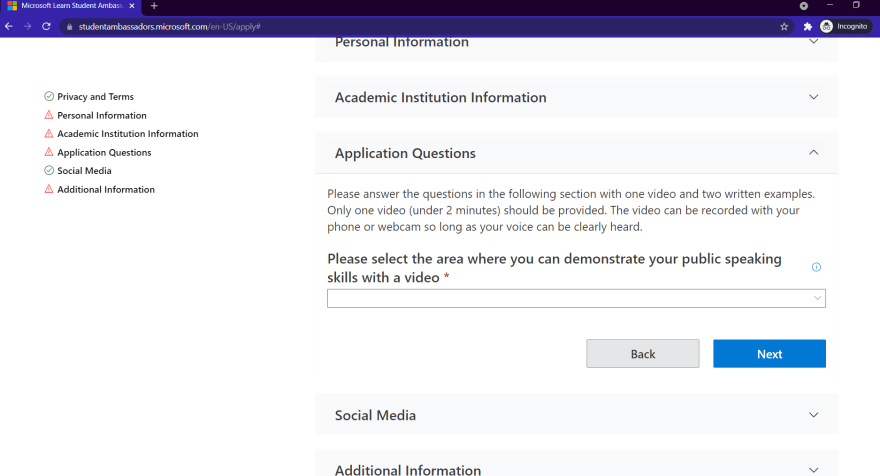 Here are some of my Tips with which you can succeed:
First of all, Be genuine in answering the questions and answer with honesty.
Include all your achievements, your skills, your inspiration in technology, etc.
Make sure your voice is clear and your communications skills should be good in the video.
Tell why you want to become a member of this community and what and how can you help others.
Tell them about your previous events that you had organised and how you got the participants to attend.
Step7: Filling Social Media Details
Now, here you have to give your all social media platforms details like Linkedin, Instagram, Twitter, Github Repository, etc. Make sure you make accounts if you haven't on any platform.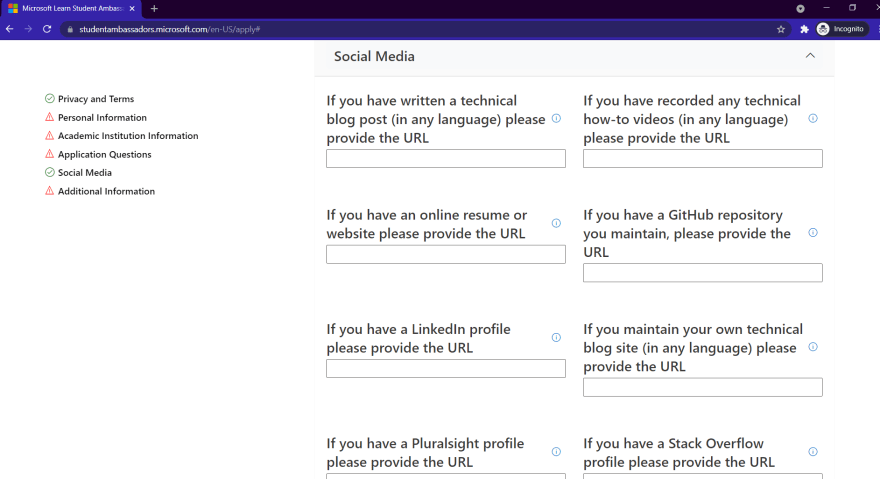 Step8: Additional Information
Here you have to answer some additional information like, which technology interests you and any other information you would like to share with microsoft.
Now click on Submit button to complete your application.

And that's all! Now you have completed the Application form! Just Wait for your result to come.
Wait you also get your personalized Profile at Microsoft website like this one:

If you have any doubt in filling this form, contact me on Linkedin- https://www.linkedin.com/in/tarunsingh24/ or Twitter- https://twitter.com/itsTarun24, I'll definitely help you in that.
Thanks for reading this article! I hope it helps.