If chosen successfully, the logo influences the first impression of your potential customers and sticks to their minds. A strong logo builds a connection between you and your customers and helps you stand out as a well-established business that offers first-rate services/products. In this article, I'll talk about how to create a strong logo using best logo graphic templates and asset packs.
How To Create a Strong Logo
A logo is just a small image, and creating it may not seem a big deal. However, once you consider the importance of the choice you make, logo design becomes one of the determining factors of your enterprise's success both in real life and on the web.
Come Up With The Concept
The initial stage of logo creation is thinking and distilling the meaning you want to supercharge your logo with. Here you go with a list of factors to take into account when developing your logo concept:
Firstly, sit down and think what the essence and the mission of your enterprise are; what values it transmits. Try to be as short and precise as possible.
Secondly, study the logos of your competitors. What is common among them? Do you want to keep in line with their logos or take an unconventional approach?
Thirdly, decide what type of logo you're going to use to better embody your message:
1) a font-based logo is the visual representation of your company name;
2) a picture-logo depicts what your company does, or it is an abstract symbol that strikes the imagination and better sticks to one's mind.
Next, make sure your logo is functional. The logo should look equally well online and offline (mind printing restrictions). Avoid logos that demand higher printing expenditures and look dim when printed monochrome.
Finally, make sure that your logo has a modern look that attracts clients. For inspiration, you can get some fresh ideas if you check out the logo design trends of 2019.
These are the basic steps to take when developing the concept of your future logo. Now, it's time to implement your vision into reality. You can either create a logo yourself or get the job done by a professional. Creating a logo yourself is cheaper than hiring a professional to do the job. However, if your graphic design skills are not advanced, you may end up with a shabby logo that scares away potential clients.
To create an invincible logo yourself, start its creation with a logo asset pack handy. Pick the pack that you can work with and use its elements to create a one-of-a-kind logo for your company. Below, you'll find the top 8 trendy logo packs that take your efforts to the new level.
Bundle #1: 10 Professional Ready-to-Use Business Logo Templates
Details
Do you need a versatile collection of logos for different businesses? The Logo Bundle is a collection of ready-to-use logo designs by the renowned MotoCMS web design provider. This bundle will be of use for freelancers and web design agencies who want to deliver their clients best logo designs for their projects. In this bundle, you'll find unique logos for such business niches as web design, real estate, financial and consulting agencies, sweets stores, etc.
Needless to say, all logos in this bundles are available in a bunch of popular formats like AI, SVG, PDF, JPG, PSD and EPS. You can customize them both in Adobe Illustrator and Photoshop. Moreover, these invincible designs are crafted to look good on all displays from mobile phones to high-resolution PCs. Moreover, these designs are Retina-friendly. Use these designs to foster the easily recognizable and memorable identity of your brand.
Bundle #2: 30 Pre-made Geometric Logos
Abstract geometrical shapes are a prevailing trend in graphic design across the board. Take advantage of their popularity with 30 sleek jet-black logos that let you create one of the hottest brand representations in your niche. With perfectly-styled font combinations and elegant icons, your logo will be both modern and meaningful.
This bundle includes 30 ready-made logo designs. For your convenience, each logo design comes in 4 styles, such as compact logo, wide logo, wordmark, and icon. Each of these styles fits for certain logo use, ensuring the coherent presentation of your brand both on different screens and offline. Needless to say, all fonts used in this logo bundle are free for commercial use. Once you choose your logo template from the bundle, just navigate to the corresponding website to download the needed font and start customizing. A list of fonts with download links is included to the bundle package.
Bundle #3: Unique Food Logo Templates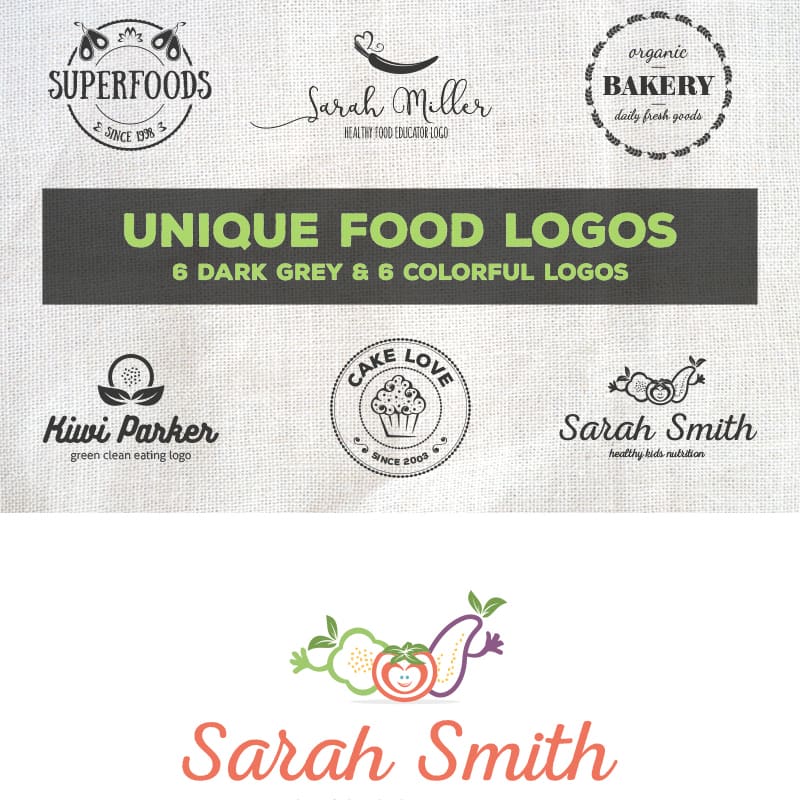 This logo bundle may be not a large one, but it contain a logo for you if you need a restaurant, sweets shop, healthy nutrition or catering logo. This bundle includes six unique logos, such as:
Healthy nutrition logo with avocado;
Food blog logo with a carrot;
Cakery logo with a cupcake;
Bakery logo with a wheat circle;
Healthy nutrition logo for kids with vegetables.
All the 6 logos included to this bundle come in 2 styles: multi-color and monochromatic. This means that you won't have to spend additional time to create * a high-quality black-n-white logo for printouts.
The logos in this bundle come in some most-popular image formats, such as AI and EPS Vector Files, JPG and PSD. Moreover, these logos are optimized for a dazzling display on all screens of different resolutions. Finally, these logo templates have all the information needed to download creative free fonts used for their creation.
Bundle #4: 30 Gorgeous & Bright Logos
Save your money and time when creating a present-day business identity with 30 unique and multipurpose logo templates. These logo designs reflect upon the most recent branding trends and feature bright splashes of friendly colors, color rainbows, and creative overlaps. Moreover, you can freely change the fonts used for each logo and easily recolor logo elements. For your convenience, all the colors of these logos are represented in CMYK color mode.
Fortunately for you, the logo templates included to this bundle come in an array of handy formats. The package includes Illustrator AI, PDF, EPS 10, CS, CS5 versions of each logo. So, you can employ a wide array of software to customize your logo the way you're used to. Finally, these logos employ only the free and easily accessible fonts from across the web to foster their idiosyncratic designs. The list with the font download links is handily included to the bundle package.
Bundle #5: 15 Niche Business Logo Templates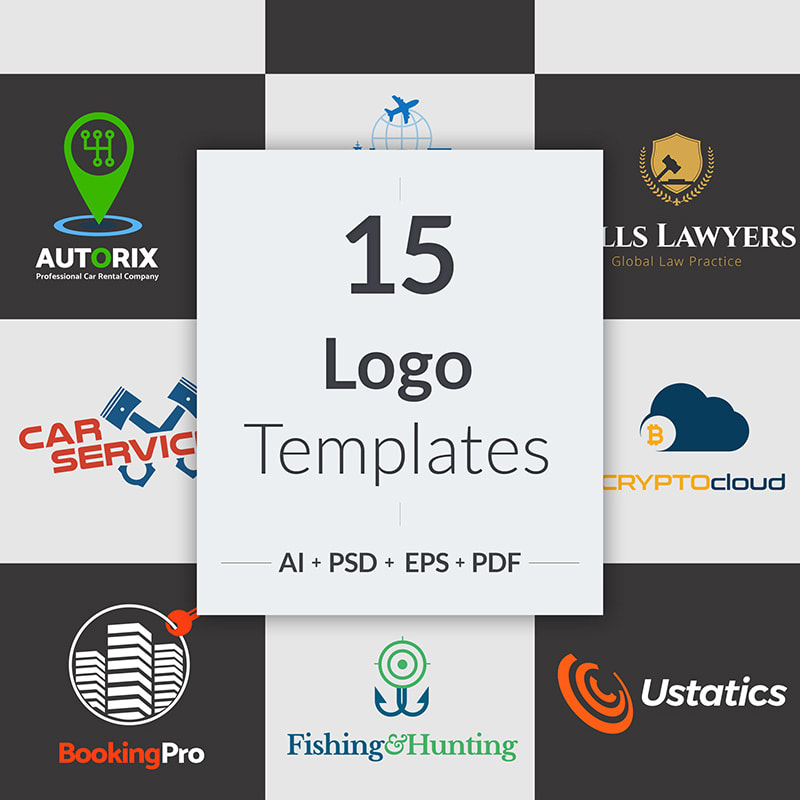 Details
This is yet another gorgeous logo bundle by the reputed MotoCMS web design company. Inside the bundle, you'll find a plethora of logo design for different business niches, including Internet Technologies, real estate, hotels, cryptocurrencies, car repair, layers, etc. Moreover, this bundle will perfectly fit the needs of web design agencies who want to use these templates as a basis to create impeccable logos for their clients.
Needless to say, each logo in this collection employs its unique layout, icon, font, and style. The fonts used for these logos are available for free on the web. All the 15 logo templates included to this bundle are available in such popular formats as AI, JPG, SVG, EPS, and PSD. Moreover, these design products are guaranteed to look equally good on screens with different resolutions. They are also ready for a high-quality display on the Retina screen. Finally, these logo designs are compatible both with Adobe Illustrator and Photoshop to let you choose your way of customizing them.
Bundle #6: Retro Badges Logo Set
Retro logos were a popular trend in 2018. No doubt, their popularity is not fading this year as well. Especially popular and successful are the badge retro logos that get this year the credit and exposure they deserve. Logo badges have been named one of the major logo design trends for 2019. This bundle delivers you 12 handcrafted retro logo badges that are bound to take your brand up a notch.
For your convenience, each logo in this bundle is available in 4 formats. You can customize them in Photoshop, Illustrator, InDesign and MS Word. Moreover, you can tap into 8 pre-designed color variations for each logo, including its Light and Dark versions. You can also freely recolor the logo to match your existing brand identity using the editor of your choice. The vector-based designs of these logos are fully scalable, so you can always resize your logo with no loss to its quality.
Bundle #7: 100 Typography Logos + 100 Frame Logos
Typography logos have been round there before the inception of the Internet. And their popularity never fades. This logo bundle delivers you 100 unique typography logo templates for different purposes. With this bundle, you'll tap into one of the richest collections of hand-picked creative fonts that foster a unique representation of your brand. Moreover, among 100 logo designs, you're bound to find the logo layout that best fits your professional vision.
No doubt, all the logo designs included to this package are fully customizable. You can use the fonts interchangeably and adjust the logo shapes up to your liking. Moreover, these logos come in different color variations. So, with this package, you get access to a total of 10.000 logo variations. Just choose your one and save the maximal amount of time creating your logo.
Recently, this logo bundle was updated. Now, it includes not only the typography logos but also an additional batch of 100 frame logos. So, your choice is twice as big with this bundle this year!
Bundle #8: 30 Minimal Edition Logos
Minimalism is one of the never-fading trends on the web for years. If your logo is minimal, it will be successful in providing for better brand recognition. Currently, even the brands in technology and fashion industries are switching toward the new ultra-minimal logos. If you want to jump on this logo design trend, embrace this ready-to-use collection of minimal logo designs. Within this bundle, you'll find 30 trendiest new minimal logo designs that you can freely use for any purposes.
To ensure the best display of your logo in different contents, this bundle delivers you 4 logo variations for each logo design. Among these variations, you'll find the wide and compact logo versions, as well as a wordmark and icon logo. Moreover, these logos are fully resizable and display on different screens with no loss to their quality. Of course, a list of fonts with the links to their sources is included in the bundle pack.
Wrapping Up
Having a strong logo is crucial for wide recognition of your business and active development of its brand. Companies that have powerful logos make it to the top quicker, as people remember them better and relate to messages that their strong logos transmit.
If you want to devise a powerful logo for your enterprise, give it a decent amount of thought: distill the main message, study competitors' logos, wisely choose colors and the type of your logo, etc. Then, choose one of these top 10 logo bundles to supercharge your logo with trendy shapes, colors, and fonts.
Are there any exciting logo bundles that I've missed out? Feel free to speak up in the Comments section below.
Happy logo creation!