Well, as we all know that Bootstrap is the most famous open-source framework for developing HTML, CSS, and JavaScript. Most web developers choose bootstrap because it is the ideal choice as a framework for developing new projects and websites.
Also, Bootstrap is a consistent framework that supports the major of all browsers and CSS compatibility fixes. Also, it is lightweight and customizable. Bootstrap has Responsive structures and styles.
Apart from this, the major advantages which make it more preferable are, High Flexibility: This gives the developers the flexibility to develop elegant designs and Responsive Grid The strongest part of the bootstrap framework.
Furthermore, Bootstrap offers a 12 column grid system. So, overall it is easy to use, it holds a big support community, Yeah It's really good to have some support, sort of everywhere!! Right?😉
Bootstrap also offers:
Pre-styled Components
Simple Integration
Speed of the Development
Packaged JavaScript Components
Thus, by utilizing Bootstrap Admin Template, you enjoy the benefits of higher productivity as well. You can call it a smart bootstrap admin template, as it is much convenient and comfortable to work with. These templates make the entire website front-end maintenance task cozy and comfy. Bootstrap Admin Templatesmakes the task of developing the front-end becomes much easier than traditional coding. The task becomes more like selecting some pre-made sections of a building and putting them down in place. Yeah just like that..!! ✨ ✨.
"This post includes affiliate links; I may receive compensation if you purchase products or services from the different links provided in this article(no additional cost to you)."
Sneat Bootstrap 5 HTML Admin Template – is the latest most developer-friendly 🤘🏻 & highly customizable✨ Admin Dashboard Template based on Bootstrap 5. Besides, the highest industry standards are considered to bring you the best bootstrap admin template that is not just fast🚀and easy to use, but highly scalable.
In addition, incredibly versatile, the Sneat Bootstrap 5 Admin Template also allows you to build any type of web application. For instance, you can create:
SaaS platforms
Project management apps
Ecommerce backends
CRM systems
Analytics apps
Banking apps
Education apps
Fitness apps & many more….
Furthermore, you can use this one of the best innovative Bootstrap admin templates to create eye-catching, high-quality, and high-performing Web Applications. Besides, your apps will be completely responsive, ensuring they'll look stunning and function flawlessly on desktops, tablets, and mobile devices.
Features:
Based on Bootstrap 5
Vertical & Horizontal layouts
Default, Bordered & Semi-dark themes
Light & Dark mode support
Internationalization/i18n & RTL Ready
Theme Config: Customize our template without a sweat.
SASS Powered
Fully Responsive Layout
Clean & Commented Code
Enjoy hassle-free support
In case you are looking for Sketch UI Kits then do check the Sneat Sketch Admin Dashboard UI Kit Template.
Chameleon Admin Lite is a Free Modern Bootstrap 4 Web-app & Admin Dashboard HTML Template. It is one of the best free bootstrap admin templates with an elegant design, clean and organized code. Besides, It is multipurpose that means suitable for any kind of web application: Project Management, eCommerce backends, Analytics, CRM, Fitness, or any custom admin panels. Furthermore, it comes with built-in Email, Chat, Invoice, Contact list, Calendar, and many more.
Besides, it is powered with HTML 5, CSS 3, Bootstrap 4, SASS, Gulp. Compatible with Desktops, Tablets, and Mobile Devices which makes it highly user-friendly. Chameleon bootstrap admin template free version comes with a starter kit that will help developers to get started quickly.
Apex is the ultimate 3 in 1 bootstrap 4 HTML admin template with the latest Angular 11 update. It is a super flexible, powerful, clean, modern, and highly responsive dashboard template. Besides, it includes ready to Use angular Components, Unique Dashboards, and lots more for your backend applications. It is a highly customizable dashboard.
Features:
Angular CLI + Ng Bootstrap
Workable NgRx Apps
AOT Support + Lazy Loading
Starter Kit + RTL Support
Dark & Transparent Layouts
Modern admin clean bootstrap 4 dashboard template includes 7 pre-built templates & 6 niche category admin templates with Modern and Material design, organized folder structure, clean & commented code, 7+ unique menu styles, 6+ admin panels, 200+ cards, 300+ HTML pages, and 15+ layout variations, 100+ charts, and many more. Besides, it also provides RTL support. Powered with HTML 5, SASS, GULP, Pug & with Bootstrap 4 Stable version. It comes with a starter kit that will help developers to get started quickly. Modern Admin – Clean Bootstrap 4 Dashboard HTML Template + Bitcoin Dashboard can be used for any type of web applications: Project Management, eCommerce backends, CRM, Analytics, Fitness, or any custom admin panels.
Features:
Collapsed menu layout
6 in 1 admin panels
8 Unique menu style
Social Authentication
Workable Apps, Starter Kit
Full SASS Support and many more
Soft UI Dashboard PRO is the most innovative dashboard made by Creative Tim. This stunning premium admin template is based on Bootstrap 5 and it comes with hundreds of handcrafted elements, design blocks, and fully coded pages like Sign in, Profile, Charts, and so on.
You can choose and combine elements to create the coolest tool to view data on your business. Elements' colors can be easily changed by accessing the SASS files and classes. Go from prototyping to full-functional code in no time because all elements are already implemented!
Features:
Many Color Schemes
300 Handcrafted Elements
14 Customized Plugins
54 Example Pages
Responsive design
Sass files
Easy to customize
Bootstrap 5
AdminKit is a professional Web UI Kit & Dashboard template based on Bootstrap that comes with hundreds of UI components, forms, tables, charts, pages, and icons. AdminKit helps you to create your next Bootstrap even faster than before. It can be used to create a Saas based interface, administrator dashboard, or anything you want to build on the web
Majestic Admin is a simple yet powerful free Bootstrap admin template that is built with the Bootstrap framework, SAAS, jQuery, HTML5, and CSS. The spectacular design, user-friendliness, and easy customizability of Majestic Admin make it suitable for building different types of websites. This well-documented template has high responsiveness to make websites look great on both desktop and mobile device
Atlantis Lite is a free bootstrap 4 admin dashboard that is beautifully and elegantly designed to display various metrics, numbers, or data visualization. Atlantis Lite admin dashboard has 2 layouts, many plugins, and UI components to help developers create dashboards quickly and effectively so they can save development time and also help users to make the right and fast decisions based on existing data
Sleek Dashboard - Free Bootstrap 4 Admin Dashboard Template and UI Kit. It is a very powerful bootstrap admin dashboard, which allows you to build products like admin panels, content management systems, and CRMs.
Features:
Built with Bootstrap 4
HTML5 & CSS3
Sass (Scss) Files Included
Cross-Browser Support
Well Documented
RTL Direction Support
Matrix Admin is a basic yet very useful bootstrap 5 dashboard template for your projects. If you are looking for a modern yet clean admin template for your backend project. Matrix Admin is the right choice for you.
Features:
1 Basic Dashboard
20+ Pages Template
10+ UI Components
Bootstrap 5 Version
Icons
Fully Responsive Pages
With all the basic features and fully responsive pages, Severny Dashboard Lite does wonders for our projects. Having a clean and modern look for your backend project this particular free bootstrap 4 admin template for web applications gives you easy customization options.
Features:
7 Page templates
10 UI Components
Integrated Plugins
Ready-to-use widgets
2 Forms included
Skote is a fully featured premium admin dashboard template in HTML & Laravel 8 with developer-friendly codes and Multi-Lingual support and few reusable components. Sketch files are also available with this template.
Skote is an admin dashboard template that is a beautifully crafted, clean & minimal designed admin template with Dark, Light Layouts with RTL options. You can build any type of web application like Saas-based interface, eCommerce, Crypto, CRM, CMS, Project management apps, Admin Panels, etc.
Features:
Webpack Compiler with Laravel Mix
Added few reusable Laravel components
Multiple Layouts
Multi-lingual support
Fully Responsive Layout
SASS Powered
Sketch, Figma, Adobe XD Files Available
Ubold is a fully featured premium admin template built on top of awesome Bootstrap 4.5.0, modern web technology HTML5, CSS3, and jQuery. It has many ready-to-use hand-crafted components. The theme is fully responsive and easy to customize. The code is super easy to understand and gives power to any developer to turn this theme into a real web application.
Features:
150 + Pages
500+ UI Components
110+ Charts(11 chart library)
13+ Built in Apps
RTL & LTR Support
Dashlite is a powerful admin dashboard template that especially builds for developers and programmers. DashLite comes with all kind of components, necessary elements and pre-build pages including exclusive 3 conceptual apps (Crypto Buy Sell, Crypto Wallet, HYIP Investment & SAAS Subscription) that helps you to create your web apps or application faster.
Features:
Pre-build pages
Ready to use widgets
Custom SVG icons
NioIcon
6+ dashboards
90+ Pre-build screens
Metronic is an awesome bootstrap 4 admin template. It is built with Twitter Bootstrap 4, HTML, Angular 11, VueJS, React, and Laravel. It is highly responsive and customizable. Besides, you can use it for any kind of web application.
ProUI is a responsive and fully featured admin template powered by the popular Bootstrap 3.x framework. It is one of our best sellers and comes packed with many ready-to-use components and example pages. It also offers tons of layout options to match any design requirements you might have for your custom project.
Remark is a premium, responsive, creative, customizable admin dashboard template based on Bootstrap 4 (You can email me to get the bootstrap v3 version). There are a huge of powerful components build with scss/less CSS which makes it easy to modify.
It's the latest collection in our highly reliable libraries, its components cover the best practices on web and mobile. It can be easily integrated into your projects, allowing you to create solutions for your future designs quickly.
Dashforge is a fully responsive premium quality admin dashboard template that is built on top of the latest Bootstrap version with a clean, modern, simple, and professional design perfect for your dashboard, analytics, and application projects. It contains more than a hundred reusable components that are enhanced and improved. Amazing flexibility and re-usability.
Features:
4 Pre-built Dashboard Templates
1000+ Font Icons
500+ Reusable Components
One Page Capable
3 Navigation Skins
Skin Customizer
Pre-built Apps (Mailbox, Chat, Contacts, File Manager, Calendar, etc.)
Gull is a modern Bootstrap 4 admin template and UI framework with a full Laravel version. It is fully responsive built using SASS, HTML5, CSS3, and jQuery plugins and packed with smart developer tools such as Gulp, Babel, and Browsersync. It can be used for building all kinds of Cross-platform Applications and Web application backends.
Features:
4 Dashboard versions
Datatables
Full-screen search
2000+ premium icons mind icons included
Login Page
SignUp page
Forgot password page
Features:
Right-Click Menu
Sound and Video Player
Rtl and Ltr Support
Keyboard Shortcuts
Two Panels Menu
Icons Mind (Save $79)
10 Color Schemes
4 Applications
Lots of Components
SmartAdmin an advanced UI Bootstrap 4 Admin and Dashboard is built for the next generation. Its' exceptional design contains a vast collection of assorted reusable UI components integrated with the latest jQuery plugins optimized to suit every modern web application project worldwide.
Features:
Over 35 Layout Variations
Light & Dark Modes
i18n ready
Over 2500+ premium Icons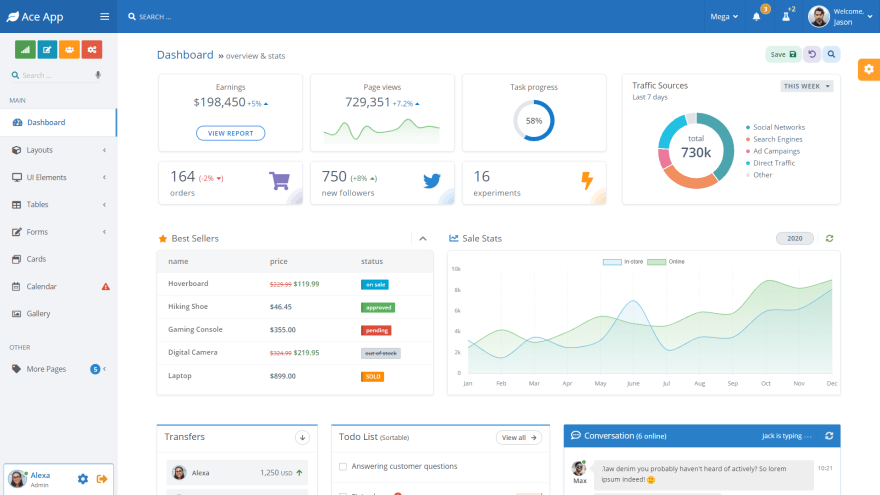 Ace v3.1.1 is a responsive, easy-to-use, and feature-rich HTML5 admin template based on Bootstrap 4.5.x. It's clean and well structured, making it easy to integrate with your app whether it's powered by Ruby, PHP, ASP.NET, etc.
Features:
Asides and sliders
Checkbox and switches
Scrollbars
File input
Tabs and accordions
Buttons and button groups
Mobile-friendly dropdown menus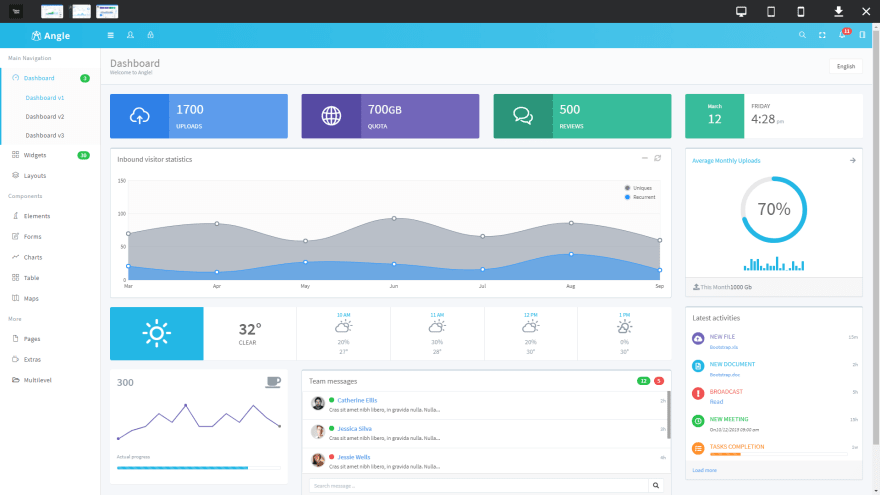 The angle is an admin template based on Bootstrap and multiple frameworks. All components included in this dashboard template have been developed to bring all the potential of HTML5 and Bootstrap plus a set of new features (JS and CSS) ideal for your next dashboard admin theme or admin web application project.
HOMER Admin Theme is a premium admin dashboard theme with a flat design concept. It is a fully responsive admin dashboard template built with Bootstrap 3+ Framework, HTML5, and CSS3, LESS, Media query, AngularJS, Grunt, and Bower. It has a main collection of reusable UI components and integrated with the latest jQuery plugins. It can be used for all types of small and medium web apps.
Features:
Responsive layout (desktops, tablets, mobile devices)
Built with new Bootstrap 3.3
Flat UI with the clean aesthetic style
Fluid view
Special Light-Shadow skin
HTML5 & CSS3
Minton is a fully featured premium admin template built on top of awesome Bootstrap 5.0.0-beta2, modern web technology HTML5, CSS3, and jQuery. It has many ready-to-use hand-crafted components. The theme is fully responsive and easy to customize. The code is super easy to understand and gives power to any developer to turn this theme into a real web application.
Features:
Rich form, widgets, validation and wizard
120+ Pages
500+ UI Components
110+ Charts(9 chart library)
5+ Built in Apps
RTL & LTR Support
Star Admin Pro is a fully-featured Bootstrap 4 admin template featuring a clean, simple, and professional design. It is based on the Bootstrap framework. This is a powerful, feature-rich, and super flexible admin dashboard template. It serves as the perfect starting point for both simple and complex web development projects. It features a well-designed dashboard with several neatly arranged components and essential elements.
Features:
14 Unique Dashboards
RTL and Boxed layouts
5+ Applications
5 Attractive Sidebar layouts,
18 UI Elements
4 Icon Sets and many more.
Designed based on the Bootstrap framework, Skydash is a powerful, feature-rich, and super flexible admin template. It is well coded and designed to be easily customizable. It doesn't matter if you're a seasoned developer or someone who has just started coding. Skydash has been developed with the idea of being accessible to anyone. This Bootstrap admin template has been designed with colors that were hand-picked, for the sole purpose of reducing eye strain. If you're someone who spends a lot of time using dashboards, you will love what we have done with Skydash.
Azia is a Bootstrap 4 admin & dashboard template featuring components that are built to fit perfectly with each other. It offers a clean interface that can be easily adapted to fit your vision and branding. Azia features many essential utility classes that can help cut down CSS bloat and modify CSS components instantly.
Features:
10 Stunning Dashboards
10+ Essential Utilities
1000+ Font Icons
20+ Essential UI elements
5 Beautiful Page Styles and a lot more.
Aqua UI is a modern admin and dashboard template with a crisp design. It is powered with SASS, CSS3, HTML5, jQuery, and Bootstrap itself. The fully responsive dashboard template is flexible, user-friendly, and supports most modern web browsers.
Features:
Build code with Gulp
Package management using NPM
Light and Dark layouts
Responsive Design
60+ Useful plug-ins
15+ Sample Pages
Conclusion:
So, here we have collected more than 30 Best Bootstrap Admin Template Free and Premium, 2022. Each template offers unique and useful features that'll help you develop a responsive and unique web app for your business.
In order to select the best one, all you have to do is, set your requirements and priorities. After that, you'll be able to select the right template for your project.
We hope you find this collection helpful. Also, do tell us your favorite one in the comment section below.
About Us:
We, at ThemeSelection, provide selected high quality, modern design, professional and easy-to-use premium and free bootstrap admin template, and Free UI Kits.
You can use Sneat Bootstrap 5 HTML Admin Template and Chameleon Free Bootstrap Admin Template. It lets you integrate and customize as per your need and requirement.