It hasn't been working on Chrome in 2018 but it's working again in September 2019.
It can be hard to track how small changes affect the performance of a WebGL project if you're well within the limits of your GPU and browser.
You can check in details frame rate variations on modifications such has adding a Shader Pass or merging geometries, disabling frustum culling, etc..
How to
open 

-a

 

"Google Chrome"

 

--args

 

--disable-gpu-vsync



or depends on your settings

open 

-a

 

"Google Chrome"

 

--args

 

--disable-gpu-vsync

 

--disable-frame-rate-limit



2. Open console Rendering tab (in more tools)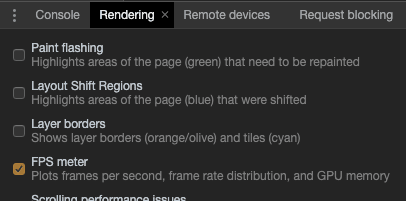 Tested on iMac end 2013 Mojave
Source on medium
Posted on by:
Je suis un crapaud devenu humain par accident / Géographe pauvre sans instrument de mesure