It hasn't been working on Chrome in 2018 but it's working again in September 2019.
It can be hard to track how small changes affect the performance of a WebGL project if you're well within the limits of your GPU and browser.
You can check in details frame rate variations on modifications such has adding a Shader Pass or merging geometries, disabling frustum culling, etc..
How to
open 

-a

 

"Google Chrome"

 

--args

 

--disable-gpu-vsync



or depends on your settings

open 

-a

 

"Google Chrome"

 

--args

 

--disable-gpu-vsync

 

--disable-frame-rate-limit



2. Open console Rendering tab (in more tools)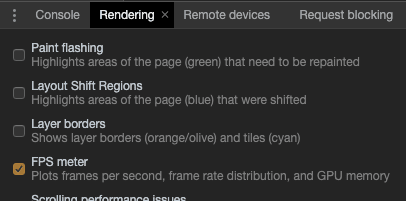 Tested on iMac end 2013 Mojave
Source on medium
Update 14/09/2020

The fps meter has been updated, it doesn't seem possible anymore to disable frame rate limit.
Can't find any article about the new fps meter at the moment, if any on has any lead, please reach out.
Update 28/11/2020
Unfortunately, it appears that the fps meter won't be available anymore in chromium.
It has been renamed Frame rendering stats.
You can find information about release here
Frame rendering stats release tweet

There is to my knowledge only one way to use the Unlimited frame rate FPS meter (Only tested on Mac).
You have to get an old build of Chromium (Version 65.0.3312.0 (Developer Build) (64-bit) in my case) and launch it with the command line, but the rendering might differs for various reasons.

open 

-a

 

"Chromium"

 

--args

 

--disable-gpu-vsync

 

--disable-frame-rate-limit