Originally published on webdeasy.de!
SEO is a process that is never completed. SEO tools help you to optimize in the right places and simplify your work. That's why I have put together a list of the best free SEO tools.
In SEO and marketing a website you can invest a lot of money. However, one cannot and does not always want to do so. Especially private people are therefore looking for good and free SEO tools that are still really good.
The different tools are not only good for SEO, but also useful for tracking and analyzing visitor behavior, error detection or marketing and keyword research.
All listed SEO tools I use myself, so I can recommend them with a clear conscience! :)
#1 web.dev Measure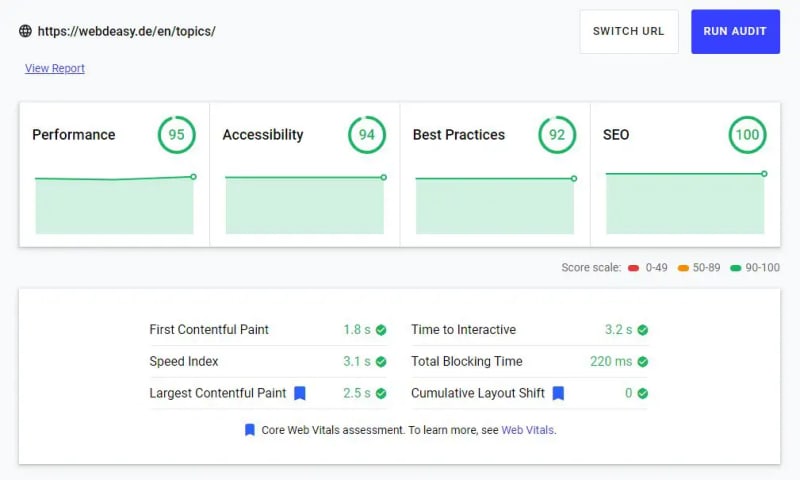 In my eyes web.dev Measure is the most useful SEO tool of all. You get a very good overview of the different Core Web Vitals, which should also be included in the future as a ranking factor for Google.
For each subpage you can perform a separate measurement and get a score and possible improvements in four categories:
Performance: Evaluation of the page performance (e.g. time to fully loaded, time to possible interaction).
Accessibility: Assessment of how "accessible" content is to users (e.g. alt tags on images or visible important content).
Best Practices: Best possible implementation of various techniques (e.g. use of HTTPS and correct image formats).
SEO: Checks if your site can be found best possible by search engines.
Through these tests you get a very good overview of the "quality" of your site, at least on the technical side.
Possible improvements are shown directly and in an extra forum ideas for bug fixing are described very well and in detail.
For example, the metrics of my pages made me convert my jQuery to JavaScript. Thereby I could improve my performance significantly and speed up the loading time of the page.
If all your values are in the green (or yellow) range, your site is already very solid. If not, you know what to do! 🙂
Link: web.dev Measure
#2 Google Search Console

Yeah, you read it right. The Google Search Console, formerly Google Webmaster Tools.
The Search Console offers you the possibility to find out how many users reach your site via which search terms and search types (AMP result, pictures, etc.). You can also remove obsolete links directly from the search, find out keywords and keyword positions and compare them with other subpages.
But that's not all. As already mentioned, the Core Web Vitals should also become a ranking factor for Google, so that the corresponding statistics have already been integrated into the Search Console. In the corresponding report you get exact information about which factors are good and which should be improved.


Furthermore you will get an overview about the usability on mobile devices, i.e. if your pages are optimized for mobile devices. This is important because Google acts according to the Mobile First Index and prefers good mobile pages and punishes bad ones in the ranking.
But the Google Search Console offers you a lot more options, like the validity indicator of AMP pages, FAQ rich snippets or sitelink search fields to name just a few.
It is therefore worthwhile to take a close look at the Search Console in order to exploit its full potential.
Link: Google Search Console
#3 Ubersuggest

With Ubersuggest you get a complete overview of your website. For example, backlinks (more information), a domain score (how "trustworthy" your site is), an estimation of the monthly page views and much more.
Ubersuggest is best suited to provide a general insight into such values.
Link: Ubersuggest
#4 Matomo

Matomo is a Google Analytics alternative for websites, which enables the tracking of your visitors and is installed with a few simple steps. All data is stored on your server and is not passed on to third parties. Because of this feature and the tracking without cookies Matomo is – in my eyes – the optimal tracking software.
As in Google Analytics, reports can be created and precisely identify which user groups have which behaviour on your website. Through appropriate analyses, you can optimize your website, for example, to achieve a higher conversion of your visitors.
If you use Vue.js, this tutorial will help you to integrate Matomo into Vue.js.
Link: Matomo
#5 PageSpeed Insights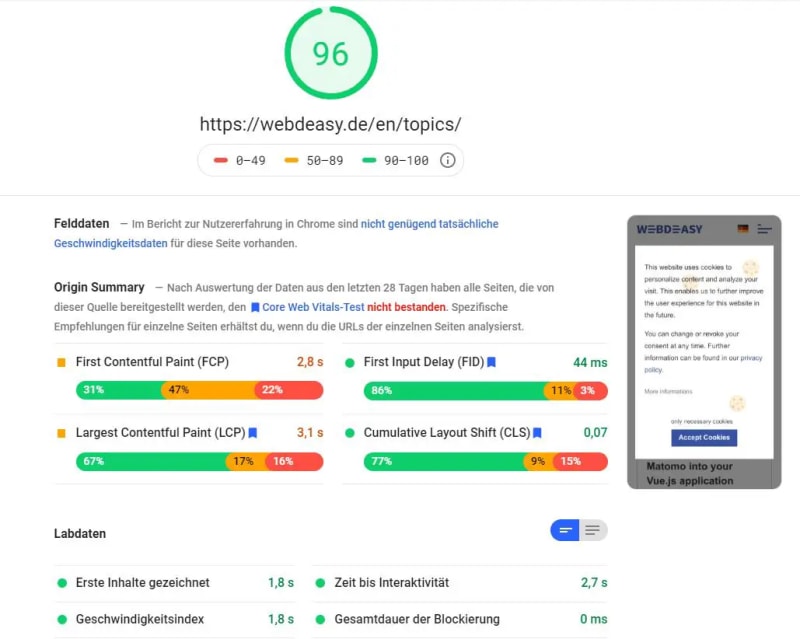 PageSpeed Insights is a tool provided by Google that measures the performance of your page on mobile devices and the desktop version and suggests optimization options.
Besides laboratory values, i.e. theoretically measured values, it also displays field data collected by real users using CrUX.
The measurements are divided into different categories:
FCP (First Contentful Paint): The time that passes until the first content is displayed on the page.
FID (First Input Delay): The time that passes until the user can interact with your site.
LCP (Largest Contentful Paint): The time it takes to load the largest text or image element on the page.
CLS (Cumulative Layout Shift): The time that passes until the layout does not move anymore. This can happen, for example, by loading images if they have not defined a fixed height and width.
Together with web.dev Measure PageSpeed Insights is a great combination to optimize your site technically super. It shows a detailed list of "errors" that should be improved/fixed.
Link: PageSpeed Insights
#6 Keyword Surfer (Browser Extension)

With the browser extension Keyword Surfer you will be shown the search volume of the keyword, traffic estimates of the top results, the number of words on the pages and the number of keywords on the pages in every Google search. The CPC (Cost per Click) for Google Adwords is also displayed directly to plan your campaigns.
This can help you to textually customize content to better rank for a particular keyword or get new ideas through the "Keyword ideas" column. Choosing the right keyword is an important task!
Link: Keyword Surfer (Chrome)
#7 Google Trends

With Google Trends you can search for the right keyword. You have the possibility to compare several terms with each other over certain periods and countries.
You can find out which keyword has a better trend or which formulations are increasingly sought by users.
A banal example is shown in the screenshot above. If you are thinking about using "vue" or "react" as a keyword, you might want to think about what might be more useful?
I would prefer "react" here, as it is in growth and is more sought-after anyway due to a drop of the keyword "vue". I have chosen these two terms because I want to illustrate how such a statistic can be interpreted.
Link: Google Trends
#8 SEORCH

SEORCH is the last free SEO tool and offers you a detailed overview of the technical SEO implementation of your site. You get a complete evaluation of your HTML structure and a direct rating by green check marks or red crosses.
Furthermore, SEARCH counts the words that appear on your site and estimates what your keyword might be. The right ratio of filler words and keywords is very important for search engines.
Link: SEORCH
Conclusion
SEO, analysis and marketing tools can be a very powerful tool if you know the right ones and use them wisely. I hope that you got to know some new tools here and that they will be helpful to you.
By using several different free tools, you can create great results, but work is always part of it.
There are of course many more and this list is just a selection of free SEO tools. Happy optimising continues! 🙂