WordPress Guttenberg Review - What's new in the upcoming WordPress editor?
Gutenberg WordPress editor is the new editor that allows beginners as well as advanced users to edit and produce content for your website. Currently it is in beta stage and not perfectly fit for release but available to use as plugin for testing purposes.
How to install the Gutenberg editor
Installing the Gutenberg WordPress editor is simple and easy.
Go to Plugins > Add new and then type Gutenberg. Also make sure that your WordPress site is upgraded to the latest 4.9 release before installing the Gutenberg WordPress editor. If it is already upgraded then you will see a checkmark at the bottom right corner. After that press the Install Now button at the top-right corner.
Finally now press the blue Activate button.
How To Use the new Gutenberg Editor
After successfully installing the plugin you can access it in two ways:
Select Posts > All Posts, and click on the Gutenberg instead of the Edit link. Also Note that the old Edit link is still available.
Select Gutenberg > New Post on your Dashboard.
It looks like medium.com style of design. Also the Post metadata configuration is accessible in the right column as tab. You can hide/show by clicking on Post settings.
You can add, format and also move text efficiently. You can begin writing the title and the main body. If you want to add another paragraph then just click on + > Text.
This new Gutenberg Editor use blocks to organize text. After writing the paragraph, you can easily change its order in the text using the arrow keys located next to it. If you want to delete you can use the Trash Can icon on the right.
If you want to add a heading between the two paragraphs then you need to do it via + button and then move it using the arrow icon.
One of the most important highlights of the Gutenberg WordPress Editor is it's support for multimedia and rich content. Embedding process is really simple and easy. To embed just click on + > Embeds > Search meetup > Click on Meetup.com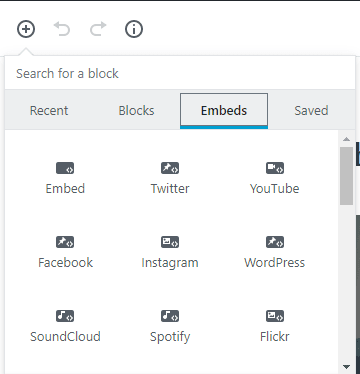 The available embed services run from Twitter, Facebook, Instagram, DailyMotion, YouTube, Kickstarter and Spotify, TED, Slideshare, and Tumblr. You have to just select the source, enter the corresponding URL and then done!
Gutenberg editor provides more including layout blocks such as button and the separator.
Pull Quotes
Gutenberg also introduces form of quotes known as Pull Quotes.
Table Block
This is the most useful addition to this Gutenberg Editor. As for now only 2×2 tables are supported without any configuration of the table. You can simply add columns or rows. Well it's a great option in this Gutenberg editor as currently you can't use tables without using a third party plugin.
Custom HTML
You can also add HTML blocks that you can easily preview. Now you can quickly change between text and visual mode.
DISCUSSION
Classic DEV Post from Dec 21 '18