What is SaasRock?
Previously The Remix SaaS kit, now SaasRock.
A multi-tenant framework with out-of-the-box SaaS features, powered by Remix 💿, Tailwind CSS, and Prisma.
Check out the new website!
---
Pre-launch 🚀
SaasRock is on pre-launch, meaning that the license will change, and the framework could have breaking changes until it reaches v1.0, check out the changelog page or the roadmap to see the current version.
---
New features - v0.2.6
Custom Entity Builder
Biggest update since v0.0.1!
Properties: TEXT, NUMBER, DATE, ENTITY, MEDIA, and SELECT field types.
Rows - Tenant entity rows, e.g. Employee EMP-0001, EMP-0002...
Views and Forms - Autogenerated views and forms at /app/:tenant/:entity.
API - Autogenerated API with GET (all), GET (id), POST, PUT, and DELETE methods.
Events - Created, Updated, and Deleted events.
Webhooks - Connect with other apps with Zapier (or your current services).
Workflow - UNDER CONSTRUCTION 🚧.
---
Per-seat Pricing Model
Now you can set up your pricing with the PER_SEAT pricing model in mind.
---
Documentation
Added the /documentation page with lots of pages:
Getting Started: Stack, Roadmap, Changelog, License, Community
Product: Features and Components
Learning Center: Tutorials and Quick Guides
Core Models: Account, Subscription, and Custom Entity models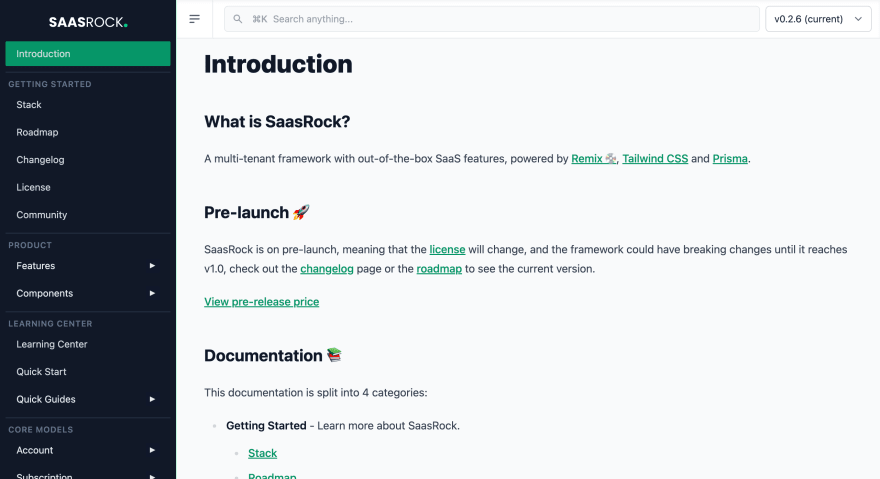 ---
New Landing Page
Added new sections:
Testimonials (with social proof using GitHub API)
Upcoming Features
Pricing CTA
Newsletter (using ConvertKit)
---
Community
Follow us on twitter and join the discord server!
---
Let me know what you think of this release!