Development is more than a trade for me. It is a part of my DNA. As a child, I always took things apart and tried to put them back together. Sometimes I discovered you can make things better if you understood how they were intended to work. It doesn't matter what language you write, there is always a unique signature that accents your digital impact. Being a polyglot I tried many different languages to discover advantages with one language versus the next.
I have learned many things over the years and found out that superpowers are real. After creating and developing for over 20+ years I found comfort in the C# language as my core stack to develop with and I currently work with various desktop, mobile, tv, and web technologies. One fact I discovered early on is that the purpose of your application outweighs the code itself. As developers, we strive to solve problems and create new experiences. That is why we always have to focus on the next person that will interact with your creations and not get in our own way.
I have surrounded myself around many great people that have helped me learned what I need to know today, and as technology continues to evolve one thing will never change. The REASON. We all code, create, solve, and live for a reason. That reason is also what makes a good versus great at what we do.
I implore you to identify your superpower if you haven't already had and made yourself the most powerful being in your space.
Posted on by: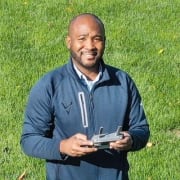 I am a software architect, business owner, and student of life. Founder of @viviscape and co-founder of @dronebroker.