The full article was originally published on Ascendix Tech's blog.
Today we want to unveil the topic of building custom insurance software products as the insurance industry is booming within the last years. The matter is the number of multiple obstacles and situations that have been emerging including COVID-19.
So, our detailed guide will cover the following aspects:
Insurance software and its core types
Insurance agency software market stats
Core functionality of insurtech solutions
Key steps of building SaaS insurance software solutions.
Let's get down to business.
What Are InsurTech and Its Core Types
Simply put, InsurTech is a term that refers to technology solutions designed for insurance companies and brokers to meet their business needs, automate daily workflow, provide deep analytics tools, and many other benefits.
There are multiple insurance software types, but we want to share the most popular solutions and discuss what software do insurance companies use.
Insurance document management software
This solution type's mission is to improve the processes of searching, storing, filtering, organizing, and accessing important data for insurance companies and brokers.
Insurance automation software
This type of software is about automating daily workflow and streamlining key business operations for customer support, human resources, lead management, marketing, and sales departments.
Insurance policy management software
This functionality helps insurance companies greatly reduce insuring risks and handle reinsurance processes effectively with the help of Artificial Intelligence algorithms. Namely, insurance policy management software is about automating facultative arrangements and reinsurance treaties.
Insurance underwriting and rating software
This type of software allows insurance companies to automate the underwriting process and make it transparent for all employees that helps to release much time for major tasks as underwriting is one of the most frequently handled operations within the insurance industry.
Insurance claims management software
Creating, processing, and sharing claims are also among the most crucial operations for insurance companies. This way, insurance claims management software enables brokers and agencies to streamline the process, automatically generate needed claims records, leverage the benefits of enhanced payment management, and get policy administration opportunities.
CRM software for insurance agencies
Lead generation and management are crucial aspects for every business and insurance companies are no exception.
For this reason, CRM software for insurance agencies empowers companies and brokers to use the latest encryption protocols while sharing sensitive policy and claims documents, collaborate with prospects and clients in safe collaboration/deal rooms, adjust the sales funnel, and provide transparent all-in-one system for marketing, sales, customer support, and other departments.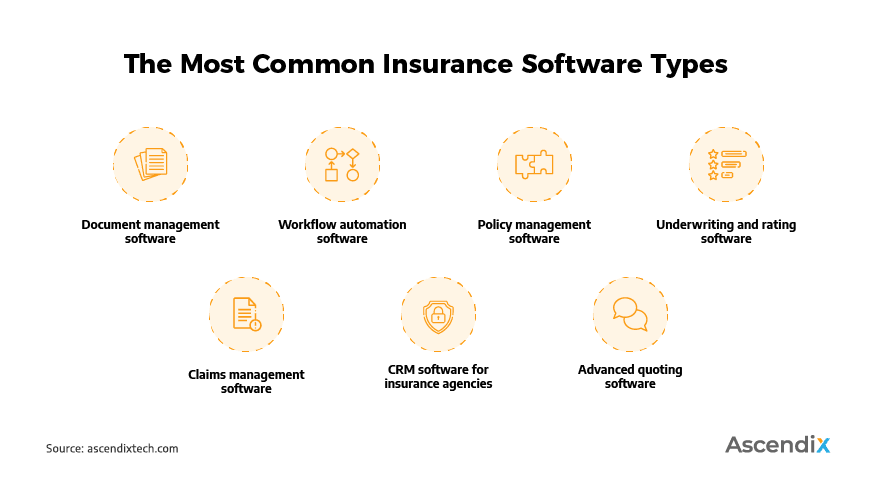 Benefits of Insurance Software Solutions
Having covered the key software types, let's now check common benefits that custom insurance software development provides for businesses and startups.
Operational costs reduction

Compliance management enhancement

Customer service improvement

Predictive analytics & reporting tools

Increase data accuracy.
Insurance software features
#1 Policy Lifecycle Automation
As we mentioned above, multiple operations with policies are crucial for all insurance companies in their daily workflow operations. For this reason, policy management software and lifecycle automation tools are must-have functionality in 2021.
Briefly, they help brokers and agents automate most daily routine tasks like creating, maintaining, and underwriting policies along with termination processes.
#2 Insurance Claims Management
Generating, processing, and sharing claims are again the crucial daily tasks for lots of insurance companies in 2021.
It means that developing and using insurance claims management software becomes a must-have option for agencies and brokers as it simply helps release hundreds and thousands of hours that could be spent on major tasks instead of creating low-level similar claims day by day.
This way, this functionality allows companies to greatly reduce labor costs and grow teams' performance.
#3 Powerful Finance Infrastructure Tools
As insurance companies interact with hundreds or thousands of claimants monthly, they should be confident in providing accurate financial data and calculating each cent spent on payouts.
Large volumes of data increase the human error rate and make insurance companies vulnerable to financial losses.
For these reasons, powerful financial infrastructure tools are a must-have feature for any insurance company that wants to succeed and stay profitable in 2021.
First, it allows to instantly access the required organization's financial information in real-time and review accounting results.
Second, finance organizational tools offer lots of capacity to automate invoicing, payments, fees, and reconciliation. This releases lots of time for brokers and agents to focus on strategic tasks and avoid operational routine challenges.
#4 Insurance CRM Software Functionality
LIMRA's 2020 Insurance Study states that more than a half of people in the US (approx. 160 mln) had different types of life insurance in the previous year and its further growth is predicted.
These numbers mean that insurance companies should have no challenges and roadblocks to efficient communication with leads and clients to stay competitive and successful within the current market.
This all means that CRM software for insurance companies is a must-have feature as it provides powerful opportunities to interact, process, analyze, and streamline the lead generation, management, and communication processes in one place real-time.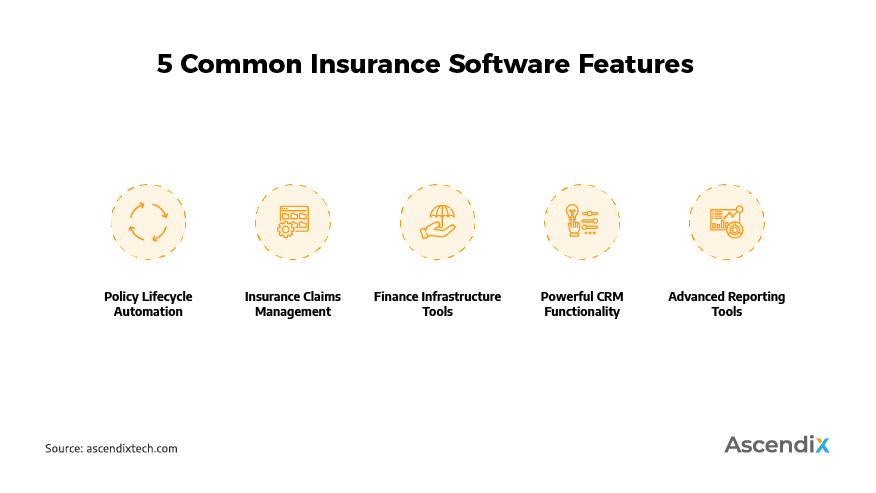 Custom Insurance Software Development
Set up your business goals
Everything begins with an idea which transforms into specific goals you want to achieve. It means that you should first set up exact challenges and problems you want to solve by developing custom insurance software for your business/
This way, create a list of aspects, processes, and operations you want to automate and make more efficient use of so that there are no barriers towards successful business dealing.
What's more, you should clearly understand the missions and results each type of insurance management software can bring to your organization.
In case you want to streamline the lead and claims management processes, consider creating powerful CRM and insurance claims management software that will exactly meet your specific business and technical requirements.
This approach greatly helps to reduce the final development costs in the long run as you vividly know what functionality and how should be tailored to the current market demand and your specific business model.
Pick the right insurance software type
The next step towards custom insurance software development is to choose the right insurance software type your business needs so that you avoid functionality overlapping thus decreasing your expenses.
The matter is that each software type is designed to drive specific results and provide diverse features that help solve particular problems.
As we mentioned the most common types of insurance software with their descriptions earlier, let's now just recall what software do insurance companies use:
Insurance document management software

Insurance policy management software

Insurance underwriting and rating software

Insurance claims management software

CRM software for insurance agencies

Insurance quoting software

Insurance automation software.
It's worth noting that nowadays many insurance companies combine multiple software types in one place thus avoiding functionality overlapping and useless features occurrence.
This way, you can build demand-specific insurance management software that fully meets your unique needs in a time- and cost-efficient manner.
Choose the development approach
Before starting the custom insurance software development process, you should pick the right development option that meets your specific needs and budget expectations.
Let's now review the most common models you should consider when building cloud-based insurance agency software.
Hire insurance software development companies

Find a technical partner/CTO

Hire freelance development teams

Build insurance software solutions yourself.
Conclusion
We hope our post will help you get a better understanding of custom insurance software development, key software types, must-have features, and benefits.
If you are interested in learning more features, benefits, and details on how to build custom insurance software, check the full blog article Custom Insurance Software Development: Full Guide.