The article was originally published on Ascendix Tech's Blog.
Today, we want to share the leading 5 FinTech trends that will dominate in 2021.
So, you will find out:
Top financial industry trends
Fintech stats and forecasts
Benefits of each tendency for the fintech industry.
Let's get down to business and see what trends really matter in 2021.
Big Data
In order to process a larger amount of data, financial institutions require more capacities or advanced technologies.
Here comes Big Data which helps financial services providers to process enormous volumes of transactions and records.
According to Statista, the global Big Data market is expected to reach the point of $103 billion by 2027.
One of the key benefits of Big Data for the fintech industry is the ability to collect as much information about clients as possible.
Thus, financial services companies can improve buyer personas of each audience segment and launch even more efficient marketing strategies that target distinct needs of specific leads and clients.
Digital-First Banking and Neobanks
COVID-19 has greatly strengthened the tendency of making digital payments and transactions instead of visiting local bank branches, queueing, signing dozens of documents by hand, and interacting personally.
These facts increase the number of financial services providers that turn to online processing of payments, transactions, personal data, etc. This allows companies to save on labor costs, rental and users to get a fast, personalized, and safe customer experience.
These top FinTech trends refer to digital-only and neobanks that seize the financial services market with a rapid pace. The innovations are beneficial for both financial businesses and customers.
Clients get simplicity, swiftness, and safety. In turn, financial institutions cut down labor force expenses and process a large number of transactions quickly and automatically.
So, here are the main benefits of digital-first banking for the fintech industry:
Some people mix up digital and neobanks, but they still have lots of differences. Mostly, a digital bank is the online department of a traditional offline bank, while neobanks are independent and digital-only financial institutions.
Moreover, neobanks offer a more personalized customer experience. It includes balance real-time monitoring, keeping records of expenses, building financial charts, and dashboards without any fees or withdrawal.
Blockchain
The release of Blockchain technology allowed thousands of companies to transform their business model into a transparent and decentralized ecosystem with high safety, top transaction rate, and enhanced traceability.
According to Statista, the forecast number of Blockchain wallet users will reach the level of 103 million in 2021.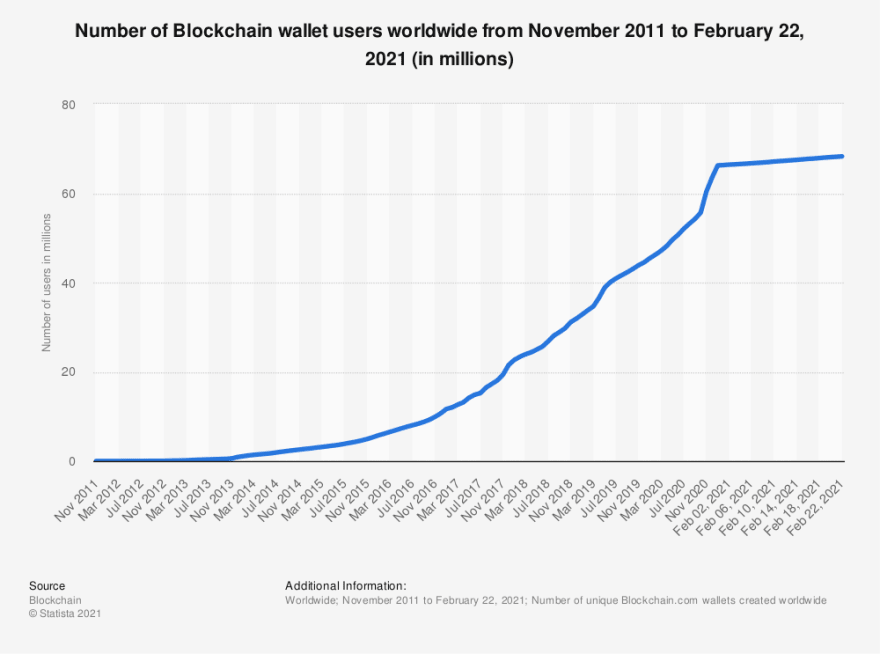 The primary high-level benefit of Blockchain for the fintech industry is the elimination of third parties within transaction processes.
Besides, companies can now store data even more safely and create a transparent and scam-free ecosystem for clients.
Specifically, Blockchain provides two key opportunities and instruments that fintech companies build advanced and feature-rich software products.
Let's take a look at each one in terms of the specific benefits they provide to financial services companies.
1. Smart contracts
A smart contract is a self-executing transaction protocol that helps regulate the relationships of the parties.
The use of smart contract technology for peer-to-peer transactions allows the execution of credible transactions without third parties.
2. Cryptocurrencies
Financial companies increasingly try to work with cryptocurrencies. It is supported by the fact that the crypto world is gaining extreme popularity day by day and more next-gen currencies become full-featured payment methods.
Besides, they provide fintech companies with cheaper and easier cross-border payments.
Artificial Intelligence Based Solutions
Artificial Intelligence (AI) has covered most business spheres and the fintech sector is no exception.
AI solutions are one of the key tendencies in financial services. Artificial Intelligence technology allows to process data faster and reduce the risks and fraud probability of the financial company.
Moreover, AI-based software offers high automation capacities that significantly reduce the likelihood of human errors, thus minimizing operating costs.
What's more, Artificial Intelligence empowers fintech companies to build a more personalized customer experience for clients. It became possible with the help of AI-powered chatbots that offer end-users self-help solutions.
WealthTech
As per CB Insights Report 2020, the wealthtech industry funding reached the level of $1.2 billion in Q2 2020.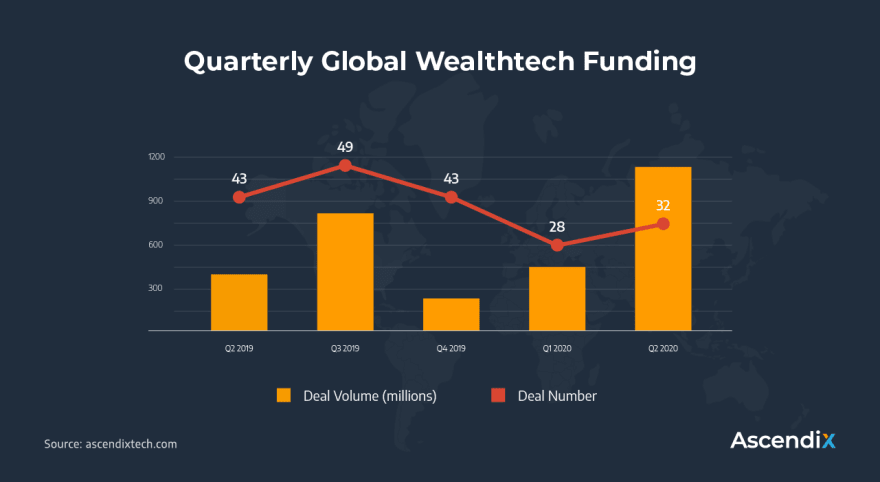 Such a large growth is supported by the fact that many entrepreneurs realized the way digital solutions can help users manage personal and corporate finances.
Among the top wealthtech trends in 2021 are robo-advisors. These are the advanced automated platforms using algorithms and Machine Learning to help users make data-driven financial decisions.
What's more, digital advanced brokerage platforms are becoming top financial services industry trends as well. The key benefits of such technology solutions include providing easy access to:
Stock market data
Micro-investment platform.
Conclusion
We hope our research on the top fintech trends in 2021 will help you get a greater overview of new opportunities.
If you want to learn more tendencies, stats, and forecasts in the fintech sector and get valuable tips on how to hire a fintech software development company, read our full blog article 6 Leading FinTech Trends To Watch in 2021.