We have lots of anxiety dealing with pandemic and extended WFH. Its myth that interaction with the manager is asking for status update. Let's break that stereotyping and do something different.
Many attendees in tech conference have asked "How can I present like you?" and here is an initiative to build an army who can excel me in future.
Behind the Scenes
In mind June 2021, kicked-off EngOps Tech Drive - An initiative for techies to Showcase their expertise and also to create a forum for them to present. Ashapurna Mukherjee, Raghu R, and Kannan Periyasamy from PerfQA Team was pretty excited and open to work with me in this initiative.
Our target audience was Fresh Engineering Graduates, Computer Science or IT Students or anyone who wish to learn the basics of Perf QA along with Load Runner and JMeter.
From June 2021 to 20th Nov 2021, the debut presentation from the team, they have learnt the art of presentation, preparing course content based on the selected topic, slide deck and how to present.
We at Infor, strongly believe that "Growing together is a Success" and this is certainly a great example.
PerfQA at KSRCT
I have done many presentations in my career so far and this one is very special as well as close to my heart because all four of us from the same team are joining hands together to make up a 3-hour Webinar on "Application Performance Management" in association with K.S.Rangasamy College of Technology.
Quite a lot of effort went in by the team to create wonderful content. Please stop by to pass on your good wishes to our SMEs Asha, Raghu and Kannan for their debut external presentation. I am sure they will have many success stories down the line and motivate the budding engineers.
Thanks to KSRCT Principal Dr.Gopalakrishnan Radhakrishnan , and Dr.Rajkumar for all the arrangements.
Here is the link to the post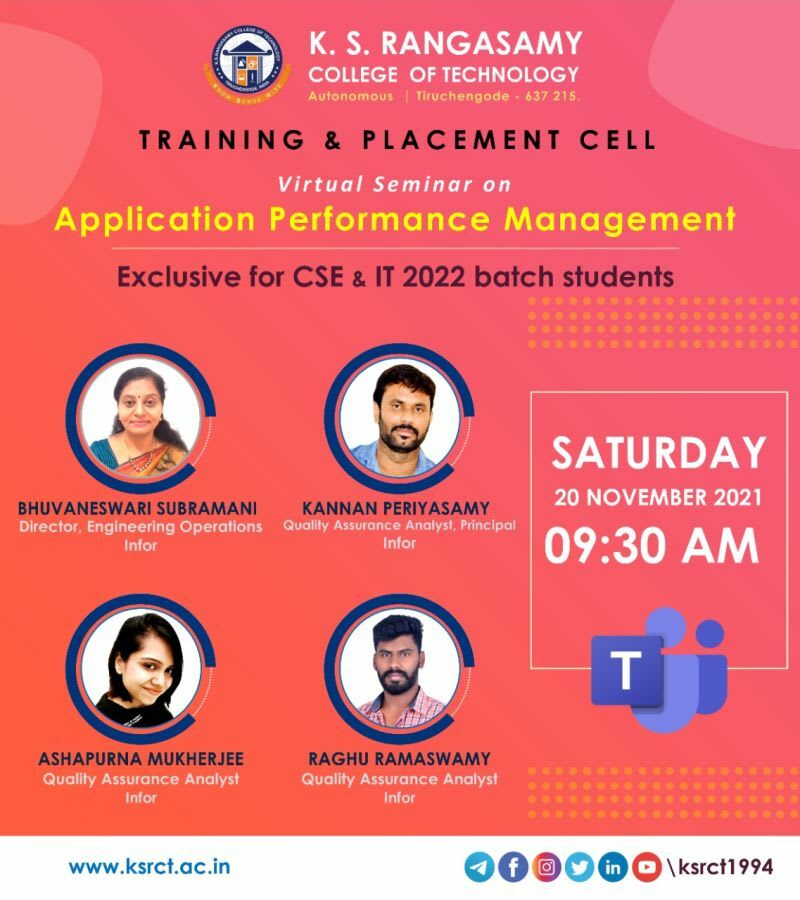 Kannan, Raghu & Asha were super energised and kind of dream come true for everyone. I am happy that I create a platform for 3 new speakers 😊
Asha's Journey as a Speaker and Blogger
https://aboutgemsoflife.blogspot.com/2021/11/my-journey-as-debut-speaker.html
PerfQA at BIT Sathy
Owing to the successful presentation at KSRCT, the Team did an amazing show Bannari Amman Institute of Technology as well.
Thanks to Vynessa Alexander for all the support and Renu Ganotra for driving #EarlyTalentProgram with Engineering Colleges to give them the best industry learning.
SlideDecks
https://www.slideshare.net/BhuvaneswariSubraman1/fundamentals-performance-testing
https://www.slideshare.net/BhuvaneswariSubraman1/jmeter-walkthrough
https://www.slideshare.net/BhuvaneswariSubraman1/loadrunner-walkthrough
Content
Fundamentals of Performance Testing
Description : Performance testing is one of the kinds of Non-Functional Testing. Building any successful product hinges on its performance. User experience is the deciding unit of fruitful application and Performance testing helps to reach there. You will learn the key concept of performance testing, how the IT industry gets benefitted, what are the different types of Performance Testing, their lifecycle, and much more.
LoadRunner Walkthrough
Description : When you know the basics of Performance testing, the next question that comes to mind is how we can conduct Performance Testing. There are multiple tools available in the industry to meet the purpose. Among them, the most dominant one is Microfocus LoadRunner. This particular tool ease down the whole process of performance testing and helped to achieve the goal. In this session, you learn about LoadRunner, its fundamental components, and finally the LoadRunner usage in Performance Testing through a Demo.
JMeter Walkthrough
Description: The integral part of any test planning is choosing the correct tool which should meet the project requirement and accomplish the goal. The importance of open source tools comes into the picture largely when we need to meet the project requirement. JMeter is a performance testing tool that gloriously outdid in the category of the open-source tool. Its supports miscellaneous protocols which help to determine the performance of the various applications. In this session, you will learn how to use JMeter as a load testing tool to measure and analyze the performance of a web-based application with a Demo.
Social Media Links