This article was originally posted on Codica Blog.
When choosing the must-have functionality for a multivendor marketplace, consider the needs and wants of both buyers and sellers. Your e-commerce platform should be convenient for both parties to bring you solid revenue.
Our previous article covered the basic features for buyers. We discussed the importance of advanced search filters, high-quality images, and chatbots.
Today it is about time to discuss marketplace functionality for sellers. Let's find out what functions vendors will need to use your e-commerce platform efficiently.
Straightforward onboarding for new sellers
In terms of e-commerce, the word "onboarding" is used to describe the process of integrating new users into your online marketplace. In our case, it means helping sellers to get started.
Make the onboarding plain and simple to the max. Use the right tool and efficient training to introduce your platform to sellers. Teach them to manage their accounts smoothly.
Sellers should be able to start trading as soon as possible. Otherwise, they will choose your competitors instead.
Etsy is a good example of a marketplace with simple onboarding. On their website, sellers can find support and education features that will help them run a successful online store.
Elaborate and descriptive profiles of vendors
The full seller's profile is a sure-fire way to prove the credibility of a particular vendor and your platform in general. The most important company info that should be displayed there includes name, email, social media links.
You can also allow publishing customers' reviews on the vendor's page. This feature will show how sellers can improve their offerings to satisfy customers.
Let them customize individual online stores with their branding colors, fonts, styles, and logos. This way, they can stand out from their competitors.
Finally, vendors should be able to perform the following actions on their page:
Manage their accounts;
Edit items in stores;
Mention the preferred shipping option;
View the current status of orders.
Simplified listing management
The rule of thumb is: the more items will be sold on your e-commerce platform, the more profit you will get. Given that, your main task is to let vendors publish their products for sale effortlessly.
There are several ways to make listing management easy and seamless.
Customize the listing page
Let sellers update their catalogues. For example, they should not face any issues with adding new products or removing items.
Focus on the quality of the listings
The quality of the listings deserves your primary attention because it greatly influences the reputation of your marketplace. Therefore, you need to allow qualified sellers only to operate on your platform.
Add import/export feature
If vendors need to migrate from other e-commerce platforms to yours the automated system will import/export their data quickly and effortlessly.
Bonanza, one of the biggest online marketplaces, synced their marketplace with eBay, Amazon, Etsy, and Shopify. As a result, vendors can easily bring their product listings from these websites to their Bonanza vendor account.
Pay attention to restricted products
There are products that require the approval of the website administrator to be visible to buyers. These goods can be defined as illegal, unsafe, or restricted.
According to Restricted Products Policy introduced by Amazon, these items include:
Alcohol;
Medical devices and accessories;
Weapons;
Tobacco and tobacco-related products;
Surveillance equipment.
Analytical dashboard for analyzing buyers' behavior
Give sellers the chance to measure the efficiency of their business. Consider implementing a feature that will provide vendors with the reports as for buyers' behavior, including:
Best selling products;
Non-performing items and categories;
Session time;
Number of views and purchases;
Actions of buyers.
Thanks to these insights, vendors can offer better customer services and update their promotion strategies. These enhancements will make your online marketplace more profitable.
Multiple promotion options
Great competition on your online marketplace will force vendors to find unique ways to grab customers' attention.
Your task is to let them use the following efficient promotional techniques on your platform:
Email marketing. Sellers can send buyers email notifications to inform them about discounts, special offers, and new arrivals.
Loyalty programs, including discount campaigns and coupons. Double points and coupon codes will help sellers generate higher revenue.
Below you can see how Rakuten lets vendors promote their shops. It is a superb way to attract new buyers and encourage existing customers to make repeat purchases.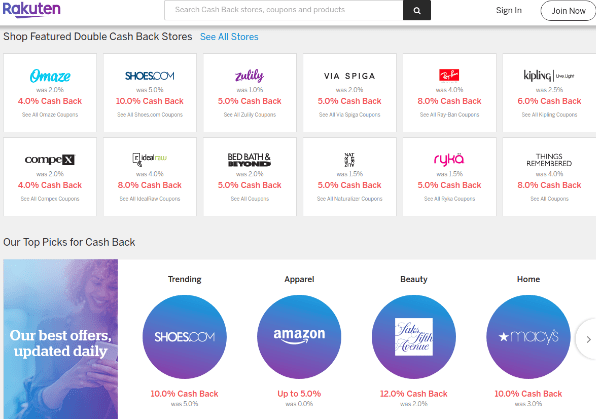 Adding detailed descriptions, high-quality photos, and videos. Eye-catching photos and videos, together with detailed product descriptions, make your online marketplace recognizable and more trustworthy.
Buying Sponsored Product Ads. You can charge sellers for placing their products higher in search results. This tactic improves the visibility of product listings because shoppers can easily find and buy sponsored goods.
Final thoughts
These are the key marketplace features for sellers. Implement them in the first place, and you will get a successful and profitable e-commerce platform that your sellers will love.
For more information about the must-have functionality for sellers, check our full article 6 Top Multivendor Marketplace features for Sellers.