The article was initially published on Codica Blog.
E-commerce rules the world. According to the latest forecasts, by 2040, 95% of purchases globally will be made on online marketplace platforms.
The number of business-to-business (B2B) and business-to-consumer (B2C) platforms is on the rise. However, today we will discuss the third marketplace type, which is customer-to-customer (C2C) marketplaces.
In this article, we will explore the differentiating features of C2C platforms. Also, you will know the main reasons why investing in customer-to-customer marketplace development seems such a sound idea.
The definition of a customer-to-customer (C2C marketplace)
A customer-to-customer platform, or C2C for short, is an e-commerce website, where users can be both buyers and sellers. The most common example is eBay where 185 million active users trade with each other.
Similar to B2B and B2C marketplaces, C2C e-commerce platforms are divided into horizontal and vertical ones. The latter focuses on a narrow product category. Etsy offering handmade and vintage items is a classic example of vertical marketplaces.
Horizontal marketplaces provide shoppers with a diversity of products. The first horizontal marketplace that comes to our mind is Amazon, which is considered the biggest e-commerce website.
Check one of the latest service marketplace websites developed by Codica team:
C2C marketplace functionality: best practices
When building a C2C marketplace, you aim at offering your customers a superb user experience. To achieve this goal, you should know what challenges such platforms may face.
Bear them in mind while selecting the primary features for your e-commerce platform.
Product quality can be controversial since customer-to-customer marketplaces act only as intermediaries.
Customers may face issues with order cancellation or return.
Consumer feedback is required to ensure the credibility of your platform. According to statistics, 92% of users read reviews before making a purchase.
When launching a new marketplace platform, we recommend starting with a Minimum Viable Product. Thus, you will spend less time building your product and will be able to test your idea faster.
Must-have functionality for a C2C marketplace:
Simple account management system;
Advanced search and filters functionality;
Customer reviews;
Communication tools for buyers and sellers;
Multiple payment options;
Product page with high-quality photos and detailed product description.
Further on you will be able to add more features as your platform grows.
5 key reasons to invest in C2C marketplace development
1. The rise of e-commerce platforms
Today more and more users prefer purchasing products and services online. This trend became even more evident with the outbreak of the Covid-19. Consequently, the number of online marketplaces is growing as well.
Source: Statista
2. Scalability of a business model
Your marketplace business should bring you a stable income. The more customers you have, the more profit you get. Given that, you need to choose the right customer acquisition techniques. With their help, you will be able to expand your business properly.
To increase your customer base, you need to have a proven track record and a valuable product. The rule here is pretty simple: top sellers attract an increased number of buyers, and many buyers help gain many sellers.
Also, it would be great if vendors say a good word for your e-commerce platforms in their network. This way, you will reduce expenses that come with vendor outreach.
3. Simple management
Now the process of C2C marketplace website development is clearer to you. Therefore, we can proceed to the key benefits of the C2C model in terms of management. They are as follows:
Less investment in comparison with e-commerce stores;
Simplified warehouse management;
No need to hire a large workforce;
Great omnichannel opportunities;
Fast-growing traffic.
4. Diversity of revenue models
There are many ways you can monetize your e-commerce platform. The most common of them are:
Subscription;
Commission;
Listing fee;
Premium listings;
Advertising.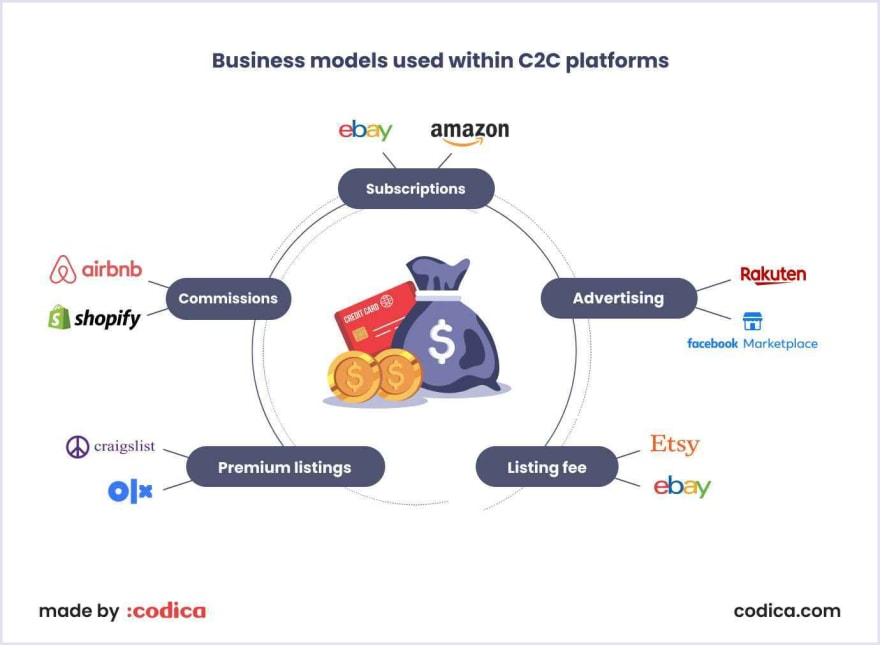 5. The quick transaction brings quick revenue
Another benefit of the C2C model lies in a quick customer journey, which, in its turn, means fast transaction.
Quick customer journey becomes possible for the following reasons:
With a great number of vendors, shoppers have better chances to get the required item at the best price.
Users can visit C2C marketplaces regardless of their location. Consequently, it is easy to convert marketplace visitors to customers.
When it comes to customer-to-customer marketplaces, consumers need to enter less amount of financial information. As a result, transactions take place much faster.
How to build a C2C marketplace: ready solutions vs custom software development
When you proceed to build your e-commerce platform, you can use either of two applicable approaches. You can choose a ready-made solution and launch your marketplace website in a few days.
Out-of-the-box solution
In the first case, you will get the basic functionality and regular updates. Still, they may not be enough if you have specific business requirements.
Custom marketplace development
Alternatively, you can select a more costly option and build a marketplace from scratch. In this case, you will get exactly what you need, since custom software developers will build a unique solution tuned for your particular needs.
Success story: How Codica team delivered a multi-vendor car marketplace
Since 2015, Codica has been building custom marketplaces for a number of industries.
Today we want to share our experience in creating an online auto marketplace. Our team successfully delivered an extensive platform that enables users to buy and sell vehicles online. The multi-domain platform consists of 86 local websites with their languages and currencies. The PWA website we have created is fast-loading and optimized for mobile devices.
Read the full multi-vendor marketplace case study to discover more about the project.
Final thoughts
As you can see, the C2C marketplaces are no less popular than B2B and B2C e-commerce platforms. The thing is that they can offer entrepreneurs multiple benefits both in terms of management and customer acquisition.
So if you consider launching a customer-to-customer marketplace, it is high time to bring your ideas into reality. Contact us, and we will eagerly create a custom e-commerce platform of any complexity for you.
For more information about C2C marketplaces and their benefits for your business, check our full article С2С Marketplace Development: Why Invest in Your Own Platform.