The original article was published on Codica blog.
SaaS solutions have gained traction owing to their flexibility. Also, they give companies an opportunity to save on hardware. These qualities serve as the key reason why more and more companies find the idea of launching a SaaS startup very lucrative.
In this article, we will discuss the process of starting a SaaS business. You will find out how to do market research and compose a lean plan. We will also define suitable pricing models, effective marketing strategies, and essential metrics to track your success.
1. Do market research
A proven way to test the waters is to conduct market research. It will provide you with the industry outlook, significant players, shopper demographic data, and growth analysis of the leading online platforms. Armed with this information, you will have more chances to launch a competitive and profitable marketplace.
The initial stage supposes expanding your industry knowledge. Define the size of your market segment and the latest trends. The latest tendencies in SaaS development are focus on vertical markets, mobile-first SaaS applications, and transfer from SaaS to PaaS. The relevant trade shows, summits, and webinars will help you stay ahead of the game.
Identify your potential customers and the best ways to approach them. Learn as much about your target audience as you can. Define their age, gender, geographic location, education, and occupation - this information can help you better target these consumers.
Define what cloud computing model is adopted by your competitors. Is it SaaS, PaaS, or IaaS? Take a look at products released by your market rivals. What features do they have? How often are they updated?
After that, study their financial information. Analyze their pricing models, revenue, and annual reports. Look at the promotion strategies they adopt. When you know the strengths and weaknesses of your competitors, you will gain the upper hand.
2. Write a lean plan
When it comes to planning, you have two options: to write a traditional business plan or make up a lean plan. The second variant takes less time because here, all key points are briefly outlined.
Other reasons to consider lean planning for your SaaS startup include:
Immediate feedback from business partners, colleagues, and potential customers;
Time-effectiveness;
Ease of updating and editing;
Possibility to get straight to the point;
Ready basis for your detailed business plan.
The most important points that your lean plan should cover:
Pain points that your SaaS product is designed to solve;
Target audience;
Market rivals;
Sales channels and promotional strategies;
Revenue sources;
Milestones;
Partners and resources.
Let's take a look at a lean plan for a startup offered by Tom Morkes:
3. Create a prototype
The market research revealed the potential demand for your SaaS application. Now you need to present your idea to investors to get money for further product development. That's when prototyping can save the day.
A prototype reminds of a draft showing how potential users will interact with your future product. The development team should gather clients' feedback and make necessary changes to the current version of the prototype based on their reaction.
Prototyping is a common practice for software consultancies that develop highly scalable and customizable web apps.
For example, the mobile app prototype built by our team for a multi-vendor marketplace for buying and selling cars in Africa looks the following way: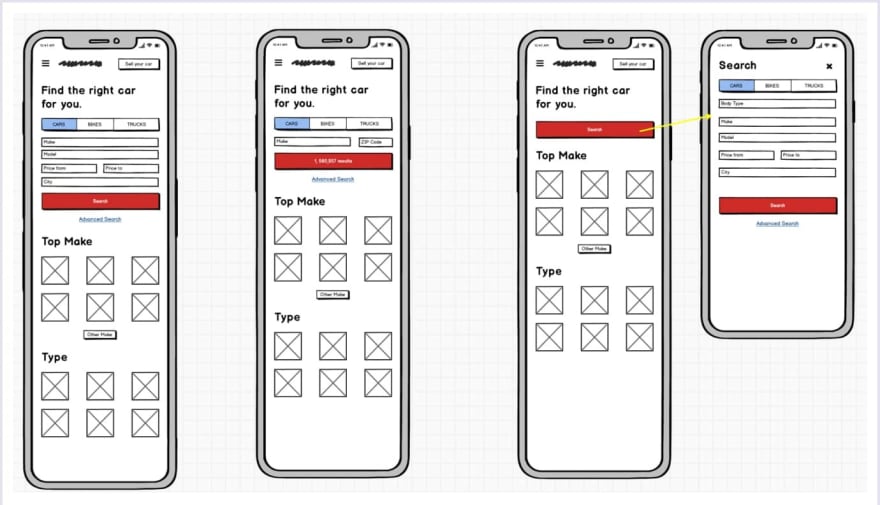 4. Select the right pricing strategy
The successful and profitable SaaS startup begins with the right pricing model. You can even try to select several options to mitigate financial risks.
The most popular pricing strategies for a SaaS startup include:
Free application, ads supported;
Flat-rate pricing;
Freemium;
Per storage pricing.
5. Build the brand for your SaaS startup
High-level competition in the SaaS market forces you to find unique ways to stand out from the crowd.
Follow the tips below to build a recognizable brand that will bring value to your customers:
Clarify your vision. Be ready to explain to both your team and clients what your company strives to achieve in the nearest future.
Make the quality of your services your highest priority.
Choose a proper name for your SaaS startup. Make sure it is simple to write and read; it is not taken by your rivals and does not sound offensive in other languages.
6. Get the required financing
If you cannot support your venture financially, you have to seek outside investments.
There are several options how you can obtain the required funding:
Bootstrapping - you can use the existing resources or find inventive ways to raise money;
Borrowing money from the family and friends;
Turning to angel investments - such websites as AngelList or Crunchbase can help you find professionals who may consider your business idea lucrative.
7. Select the development team and approach
You need a full-cycle development team to create your SaaS product from scratch. More specifically, you require such professionals as:
Project manager;
Business analyst;
Backend developers;
Frontend developers;
QA engineers;
UX/UI designers.
We believe that the following qualities distinguish the best software development companies from ordinary ones:
Relevant experience;
Great UX/UI design expertise;
Case studies;
Clients' testimonials;
Extensive knowledge of advanced technologies;
Experience in building MVP products.
Development approach
Below you can see the core benefits of the agile methodology that make it a perfect option for building a SaaS startup:
Improved quality;
Transparency;
Predictable delivery;
Possibility of making changes;
Reduced risks.
8. Launch a minimum viable product
You may think that the time has come to build a fully-fledged app. However, we would recommend that you take your time and launch an MVP first.
A minimum viable product of your SaaS product should have only a couple of crucial features. Its purpose is to get feedback from investors and early adopters.
The MVP also serves as a proven way to test the feasibility of your business idea. With its help, you can check the need for your SaaS app and determine what features users need the most.
Follow the tips below, and you will create a successful minimum viable product:
Avoid spending too much time on MVP - a short SaaS development cycle will help you validate your idea in no time;
Cut the scope in half - make your MVP clear and straight to the point;
Try different business models and select features for both trial and paid versions.
Final thoughts
It can be a challenging task to launch a SaaS startup without a road map at hand. So we created this guide to lead you through the main stages of building your software-as-a-service product.
To read the full article, check our blog post.