The article was initially published on Codica Blog.
The e-commerce world is constantly developing. Top online marketplaces engage users by smashing web design, new features, products, and services. However, there is functionality that makes up the body of any successful website.
Today, we will discuss the primary features for buyers you should consider when building an online marketplace.
Advanced search and filters
Search
Users search for the desired goods or services in different ways. For instance, some people can use the exact model number or enter a product type for this purpose.
Anyway, you should give your buyers an opportunity to find the desired products and services.
For example, eBay has implemented Advanced Search functionality which allows buyers to specify the details and narrow their search.
Filters
When customers get to the page of search results, you can help them find the exact product to save time. It becomes possible with filters. They sort the list of products and display the items that fit the specified buyers' needs.
For instance, you can add category filters. They will help customers with unclear preferences or little knowledge of a required product to find and purchase the right item.
Allow visitors to use several filters at the same time to get more precise results.
For example, when booking a room at a hotel, price and location really matter. On Booking.com, we can see key filters for people traveling for work or leisure.
High-quality product information
One of the most visited places in your marketplace is a product page. It gives buyers detailed information about the item they searched for. You need to make this page as informative and valuable for customers as possible.
Images
You can acquire customers by providing them with high-quality and real photos only. Besides, you can offer them an overview video. It allows you to build strong relationships with buyers and create a high level of trust in your platform.
For instance, Asos implements these features to enable its users to fully analyze the product via images and video. This way, buyers make sure that this product will meet their expectations.
Description
Sellers may neglect the high-quality product description. However, it may become a failure decision. The matter is that buyers first look at the images as the visual perception is much higher. Then, they move to product description which includes important details about an item. For these reasons, you should make this section as informative as possible.
AO is the perfect example of offering buyers a detailed, structured, and easy-to-understand product description.
Convenient checkout process
Complicated checkout can be a common reason why customers may leave your e-commerce website. Therefore, you need to optimize this process to reduce the abandonment rate.
Follow the tips below and you will be able to elevate online sales.
1. Focus on the shopping cart
It's impossible to imagine an e-commerce platform without this marketplace feature. Therefore, it deserves your primary attention.
It is not enough to display the number of items only. Your shopping cart should also show the following important information:
Displaying shipping type, free or paid;
Possibility to remove an item;
Possibility to change the number of items;
Possibility to add notes to an order.
When you proceed to the shopping cart on Etsy, you can see all the order details mentioned above. In such a way, the brand makes the whole purchasing process visible and transparent.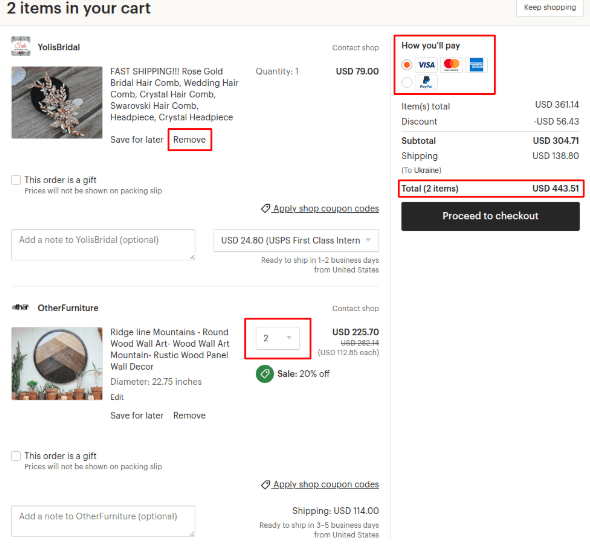 2. Provide users with guest checkout option
According to SaleCycle, 23% of customers gave up purchasing because they were forced to register an account first.
Given that, it would be a wise idea to add a guest checkout option. Allow users to enter their email address only and continue checkout. Thus, they will provide their payment details more quickly and make a purchase much faster.
After shoppers make a purchase, you can offer them to sign up. After registration, their payment details will be cached, and shoppers will not have to enter them again when they come back for repeat purchases.
3. Consider mobile checkout UX
In 2020 it's very likely that shoppers will purchase goods from mobile devices. Your main task is to make the mobile checkout process convenient for them.
Because of small screens, accidental clicks can cause many issues, for example, the fields may be reset. As a result, users may feel disappointed because they have to type their order details all over again. Therefore, this risk should be minimized.
The right way to avoid this issue is to fit form fields and calls to action to the right size.
Besides, you should make sure that there is enough space between fields and links. In this case, users will have fewer chances of typing their order details in the wrong field.
Chatbots
Chatbots communicate with shoppers via your platform interface. Staying always online, they provide customers with speedy solutions and answers. That is what your users expect to receive when asking a question.
Chatbots are a relatively new web development trend. However, they are actively used by e-commerce companies. Basically, this marketplace feature performs the following functions:
Offer customer support;
Send shoppers product recommendations;
Complete purchasing process.
The example below shows how the chatbot technology was implemented by Bravisimmo. Bravissimo is a leading United Kingdom lingerie vendor that provides big-sized bras for women. The initial retailer's goal was to increase the number of platform customers. So, they decided to implement a new way users could reach the company.
Conclusion
In the article, we have covered the most important marketplace features for buyers to be implemented on your website. This functionality will make your e-commerce platform more convenient for your buyers. This way, it may lead to a large growth of users on your website.
For more details about the functionality for buyers, take a look at our full blog article: 5 Main Online Marketplace Features to Make Buyers Happy.