Until recently, the only way content creators could make money was through advertising or other business models that take advantage of a user's privacy.
But with the proposed W3C Web Monetization API, creators now have a revenue model that empowers them to make money from their users without advertising, forcing them to subscribe, or invading their privacy. Amazing right? 😍
There are a ton of developers across the world who are experimenting with Web Monetization. Want to see them? You are in the right place. 😀
In this article, I collated a list of projects using Web Monetization to make money and offer their users exciting perks.
Cinnamon is a community-driven content creation platform that allows users to view and create videos while providing native cross-app sharing.
It uses web monetization to allow video creators to earn from their content without bugging the viewers with unnecessary advertisements.
With a fee of only $5, Cinnamon grants viewers ad-free access to all videos available on the platform. Then pays the video creators in real-time.
This means that creators do not have to wait until the end of the month to be paid like traditional video streaming platforms because Cinnamon uses Web monetization to redistribute funds based on the time viewers spend on video content.
Simmer is a platform for Indie game developers to host their creations in the browser for free with a single drag and drop mechanism.
Simmer was one of the first game portals to integrate with the Web Monetization API. Through this integration, creators can generate their payment pointer from Coil, paste it into Simmer's game editor UI to make their games monetized automatically.
If you are a game developer, you should take advantage of the engaging audience on Simmer by uploading your games and making money at the same time.
Twitch is a live streaming service that allows users to create channels, run broadcasts, and interact with their viewers.
Thanks to the automatic Web Monetization support on twitch, viewers can support their favorite Twitch Partners and Affiliates by simply watching their streams.
Then Coil keeps track of how much each streamer has earned and then purchases Twitch Bits when the minimum purchase threshold is reached for that particular streamer. Pretty cool, right?
Hashnode enables developers to create a blog mapped to their domain for free. So they can focus on developing and sharing content on their blogs while we take care of the rest - customization, readership, visibility, web monetization, and so much more.
As a reader, you'll get access to all the tech articles for free without any ads or restrictions. On the other hand, the creators get to make money based on the amount of time any Coil subscriber spends on their blog.
Web Monetization has changed a lot of things. Gone are those days where we thought the only way to make money as a blogger was through ads or adding a paywall.
Imgur is the easiest way to discover and enjoy the magic of the Internet. It's where you'll find the funniest, most informative, and inspiring images, memes, GIFs, and visual stories served up in an endless stream of bite-sized fun.
Powered by a passionate community of people worldwide, anyone can join to share cool stuff and vote the best to the top. You'll always find something on Imgur that brightens your day. 😀
Yes, Imgur uses the Web Monetization API as well. So, Coil will distribute the micropayments to the creators according to the amount of time Coil subscribers spend looking at content on Imgur.
Subscribers also get access to unlimited uploads, community features, and, most importantly, an ad-free browsing experience.
Have you ever thought about your digital legacy? By digital legacy, I mean an accumulation of the different text, pictures, and videos you've posted online over the years.
The truth is our digital legacy is disappearing because we've not had a central place to store it. And each time it disappears, a glimpse of who we were vanishes as well.
To solve this, Permanent enables you to create, curate, and collaborate on living archives for yourself, your family, and your community.
Thanks to the power of the Web Monetization API, the owners of Permanent.org are prototyping and building an Open Source API that allows users to easily store data with a storage provider using a one-time micropayment, with no need for storage provider or frontend service accounts and financial commitments.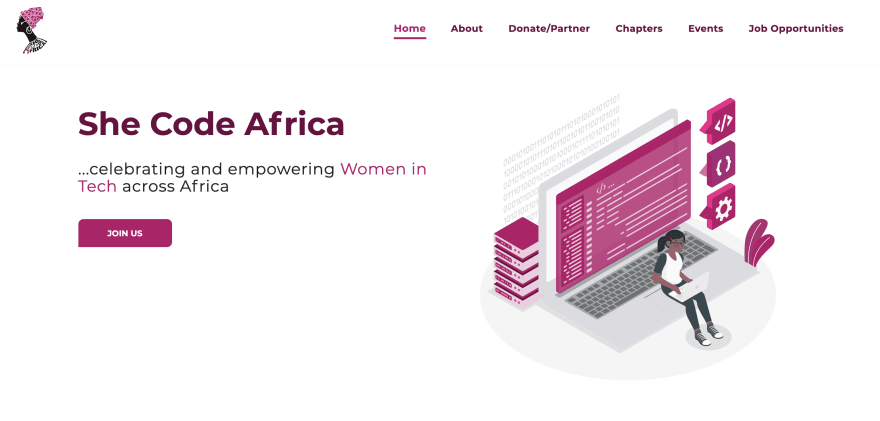 She Code Africa is a non-profit organization focused on celebrating and empowering young girls and women in tech across Africa.
They champion exceptional programs and initiatives to improve the tech skills of their members and keep the community engaged, amongst other things.
She Code Africa recently integrated Web Monetization into their website as a means to earn revenue. This revenue is used to continue the fantastic work they are doing in the developer community. You should support them!
CSS-Tricks is one of the best websites to find insightful articles about frontend development.
Keeping in mind that it is one of the best websites for frontend content, many devs worldwide have benefitted from it tremendously. Meaning that some of them may have wanted to tip the writers or tell them "thanks" financially.
With Coil as CSS-Tricks web monetization provider, the website now receives micropayments from readers who have an active Coil subscription and the browser extension.
Ushahidi is a crowdsource-driven data platform that enables people to raise their voices, inform their decisions, and influence change in their communities.
Being a non-profit, integrating web monetization on Ushahidi was an excellent way to gain revenue without running ads, especially during the pandemic. So, if any Coil user visits Ushahidi, Coil will calculate the amount of time you've spent on the website and credit the non-profit team. And most importantly, your data is safe!
Akita is a free and Open Source project that displays your top-visited monetized sites, how much time you're spending on them, and how much you're contributing (or could contribute) to them.
They also create diverse resources that will help you understand Web Monetization through storytelling, easy-to-use tools, and community outreach.
Puma is a new way to pay for content through a privacy-focused web browser!
It provides a fast and private mobile Web3 browser that makes it easy to support creators, game & app developers, and charities of your choice.
The platform uses Coil and the Web Monetization API to create an ad-free user experience and send payment(s) for the content directly from the browser.
Flood Escape is an action-packed rush to get out of danger!
You have to build your way up to escape the flood and be rescued in time in the game. You can also customize your experience with flames, get rewarded, and have a good time. 😀
Flood Escape uses web monetization to generate revenue from its game without the need for bugging users with unnecessary advertisements. They also give web monetization subscribers a bonus of 100 plus coins and a faster cooldown time.
Dev is an Open Source software that powers a community of software developers who write articles and build relationships with other developers.
The platform allows individual authors to add their Coil Payment pointer to their blogs right through their settings. So, every time a Coil subscriber reads your article, micropayments will be sent to your payment wallet by Coil.
Ballet Rising is a non-profit organization focused on the stories of people worldwide whose passion for classical ballet is redefining its culture and elevating ballet as a truly global art form.
It highlights communities where there is an interest in ballet to drive and build positive relationships with local arts organizations so that the global ballet community grows in harmony with local customs.
Their website is monetized using Coil. So, you can support them by signing up for a coil membership.
Tech with Catalin is a blog owned by Catalin Pit, a Software Engineer specializing in JavaScript technologies and AWS.
The blog covers content about NodeJS, backend development, Open Source contributions, and growing as a developer.
Thanks to web monetization, Tech with Catalin generates revenue without displaying ads to its readers or adding a paywall.
Techdirt is an American Internet blog that reports on technology's legal challenges and related business & economic policy issues in the context of the digital revolution. It focuses on intellectual property, patents, information privacy, and copyright reform in particular.
While other websites have resorted to paywalls, registration requirements, and increasingly annoying/intrusive advertising, Techdirt has made their site open and available to anyone, thanks to Web Monetization.
As a Coil subscriber, you'll get to support Techdirt anytime you read content on their website.
OnTheChain promotes everything cryptocurrency-related. It has many podcasts, Youtube videos, newsletters, and a channel where they share tips and encourage people to join the cryptocurrency community.
OnTheChain uses the XRP TipBots wallet to receive bits of streaming payments from subscribers via Coil's Web Monetization API.
This allows them to give their users an incredible ad-free experience and not invade their privacy to make money.
ShortFilmWeb is a directory of some of the best short films freely available online carefully handpicked by the team.
ShortFilmWeb uses Coil to monetize its content, giving them an edge to continue posting quality films and reviews.
Hackernoon is a community of over 12,000+ contributing writers publishing free high-quality tech stories. The platform supports writers by proofreading their articles before it is published on the platform.
Hackernoon believes that advertising is not the best way to generate revenue, so they use Web Monetization instead.
Because of this, writers on the platform can accept a stream of micro-tips from their readers.
JS Bin is a free and Open Source code-sharing website for web developers. It enables developers to create and share code snippets or web pages with their colleagues or anyone in the developer community.
Being a free platform, JS Bin uses Coil and the Web Monetization API to generate revenue to keep the website running without ads.
Summary
Web monetization paves the way for a more open, fair, and inclusive web to better support users and creators.
Creators make money, and users finally experience their favorite websites without annoying advertisements or the invasion of their privacy.
Now that you've seen a couple of projects and people using the Web Monetization API by Coil go ahead and become a Coil Subscriber or integrate the Web Monetization API into your projects, blog, or website. You will find everything you need to get started here.
I hope you enjoyed reading this article. If you have any questions, share them in the comment section below, and I'll reply to every comment. 💛