Follow A maker On his Journey To Create A Viable Product
I'm working on a side-project that lets you record/select a video on your smartphone (ios/Android) and upload it to a unique code.
The code is visualized as a QR code with an AR marker so you can share your video on: stickers, on a sticky note, magnets, … This is the very first post on my idea.
Don't be afraid sharing your ideas, as the feedback you'll get from it is pure value. They can steal the idea, but not your vision - Shipharder.com
Do you remember those days where you left a sticky note like in the "old days" on your fridge?
The Origin
I got this idea because I recently found and used some web technology - based on Three.js and A-Frame - that makes it easy to develop web-based AR experiences.
Besides the interesting technical aspects, I've been pondering about an innovative way to leave a cool message for my 7yo twins to share with them before they head off to school. 
Keeping simplicity in mind I decided that being able to share a video and let them see it using AR was the bare minimum that I'm going to build first. 
What's new about this idea?
Instead of sticking on a simple post-it writing "I love you guys" with smudgy ink, print a QR-code code and put it on a sticky note. Or get stickers via Stickermule.com and stick them on a whiteboard for your daily message.
Your spouse or kids (colleague, classroom mates) can point their camera app on it, and it opens up a fullscreen camera view with your video augmented on-screen to show your video.
It is a nice cross-section between the physical world and the augmented world as people can see there is a message waiting and someone physically left it there, but the content it provides is augmented with modern advantages (the AR space allows for many things to be augmented to the content).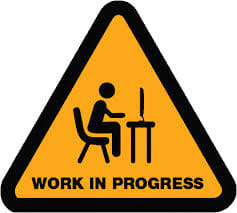 Current Status 
I'm working on the Proof of Concept (PoC) of this right now and will expand with things like AR 3d text and other fancy things to surround the video with more AR content.
Almost there, with getting the right streamable video format as the current roadblock to get across (almost there)…
Let me know in the comments what you think of this idea and if you would like to see how this is coming together.
I'm curious about what you would use such an Augmented video app for.
Also, let me know using cudos or comments if you're interested in following how this project evolves.
I'll be writing updates regularly so you can follow my endeavors and progress on creating an MVP from this idea.