The story
I've been using Larder as my bookmark manager about a year and maybe and a half, more or less. Before Larder, I was -and still- using Buku (a powerful bookmark manager written in Python3 and sqlite3 -from Buku github page). Being used to Buku, one thing I was missing from larder was a cli to do searches directly from the command line, and since I love command line tools, what better excuse to start one in go?
Starting small
Every time I learn something new I like to find small projects, because keeping the idea small helps me to focus on specific tasks. Another reason to start small is because it's easier to finish the project in a reasonable amount of time and it feels great once it's finished, which is also great motivation to continue.
The cli
This is how larder-cli was born a month ago, with Buku in mind and as inspiration. The current state of the cli is not nearly close to being called a complete tool, but that wasn't its purpose. It's been a lot of fun working in this little piece of software and I'm planning to add more features. One thing I want to learn now is a proper way to manage command line args.
Another cool thing, I got an A+ in goreportcard!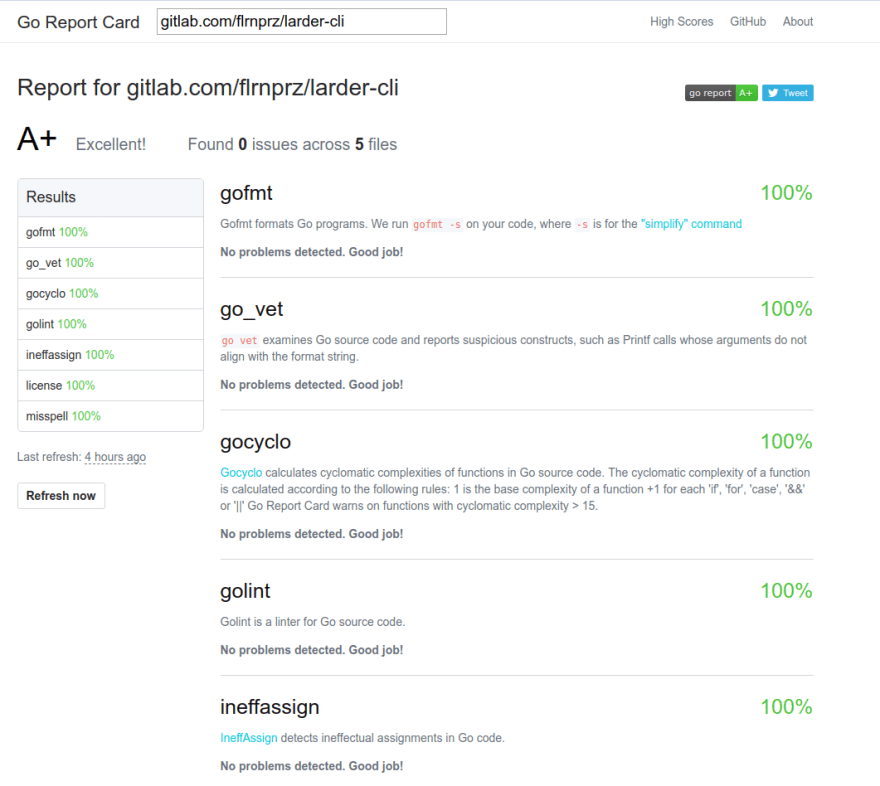 (that screen is from my self-hosted app, because for some reason the main app is giving me an error).
I can't embed gitlab repos here so I'll leave the link: https://gitlab.com/flrnprz/larder-cli in case you want to check it out.
Thanks for reading and happy coding!