Introduction
Flutterwave is an African based fintech company founded in 2016 that provides a payment infrastructure for global merchants and payment service providers across the continent.
Due to COVID-19, there were restrictive measures to SMEs and traders operating in Africa's largest economies, the company accelerated the development of Flutterwave Store to help curb these restrictive measures and in April 2020 the San Francisco and Lagos-based fintech launched Flutterwave Store
In the Store you will upload products, set the products prices and if you want you can have Flutterwave integrated delivery partners pick up when you have an order and deliver to your customer.
So, let's look at how to setup Flutterwave Store, there's absolutely no need to worry it's super easy and simple.
First you need to have a Flutterwave account, log in to your dashboard if you have or create an account here.
After successfully creating Flutterwave account and probably updating your bank account informations. In the dashboard there's a Menu on the left hand side, click on Store
Click on setup my store now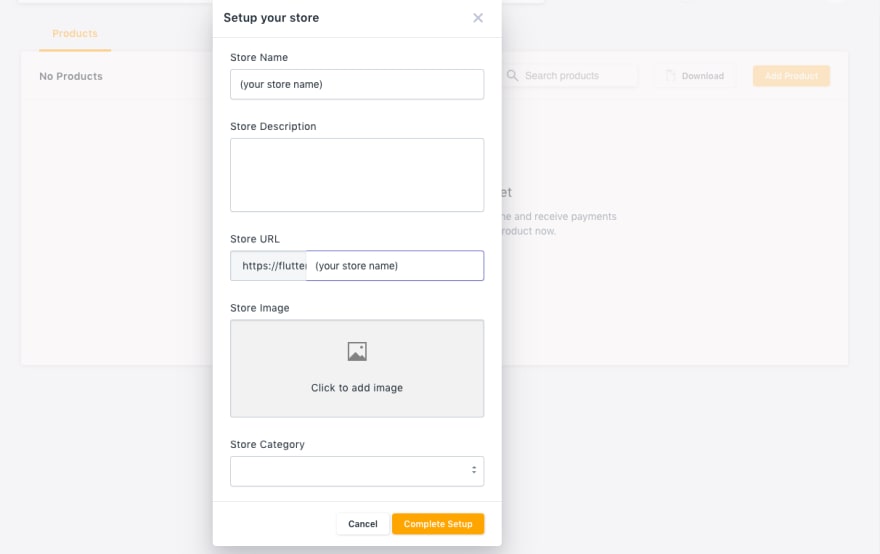 Change your store name if its different from your Trading Name/ Registration Business Name, set your store description, edit the store URL to probably your store name, upload your store image or logo, select your store category and 'Click' Complete Setup. Just like that you've created your store next is to add products to your store


Click on the Add Product button then add the product details.
Add the product name and description, set the product price and the number of items in stock, create the product category, you can have more than one category, set the sizes available, then upload the product image or you can drag and drop the image. You can add up to five medias of the same product, Click Save Product to save your product, repeat the process for as many products as you want to be in your store.
Next navigate to manage store tab.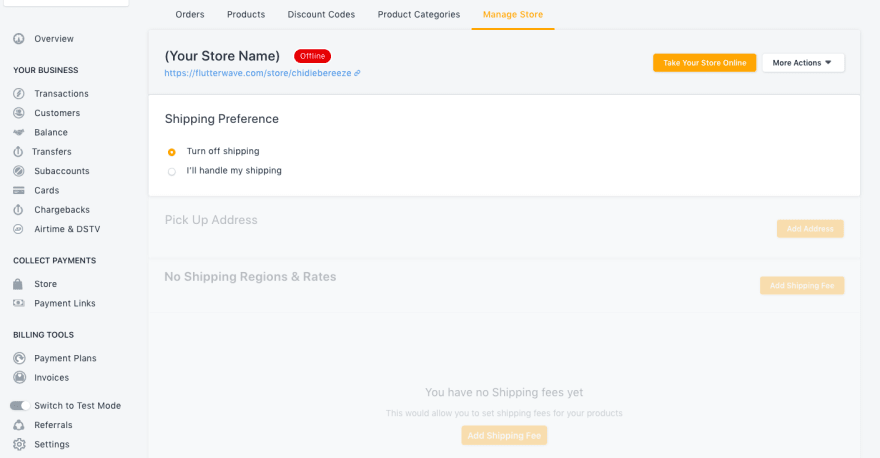 Your store Url is right beneath your store name, you can copy the link and start sharing to your audience but before that, "click " on the Take Store Online button to take your store live else it remains offline and your customers won't be able to access the store, you should set your pick up address and how you want to handle your shipping.
Yay! you have successfully created your eCommerce store and can receive payments from anywhere, to remove a product, go to your dashboard, click on the product and click the take product offline button, or you can edit or delete it completely from the More Action button.
Conclusion
Flutterwave Store is one of the best ways to create and manage an e-commerce business that accepts payments from anywhere without having a website or knowing how to write code.
Creating and or setting up the store(for now) is totally free, Flutterwave will charge just a little on payments. So it's a place where sellers and buyers can easily transact goods and a great opportunity a large pool of traders and small businesses across Africa should jump on, to take their businesses online.