1-What is MySQL Workbench
MySQL Workbench is a unified visual tool for database architects, developers, and DBAs. MySQL Workbench provides data modeling, SQL development, and comprehensive administration tools for server configuration, user administration, backup, and much more. MySQL Workbench is available on Windows, Linux and Mac OS X.
2-Installation Process of MySQL Workbench
Step 1
To download MySQL workbench, visit MySQL website in your web browser and download URL:
https://www.mysql.com/products/workbench/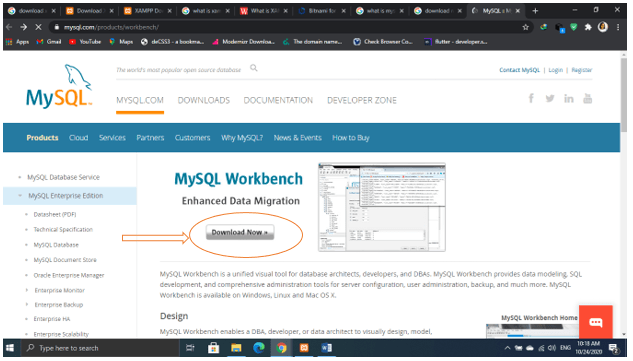 Step 2
Click on "MySQL installer for Windows". Then, navigate the downloading location and the file will be automatically downloaded.
Step 3
Double-click the downloaded file to launch the MySQL installer.
Step 4
Setup window will appear on the screen. Then, click on the "Next" button.
Step 5
Select the folder in which you want to install your MySQL Workbench and click on "Next".
Step 6
Choose the setup type that best suits your needs and click on "Next".
Step 7
"Ready to Install" window will appear on the screen, then click on the "Next" button.
Step 8
MySQL Workbench installation process
Step 9
Click on the "Finish" button when the installation is completed
Step 10
"Welcome to MySQL Workbench" will appear on the screen and you are now ready to design your databases.
Conclusion
By following the above methods, you can download and install MySQL Workbench 8.0 on windows 10 without any issues
I hope you enjoyed this document.
Thanks for reading