For any company, the wrong business decisions can lead to dire consequences. To provide a solid foundation for taking the next step, it is important to have quality data. To do this, use special tools that automate information, analyze indicators, help in finding trends and insights. And today there is a huge variety of them with very different functionality, different levels of detail for every taste and wallet.
However, open-source solutions are always the most enjoyable due to their price and flexibility. Therefore, in this article, you will find a list of the top open-source reporting tools that will definitely resonate with you.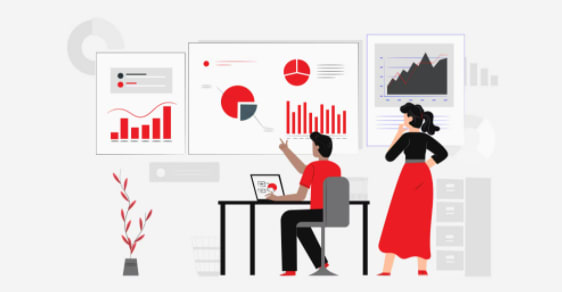 Reporting tools: what is it
Reporting tools is software that provides reporting, decision making, and business intelligence capabilities. It is also used to transform raw data into knowledge. These tools also allow you to extract and present data in the form of charts, tables, and other visualization formats. In other words, their goal is to organize and visualize data from different sources.
There are many pleasant benefits that reporting tools can offer to companies. But most essential ones are:
Internal process optimization
Existing/future problem and bottleneck detection
Enhance business operations
Forecasting new effective business opportunities
Why do you need reporting tools
Undoubtedly, the benefits of reporting tools are many. But we will list the most basic ones that will convince anyone:
Saving time. Reporting automation makes it easier to organize your data and speeds up the reporting process.
Flexibility. With the reporting tools, you can select the parameters to be measured and compared.
Visualization. The ability to create diagrams, infographics, interactive dashboards for such tools is a must. This helps to improve the quality of any report.
Objectivity. You get reports based on accurate numbers that are so easy to use to make decisions and showcase the work of the entire company.
But what reports have we been talking about for so long? Let's designate.
Types of Reports
Let's throw light on major types of reports.
Formal and Informal Report
A formal report is composed of objective, detailed and well-articulated data and is written in a professional style. An informal report is most often a short, casual-style document that is used within a team.
Long and Short reports
It's hard to go wrong here. A one-page document is a short report, a 20-page memorandum is a long report.
Internal and External reports
Internal reports are intended for use within the company. And external reports are used for public access or sending to clients. For example, a company's annual reports are external reports.
Informational and Analytical Reports
The informational report can include annual budget reports, attendance reports, monthly financial reports. They carry objective data about the company's workflow. Analytical reports are based on product researches for business, feasibility reports, etc. Their aim is to solve the specific problem. That's why they have suggestions in conclusion.
Functional reports
These kinds of reports include a spectrum of reports that provide function elements: marketing reports, accounting reports, financial reports, and so on.
Proposal reports
They are problem-solved reports. In these kinds of reports, the company provides all selected information (specifying potential client needs and requirements) to demonstrate how services provide solutions within budget and time.
Lateral and Vertical Reports
Everything depends on the aim of the report. Vertical reports are intended to provide a compilation of data for administration, CTO to help in management coordination. Lateral reports travel among different departments in one company.
Periodical Reports
Periodical reports are computer-generated preprinted forms that preparing on the regular basis on scheduled dates. They are mostly needed for management control.
So, as you can see from above there are a variety of reports. You can find similarities between them and they can be one part of another. But just imagine doing them without using a special software tool like in old times. Sounds exhausting? Here, catch the list of convenient and efficient to use open source reporting tools.
Top open source reporting tools
Metabase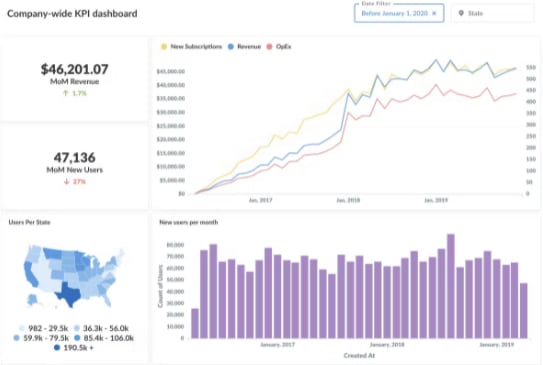 Metabase is an easy-to-use and free open-source tool. It helps performance facilitation and data grouping and filtration for creating reports. Metabase is for someone for looking an elegant solution with a unified interface.
We at Mad Devs use Metabase as reporting tool in our internal projects due to it user-friendly interface and all functions that cover all need all reporting needs. It sets up in five minutes, connect to databases and bring data in clear and beautiful visuals.
Key Features:
Dashboard
Reporting
Key Performance Indicators
Visualization
Alert Notifications
Access Control
Secure Data Storage
Queries
Indexing
Search Filters
Official Website: https://www.metabase.com/
Jasper reports

Jasper reports is widely used open source reporting tool. It consist of several components: JasperReport Library, JasperReport Studio, and JasperReport Server. They make it easier to integrate in existing IT architecture in your company. Jaspert reports support multiple data formats (PDF, HTML, XLS, RTF, ODT, CSV, TXT and XML files). It's written in Java and runs on Windows, Linus and Mac.
Key Features:
Big Data support
Report Snapshots
Centralized Repository
Report and Dashboard Scheduler
Flexible Design
Customization
Data Virtualization
How to install: https://community.jaspersoft.com/wiki/getting-started-jasperreports-server
BIRT

BIRT is an open-source tool that consists of a visual report designer and runs the time component for Java environment deployment. It is perfect for data visualization, diagrams, and charts that you can save in XML format. BIRT is Java written tool that runs on Windows, Linux, and Mac.
Key Features:
Dashboard
Predictive Analytics
Ad hoc Reporting
Trend / Problem Indicators
Profitability Analysis
Publishing / Sharing
Visual Analytics
Benchmarking
KPI / Performance Metrics
How to install: https://eclipse.github.io/birt-website/
Pentaho

Pentaho is an open-source tool that is suitable for reporting and data mining. Like other tools, Pentaho has a rich list of features and supports exporting reports to Excel, PDF, HTML, text, rich text, XML, and CSV. It runs on Java Enterprise Edition and can be used on Windows, Linux, and Mac.
Key Features:
Ad hoc reporting
Dashboard
Audit Management
Trend/ Problem Indicators
Customization
Content Management
Data Analysis
KPI/ Performance Metrics
Workflow Management
Strategic Planning
Sales Report
Report Analytics/Statistics
How to install: https://help.hitachivantara.com/Documentation/Pentaho/7.1/0J0/0E0/010
Seal report

Seal Report is comprehensive open-source tool for composing report from any data source focuses on an easy installation and reports design. Among variety of features it support dynamic SQL data sources, local pivot tables and HTML5 charts. Seal Report is written C# for Microsoft environment.
Key Features:
Customizable Dashboard
Data Source Connectors
KPI and Widget Views
Drag & Drop
Forecasting
Report Export
Scheduled / Automated Reports
Official Website: https://sealreport.org/
To wrap up
The importance of making quality decisions is obvious to any business. And that quality depends on how the data is used and analyzed. Reporting tools can be very helpful in this endeavor. They help build visual dashboards and create data insights.
However, among the abundance of available software, open-source tools are always a great solution. After all, they offer a wide and flexible functionality, and also significantly save your budget.

Previously published at maddevs.io/blog.