Currently, Big Data is being considered a magic ingredient that can blow the wave of change for business growth and revenue generation. Altogether, the Big Data market is growing exponentially, and it is predicted to reach $103 billion by 2023.
The rapid adoption rate and growing popularity is spurring the interest of businesses and technology experts in the implementation of Big Data. So, its potential usages are being investigated across several industries.
While sales and marketing are a major spike of the business wheel, how big data can help in improving outcomes is a major point of interest. Don't you want to boost your sales & marketing outcomes for more revenue?
So, let's understand how Big Data can turn out a breakthrough for marketing & sales in 2021.
How Big Data & Analytics Appears In The Landscape Of Marketing & Sales?
What do you think Big Data is? How Big Data Analytics comes into the picture?
If you are aware of this phenomenon, you would know that Big Data is a term that refers to a huge chunk of collected data (unstructured) and analytics is the mechanism that processes this naive data to bring meaningful insight.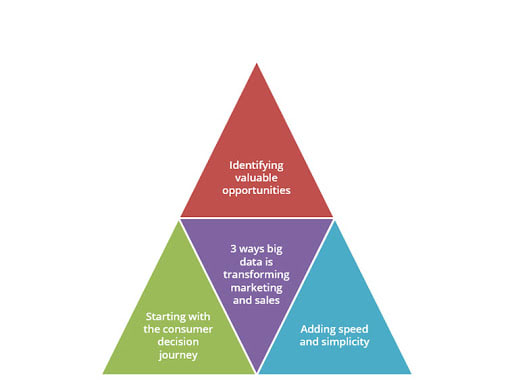 Image source
Or when it comes to marketing & sales, Big Data analytics enable marketers & salespersons to learn about customer behavior, patterns in their purchase, their interest, and what product/service they frequently visit.
Have you ever wondered how Netflix/YouTube recommends videos/movies/series in your account's feed? The Big Data Analytics & AI algorithms are working behind the scenes and watching you all the time.
In short, Data Analytics helps marketers and sales professionals to learn about customers with target precision. While data is ubiquitous, it is an aspect of significance and a source of perks to both consumers and businesses.
Subsequently, Big Data development services are also gaining hype and so is the demand for Apache hadoop bigdata solutions for large scale data. So, now the question is, what are the ways you can leverage Big Data & Analytics to boost your marketing & sales. Let's understand techniques.
5 Ways You Can Leverage Big Data & Analytics In Marketing & Sales
1. Improve Pricing Strategy
Pricing is a critical aspect that affects the customers' buying decision, and Big Data Analytics enables you to gather insights into the cost factor affecting buying decision. With the help of analytics, you can adopt differentiating pricing strategies at the discreet customer-product level.


Image source
In short, you can optimize the pricing and make them more achievable for your customers. Per Mckinsey, 75% revenue of a typical company is gained through standard products, while 30% of pricing decisions fail to deliver the best price to boost sales. This problem can be removed, and using Big Data and best price decisions can be made.
2. Attain Customer Responsiveness & Retention
Now, most of the brands interact with their consumers online (over the web or mobile app), gaining customer interaction and boosting responsiveness is critical. Gathering crucial insights about customers through Big Data Tactics, companies can achieve more customer interaction by triggering communication/responsiveness aspects such as Call-to-Actions.
The usage of Big Data for customer service has already attained significant success, such as:
58% of enterprises have experienced a significant influx in customer retention and loyalty as an outcome of implementing customer analytics.
44% of enterprises have gained a new customer and better revenue by adopting customer analytics.
While major areas of enhancement were marked as Improved customer experience as 85% and enhanced customer retention & loyalty as 58%. Besides, Big Data Application Development Companies have also faced significant demand for big data services from companies looking forward to implementing this technology for improving customer experience.
3. Implementing Intelligence Into Contextual Marketing
Now marketing & sales are more tech-driven, and the infusion of Big Data Practices can make it autonomous & data-driven. Yes! Presently, digital advertising and sales techniques include the prices like PPC campaigns, Social Media advertising, Google display ads, and more.
While some platforms are enabling businesses to track down their sales & lead generation pipelines, these are major types of contextual marketing & sales, Infusion of Big Data Analytics (Besides the usage of AI and Machine learning algorithms) can integrate intelligence into processes. Data-driven steps into marketing can improve the inflow of target traffic and appearance into organic searches.
The following diagram shows how Big Data can trigger transformation in contextual marketing.


Image source
Actually, Big Data analytics lays the foundation for creating intelligent, data-driven, scalable systems to render insight into customer interest & buying will help prevent issues & alleviate the level of marketing standards.
4. Rendering Geo-Analytics Sales & Marketing Plans
Haven't you heard of Geoanalytics? Need not worry! Actually, it is a mechanism that enables organizations to leverage location-based information related to consumers to boost sales. It allows you to leverage the geographic location of consumers in analysis for contextual awareness and look through via different investigative aspects.
Using geo-location insight, enterprises can achieve an enormous understanding of buying behavior of consumers. Moreover, it allows them to optimize their sales & marketing strategies. Using Big Data solutions, companies can align their marketing & sales plans with regions and territories and leverage the date of sale potential.
5. Achieve Consistent Omnichannel Experience
Another most admired way to leverage Big Data analytics & reporting is using analytics insight to render a consistent omnichannel customer experience on different digital media channels. Big Data-based technologies are enabling organizations to accelerate sales cycles and retention by personalizing customer experience to boost relationships with them.
Customer Value Analytics is a way that can enable organizations to focus on emerging customer interaction opportunities on different channels and scale the experience.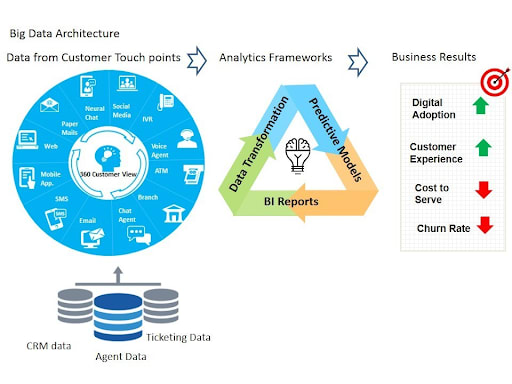 ( An example of Big Data & omnichannel customer engagement)
Image source
So, these are the major ways businesses can leverage Big Data analytics in sales & marketing to open the grand gate of billion-dollar revenue. Apart from these, Customer analytics, Fraud, Compliance, Operational Analytics, New product & Service Innovation are other potential aspects of Big Data Analytics that enable the business to use on-the-go marketing & sales strategies.
Major Intricacy In Adopting Big Data
Adopting Big Data & Analytics in sales & marketing looks fascinating, though. There are several looming intricacies. Per Neil Hoyne, chief measurement strategies at Google said that there is a lot of chaos in terms of what is the right answer to big data implementation.
Hoyne said that he is in constant dialogue with companies that are trying to explore the future of data analysis & analytics. Recently, internet provider companies & Google unveiled the plan to phase out third-party cookies that will strip marketers of a fine-grained information wealth via tracking consumers over the internet. Active companies are already pivoting, so they can prepare for the post-pandemic, post-epidemic world.
Hoyne said, "Companies that are going to win are using data, not guessing." He also spoke with other industry and academic experts during a November 17 virtual symposium, "Analytics in a post And the use of AI "—the world of Excellence." The event was hosted by the nonprofit Marketing Science Institute at The Wharton School with Wharton Customer Analytics and AI for Business.
In short, companies would have to infuse great efforts in order to use data.
Wrapping Up
The perks of Big Data in sales and marketing include increased quality of sales leads, enhanced prospecting list accuracy, quality of sales lead data, better decision making, improved territory planning. Moreover, the fascination toward Big Data benefits is enforcing businesses to grope the assistance of top big data application development services.
In sales & marketing, Big Data offers valuable insight into the most effective content and strategy for customer service, relationship management, and help in increasing conversion & revenue rate. So, if you want to achieve business goals, you can also embrace Big Data.