A lot changed this year. That too is probably an understatement. One of my goals through this blog article is to document my experience at Amazon as an intern this year.
I have been extremely lucky to have worked for Amazon and grow as a software engineering intern.
Hopefully, readers out there may learn a bit more about my experience, as I reflect on my own.
I also aim to get better at writing so, here is to many more articles that I hope you enjoy.
Change of plans
I received my offer pre-COVID and I was immediately on-board. As an international student, getting the opportunity to grow, learn, and work at a FAANG company was almost anyone's goal. My work location was Seattle, Washington and everyone told me the summers are amazing. I was to start on the 26th of May, 2020.
I called up my best friend, who also received an internship offer in Seattle.
"Hey, we NEED to find an apartment together."
All sorts of plans were made, and I was ready, just aching for the semester to end so I can fly out to the west coast.
When the pandemic started, I was unsure about what was going to happen. Everything went online at school, people started working from home, everyone was under self-quarantine. It was confusing as much as it was scary. I have massive respect for the healthcare workers, officials, and everyone who worked tireless days and nights to contain and treat the pandemic.
The weeks leading up to the internship were nerve-wracking. As the economy took a hit, companies were rescinding or delaying internship offers. It created a cloud of confusion and uncertainty. Alas, Amazon notified their interns that they will proceed virtually this summer.
I had no idea what to expect.
"Pre-season"
As we got closer to the starting date, Amazon did their absolute best to make the onboarding process smooth and easy for everyone. My first real interaction was an FAQ session where the Amazon student program team clarified questions and doubts about the virtual internship. My favorite question during that meeting was,
"What about the swag ?"
Love it. Moving on.
Admittedly, the WFH environment did ease up a few things. I did not have to struggle to find a new apartment and I didn't have to worry about putting my items in storage back in Buffalo either.
Over the next few weeks, I was introduced to my manager and I was given brief details about my team, fellow interns, and the project I would be doing over the summer. I received my IT equipment the weekend before we started and I was blown away by the setup.
Day 1 was closer than ever and it was time to begin.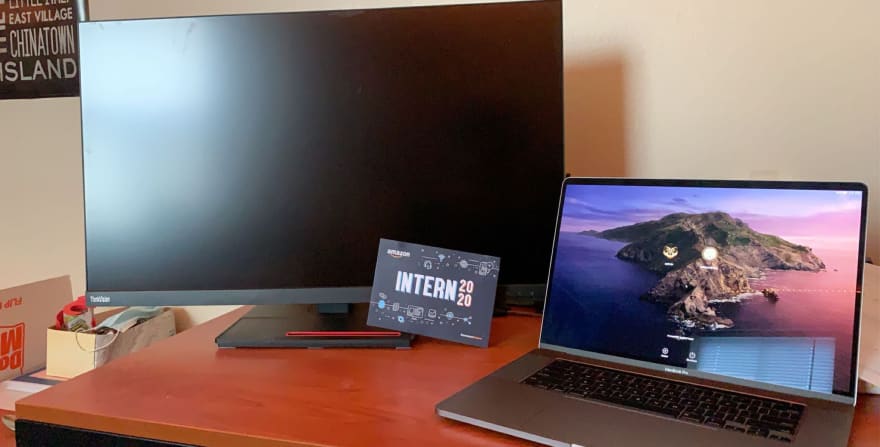 Day 1.
The first thing we were told when we started was, "It's always Day 1".
My first day at work was spent logging into my work laptop and receiving the details of my NHO (New Hire Orientation). Amazon's organized process took me through a series of setups i.e email, meetings, and other onboarding tools.
By late afternoon, I was ready with everything and ready to meet the team for my first stand-up. My manager sent out the meeting link and introduced me to my mentor as well as the rest of the team. They spent a while introducing themselves, talking a bit about what they do, their background, and their interests. It was refreshing to be amongst a group of talented engineers with unique stories of their own, coming together and working as one team. Two of my teammates introduced me to their cats as well. No complaints there.
This was my first ever internship, so every little detail about the industry was fascinating to see. I saw what a typical stand-up looks like -- How a team communicates and collaborates on different challenges. It was scary at first, but it became almost second nature as the weeks went on.
I spoke to my mentor afterward and learned more about the project as he welcomed me to the team and company.
Settling in
The next few days involved going through the various onboarding activities within Amazon. Setting up my work environment, Coding boot camps, 1:1 meetings, AWS training, SDE training, and other orientation meetings.
Additionally, I spent most hours reading about multiple AWS services that I was expected to use. This involved internal tools, documentation, examples, etc. This presented an excellent opportunity to reach out to and interact with engineers in my team as well as other teams. It's important to remember that they would be the first line of defense against any blockers one can face during the internship.
Takeaways
Even though things didn't go as planned, Amazon is a huge place, so there is always more than enough to see and do as part of the company. Virtual environments can be tricky when starting at a new place and it can be very easy to "become a stranger." Never worry, for every day is a new day, a fresh start. Always remember, it's always Day 1.