Airtable, if you aren't familiar, is a powerful web app that allows you to create databases (called "bases") of information. These bases can be viewed in different ways, such as on kanban board, in a spreadsheet (called a "grid"), on a calendar, or in a gallery.
I recently started a job search for a front-end developer position, sending out multiple job applications a day. It quickly became overwhelming trying to remember if I had applied to a job posting or not, what the job description for each position consisted of, and who I was waiting to hear back from. In a text document, I created a simple list trying to keep track of this information but it soon became unwieldy and difficult to find the information I needed. I had to find something more comprehensive.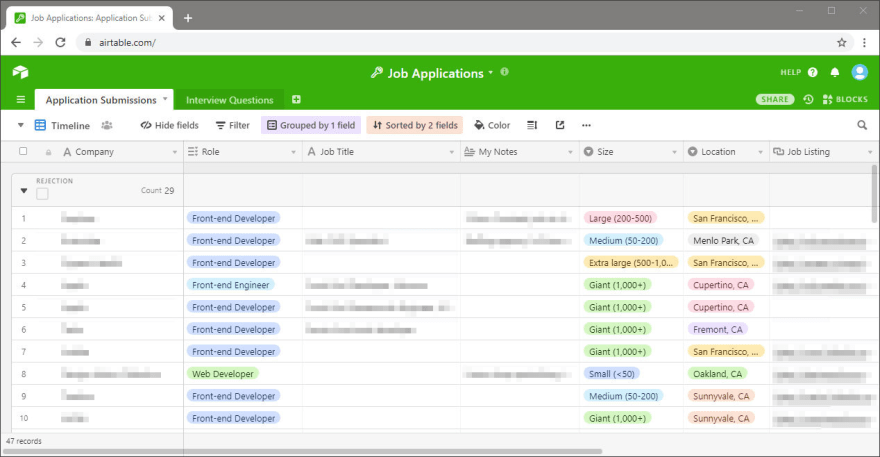 With a free tier of membership, Airtable works as an inexpensive way to keep track of many kinds of data, and in my case it's surrounding a job search. The service has a basic template for job searching but I found that I needed something more in-depth. Luckily, everything within a base is modifiable so I created my own.
In my job search base, I track the following data in these formats:
Company: single line of text
Role: multiple preset choices
Job title: single line of text
Notes: multiple lines of text
Size: single preset choice
Location: single preset choice
Job Listing: URL link
Submission date: date picker
Application status: single preset choice
Rejected: checkbox
As well as storing different types of data, that data can then be filtered and sorted so it can be visualized in many different ways. While in a grid view, I choose to sort my list by the date I applied, and then by the step I'm at in the interview process. I also filter out rejected applications from this list and group them in another grid so I can keep track of only the job applications that're active.
Data types are editable as well, so I've updated some of them as more data comes in. As an example, I initially started with three or four preset cities for my locations, but I can add new locations within my grid as I add a new position I apply for. That new location is then available to me in my location options the next time I add a new position to my base.
With this handy app, I'm worrying less about whether I'm keeping track of all the information I need to, and spending more time focused on myself and my search.
If you're looking for an inexpensive way to keep track of this kind of data for your current or upcoming job search (or any kind of data!) I hope this helps you, too!🙌🏻