Modern project management tools strive to surprise their users with a variety of features and innovations. Many of them try to become similar to JIRA because this famous platform offers useful tools for project management and collaboration.
A product roadmap is one of the most requested and useful tools in the world of project management, which helps managers and teams visualize their plans, tasks, milestones, and project stages without losing sight of anything. What do you know about an online product roadmap? Is it an indispensable tool in your work?
Today, many powerful PM software solutions offer reliable roadmaps, including Jira. However, are they that good at Jira, or are there more interesting alternatives? In this post, we try to figure this out.
What is a Product Roadmap?
In general meaning, a roadmap is a guide that describes all the steps you need to take to move from your current location to your desired destination. In product management, a product roadmap is a plan of action that lines up a product's short-term and long-term goals and outlines how they will be achieved.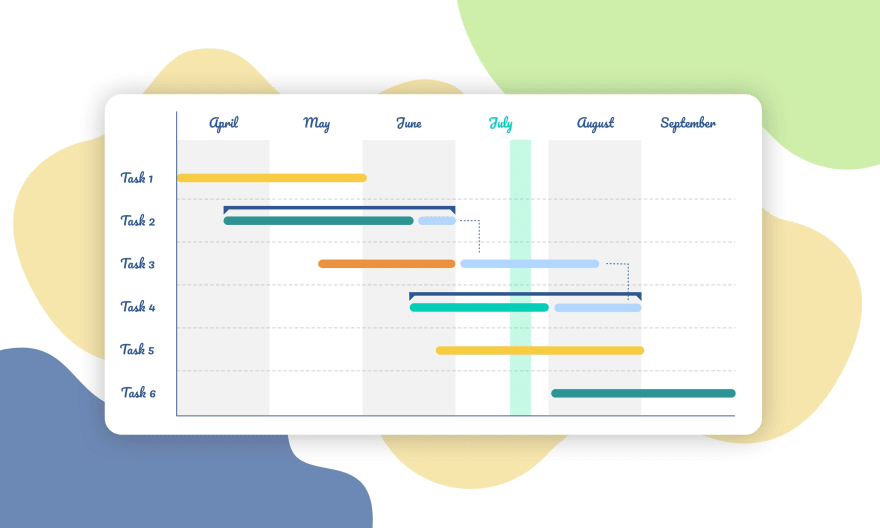 Product Roadmaps document the planned changes for product strategy, direction, and features over a given time frame.
Different organizations and teams can have different timelines, that is why product roadmaps can span a variety of timeframes.
Having a roadmap is critical for getting management buy-in and project funding. It is often used when you present to an audience about your plans for the future for your product or even company goals.
Product roadmaps are usually designed with the help of Gantt Charts.
Why you need to create and maintain a product roadmap
An efficient product roadmap is designed to serve a product strategy. This strategy mandates that you choose one viable alternative out of many and that you say no to many other alternatives.
Roadmaps force you to take your journey one step at a time, meaning that you will take a specific step in a specific sequence. This ensures that your team has a structured plan to follow.
As your team works through product development, you'll get new info that will validate or disprove your current hypotheses. Therefore you will iterate through new versions of the product roadmap.
Roadmaps meant for your immediate product development teams and are reliable tools for aligning internal stakeholders with the direction that your product is headed.
By sharing them with customers, you can gather feedback from them on why certain items should be added or removed. In many cases, you can use roadmaps to sell or persuade clients to buy the current offering so that they can be part of upcoming improvements or features down the line.
How to use a roadmap?
In order to enable a roadmap for your next project, go to the project sidebar and choose Roadmap in the features list. From this page, you can enable/disable the roadmap feature.
Product owners, while building roadmaps, should weigh up customer insights as well as the team's goals and targets. After that, the team can begin prioritizing work. It is also important to keep in mind the intended audience for the roadmap. It will guide the specific information and the level of detail that it's appropriate to add to the roadmap.
When using the roadmap tool consider the elements and features to track. You can:
• Filter the roadmap by status category (To do, In progress, or Done).
• Filter your roadmap and the issues displayed by an assignee.
• View and edit date ranges.
• Add new issues on epics.
• Access settings to adjust your personal view at any time
• Zoom in/out on the roadmap by adjusting the timeline by weeks, months, or quarters.
Introducing a Jira Roadmap
So, what is a product roadmap in Jira and does it require a plugin or app? Agile teams work with the scope and status of work. It is a continuous work in progress that can be visualized with the help of a roadmap. Applying the Jira Software's roadmap, you let your team attach the stories and tasks in their JIRA project to the actual work on their roadmap.
The modern JIRA's model for building software – Jira Software Cloud includes new roadmaps.
These roadmaps make it easy to sketch out a big-picture strategy and share it with a few simple clicks. With the help of Jira roadmaps, you'll have a clear view of what big initiatives are underway and how they map to the actual work items in each project.
What may the JIRA product roadmap include?
• Timeline (where projects are divided into stages)
• Project goals (in the form of deliverables)
• High-level tasks
• Swimlanes
• Milestones
• Dependencies
• Risks
Initially, JIRA had no default roadmap tool functionality. This Agile project management tool had not been designed for long-term planning and was focused on sprint and cadence.
However, JIRA proposed to apply a special app and Jira roadmap plugin created by Atlassian – Jira Portfolio or BigPicture plugin that looks even better and provides excellent roadmaps and other project management functionality, for example, risk modules, Gantt charts, or dependency arrows.
These plugins are really good for collaboration and sharing across your company. Now Jira proposes their users to use a built-in roadmap.
This roadmap proposed by JIRA serves the purpose of getting all stakeholders on the same page when the process of creating a product roadmap is collaborative. This allows team members to better understand the bigger picture and how their work relates to it.
Introducing an Improved Alternative – Hygger Roadmap
Hygger offers a powerful alternative to JIRA's roadmaps in terms of the design of timelines and their innovative functionality.
Handy and beautiful Hygger roadmaps will let you plan your goals, strategy, releases, and features with the help of smart timelines and additional features.
What Features Do Product Roadmaps in Hygger Provide?
Handy templates to save your time
You may choose any template you like, for example:
• Product roadmap
• Product development roadmap
• Marketing plan roadmap
• Product launch roadmap
• Portfolio roadmap, etc.
Prioritizing for better decisions
With the help of Hygger roadmaps, you can rate features or tasks using ICE, RICE or Weighted Scoring. Then you can pick out the stronger ones from the top of the prioritized backlog.
Empowering development with Scrum or Kanban
Using Hygger, you can apply robust Scrum or Kanban boards to develop planned features 3x faster.
Linking development tasks to the roadmap
You can also import tasks from Development boards on your roadmap to see the actual progress.
Sharing the roadmap
Hygger functionality allows adding customers or stakeholders to your roadmap and share global plans or the closest releases.
The roadmaps in Hygger are a great place to start aligning your team and stakeholders around common objectives.
Because simplicity is an important part of Hygger's roadmap, anyone in your company is be able to look at the roadmap and receive the status of any project.
Jira's advantages and disadvantages (except roadmaps)
Pros:
• Provides an advanced ticketing system.
• Offers great functionality for automating workflow, allowing you to assign tasks, track progress, and follow-up.
• Integrates with another Atlassian tool – Confluence.
• Allows working on many projects simultaneously.
• Offers strong task management.
• Provides many ready integrations and features
• Allows working on many projects simultaneously
• Offers iOS and Android apps
Cons:
• Overall complexity that only tech teams may admit and require.
• Integrations come at an additional cost.
• Confusing look and feel.
• Hard to configure and start using for beginners.
• Need to add some features at an additional cost (say, Gantt diagrams).
• UX looks unfriendly, and the information architecture is all over the place.
• Offers complex Kanban board functionality predominantly for techies.
Hygger's advantages and disadvantages (except roadmaps)
Pros:
• Offers colorful and user-friendly roadmaps based on Gantt charts.
• Allows sharing roadmaps with team members and stakeholders
• Offers robust prioritization frameworks
• One of the best Kanban board functionality
• Allows Scrum Support (story points and hours estimation, burndown charts, velocity, and reports)
• Mobile apps for iOS and Android
• Provides a free version
• Suits tech and non-tech teams
Cons:
• You can not customize the column with the percentage of task completion.
• No way to link multiple tasks from other boards on the timeline.
• Lack of milestones.
• No subtasks (you can add subtasks as checklists)
• No types of tasks (Epics/Stories/Tasks)
• Cycle time report will be added soon
Jira vs Hygger: Essential Tips for Using Roadmaps Effectively
What are the best practices for the best roadmaps? Creating and maintaining product roadmaps is an ongoing process to embark upon with your team. Regardless of what roadmap you choose, follow these tips to set yourself up for success:
• Keep your roadmap evenly focused on short-term tactics (considering how these relate to long-term goals).
• Include only as much detail as necessary for your audience.
• Make sure everyone has access to the roadmap.
• Ask feedback from stakeholders to ensure that it meets their needs.
• Ensure that the roadmap reflects both short-term and long-term priorities.
• Review your roadmap regularly and make adjustments when plans change.
• Stay connected with stakeholders at all levels to ensure alignment.
• In case you have corrupt issues, the roadmap won't display. Resolve corrupt issues by ensuring that the fields for status, status category, issue type, and rank settings are all complete and correct.
How do you create a roadmap?
The Jira roadmap feature is a great way to demonstrate the product pipeline in an easy and clear format. Roadmaps in Hygger also look powerful and multifunctional.
The roadmaps in both tools can be an excellent fit for a wide range of audiences. No matter you need to communicate priorities for your team or if you're outlining your plans for executives or for your clients.
What is your choice? Have you tried to use the Jira roadmap or perhaps you're a fan of roadmaps in Hygger? Maybe you know any other robust free Jira alternatives? Please, share your opinion with us!