What I built
An app which makes it extremely easy to track your work accomplishments throughout the year.
Does This Happen To You Every Year Too?
Every year I get the same request from my manager: Send me a list of your accomplishments for the year.
Tracking Accomplishments Is A Pain
Every year I have the same internal dialogue: Why didn't I keep track of what I did throughout the year? The internal dialogue is quickly followed by panic and rummaging through an entire year of email in an effort to determine what I did.
No longer. With my Core Competencies Documenter SPA (Single Page App) which runs equally easily on a device (iPhone, Android) as it does on a desktop browser I can quickly record each accomplishment as it occurs.
Recording Entries Very Easy & Fast
The content of the app is based upon the fantastic document: 31 Core Competencies Explained.
This document helps create the app's guided structure of choices grouped into three main Business Competency Groups:
Dealing With Business
Dealing With People
Self-management
Selecting a Competency Group guides the user into selecting the appropriate Competency and Supporting Examples which provide auto-documentation for each accomplishment (less typing/thinking required by user).
Finally, at the end of the year, the user simply switches to the Journal entries tab and display all of their accomplishments formatted for printing or emailing to their supervisor.
Category Submission: Built For Business
App Link
https://core-co-doc-ngkxu.ondigitalocean.app/
FYI - I removed my app from the digital ocean app server but it runs at my web site at: https://newlibre.com/coreco
Screenshots
When you load the app the first time you'll see:
You can simply add a Screen Name and save it so you can tell your account is loaded.
Here's a shot after saving a screen name and displaying your Secret ID (GUID).

You currently have no Journal Entries so none will be displayed if you click the Journal tab.

However, the next time you have an accomplishment such as writing up a technical email which helps your team you can create a quick entry.
Select the Dealing With People Competency Group.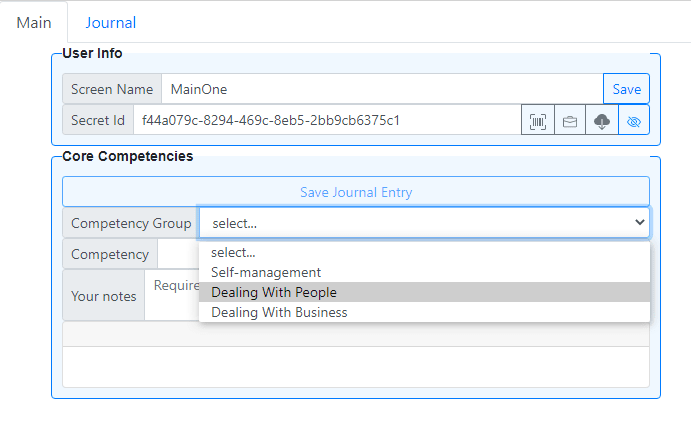 A list of all the Core Competencies under that group will appear. We'll choose Written Communication.

Add your custom notes and select at least one Supporting Example and the app will allow you to save the Entry.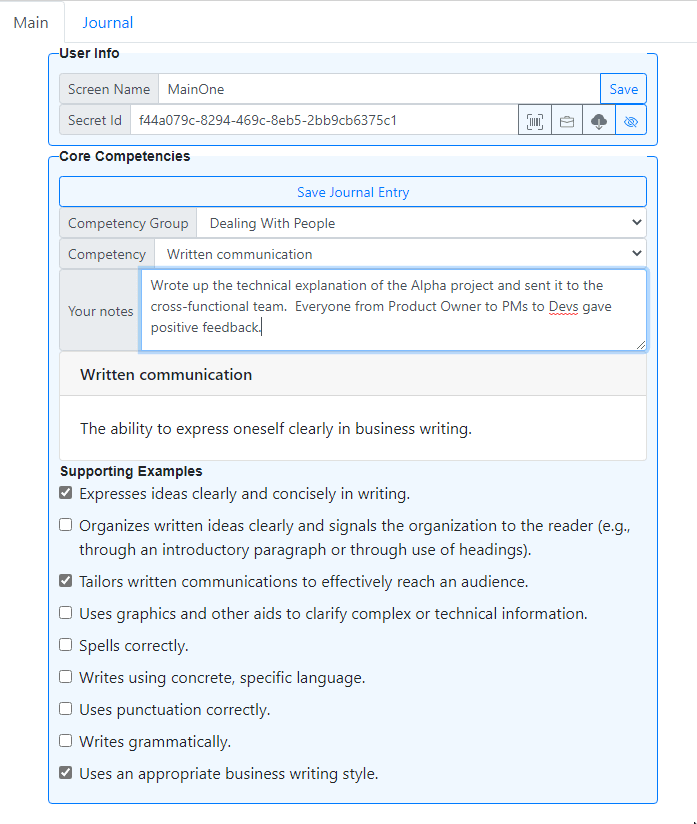 Each time you save an Entry it will be date-stamped and added to your Journal.
Finally, at the end of the year you can switch to the Journal tab and display the list of Entries and print them or email to your manager.
Easily Share Journals
If your manager wants to load your Journal she can easily do so by scanning your SecretID via QR Code and loading your entries.

No Worries About Loading Your Original Account
Once you're done viewing or even adding entries to your employees account you can easily switch back to your own account by clicking the "Restore Original Secret" button (highlighted in red).
Why I Use The Secret ID Instead of User Account
I'm a Software Development Team Lead and I write reviews each year for my team members. I wanted to share the app with them and let them begin tracking their accomplishments but I knew if I required them to create yet another UserId/Password they'd be slow to try the app if they ever did. I wanted the barrier to entry to be extremely low so people would just try the app.
This way a person can just load the app and try adding an entry. If they end up seeing how easy it is to use they'll probably use it more.
Description
Features
Tight User Interface
Easily used from any device (iPhone, iPad, Android phone or pad) as well as desktop.
Self-training App Use
The app has one purpose : track your accomplishments based upon Core Competencies. That makes the app easy to learn to use. The App guides the user and a user can be tracking annual accomplishments in one minute or less.
Low Barrier to Entry
No need to create a user account. The app creates a GUID which allows the user to start working immediately.
Account Easily Transferable Via QR Code
The app will generate a QR Code that can be scanned so a manager can load any employee's accomplishments. The app can easily be used on multiple devices with the same account.
Link to Source Code
You can get all the source for the Core Competency Documenter at https://github.com/raddevus/CoreCoDoc
Permissive License
MIT License (provided with Github source)
Background
I wanted to make an app that was extremely easy to use to inspire users to actually use it each day. This is the app I wanted but couldn't find so I had to build it. :)
How I built it
Deploying to the DigitalOcean App Platform was really easy and the tools there are quite powerful. I'll be detailing more about this soon.
List of All Technologies Used To Build
HTML5 (HTML, CSS,JavaScript)
Google Firebase -- to save journal entries
Dot Net Core (for Web API which is called to generate the QR Code)
Additional Resources/Info
I plan to add more about my development process here later.