The year 2020 came with multiple challenges and changes in our lives. The most drastic change was witnessed in our professional life, wherein a record-breaking number of people had to work remotely. As great as remote work sounds, a lot of efforts need to be made in order to perform well while working from home.
Just like all other teams and professionals, dev teams had to work remotely as well. Major IT firms have made remote work a permanent way of working for their employees and in order to achieve success with
working remotely organizations and managers have employed the use of various collaboration tools, which make working together easy and accessible.
There is a vast range of cloud-based collaboration and management tools that help remote working dev teams in collaboration, task deployment, real-time communication, progress assessment, and much more. Software development is a complex discipline therefore, it is quintessential for teams to invest in a robust, state-of-the-art collaboration tool that makes working together irrespective of physical location a great experience.
Why is collaboration important?
A good team is like a well-oiled working machinery where each individual's role is defined and chaos is minimum. This can easily be achieved through robust collaboration and communication tools that make working with a team easy and accessible. Organizations all across the globe employ collaboration tools that help their teams work in unison and execute projects seamlessly.
So if you're part of a dev team and looking to enhance team coordination and collaboration you have stumbled on the right place. Through this blog, I am to educate the readers and future developers about the top collaboration and communication tools that will help them maximize their productivity and perform well.
Let us have a look at the tools, one by one -
1.) ProofHub
Ranked among the top collaboration and project management software that is hugely popular among teams of all kinds and sizes, including remote development teams. It has a vast range of features that ensure accessibility and help employees deliver high-quality results on time. As developers, free flow of information to stay updated with your team's progress is vital, and ProofHub is just the tool for that.
Even though ProofHub is a project management software it makes for a great collaboration tool as well by means of various features.
These features include:
Individual and group chat
Inbuilt timer and timesheets
Dedicated space for discussions
Real-time announcements and notifications
Small learning curve
Plan and visualize your projects through Gantt charts
Task lists
Customized workflows
Calendar integration
Third-party integration
Online proofing tool
Create workflow stages by using Kanban boards
The software has other abundant features under a single platform such as assigning tasks, keeping a track of activities, marking events, and personalized chats. The software has an easy-to-use interface and is easy to navigate making it a smart choice for remotely functioning development teams.
2) Slack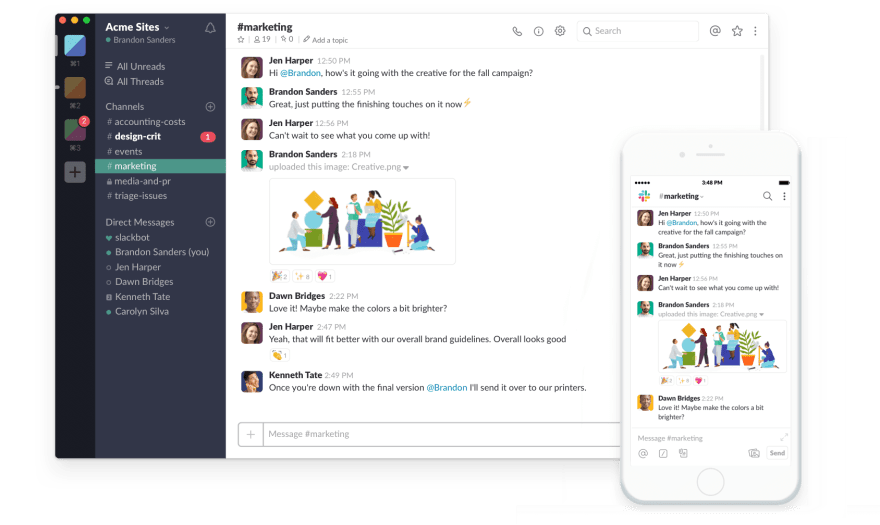 Slack is a communication and collaboration tool that helps teams connect on a single platform. It fosters unified communication among individuals and groups, where you can create channels similar to chat rooms or windows and interact with your team. Individuals also have the option of keeping their clients in the loop with the team by sharing a channel in Slack. As developers, it becomes imperative for individuals to communicate effectively, and make sure your team members are on the same page.
Slack has a variety of features that make it a top choice among users across the globe such as:
Public & Private channels for direct messaging
2200+ integrations
Audio and video calls
File sharing
An easy and fluid interface
Call routing and customer support
Calendar management
Multi-user collaboration
Furthermore, Slack also offers something called Slack Connect for conversations with your external partners and clients. It enables people at up to twenty organizations to work at a central location. Workflow automation is another great feature that enables users to automate their regular actions and communication and standardizes how you collect and store information.
All in all, Slack is an amazing collaboration tool used by corporations ranging from big to small all over the world.
3) Trello
Trello is a web-based Kanban-style list-making product management tool that is immensely popular among organizations across the world. Trello helps users create task boards with as many columns as they like which include statuses such as To-do, Done, and In-Progress. Users can create their own "Trello Cards" and add comments, attachments, due dates, labels, tags, etc.
Trello is known to promote functionality and accessibility over a robust feature set and that is its USP. Trello offers a vast variety of features, here are a few major features:
An uncomplicated and flexible tool
Intuitive software with a super-accessible interface
Built-in workflow automation with a Butler
Integration with third-party applications
Trello offers numerous integrations and power-ups
Users can choose a board that suits their team requirements from a set of templates
Color-coded labels to organize cards
Custom workflow automation Trello helps users looking to work with an uncomplicated tool and organize their daily tasks in a streamlined manner.
4) monday.com
monday.com is a top-tier resource and project management tool that has greatly simplified the way teams across the globe work, collaborate, and communicate. This tool is ideal for big and small development teams as it makes collaboration among team members easy even when working remotely.
monday.com offers a diverse range of features for teams of all sizes as well as individual users. A few of these features are:
Hundreds of customizable templates for users
Multiple integrations with third-party software
Workflow automation to save time
View data in various views such as calendar, kanban, map, or timeline
24/7 customer support
Free-trial for new users
Since all team communication happens in a central space, it makes teamwork a great experience for members. monday.com is an ideal platform for freshly conceived software development ideas and professionals looking to develop a system of working in an organized and streamlined environment.
5) JIRA
Ranked among the most popular tools, JIRA is an excellent collaboration and management tool that helps teams streamline office operations. The software allows developers to compartmentalize their work into projects and tasks thereby eliminating the hassle of long email threads. JIRA generally operates on the hybrid scrum-ban approach which is a great way forward for remotely working development teams.
JIRA is known for its long list of features that have made it a hot favorite among organizations. Here are a few major features:
Bug reporting and tracking
Unlimited custom fields and customizable wallboards
Create a shared schedule with iCal, Google Cal & Outlook
File and document sharing
Automated check-ins
Accessible and easy interface
On-premise Jira for larger organizations
Complete client access
Users can access JIRA through the mobile application as well as on their desktop. Its subscriptions are extensible for it has different pricing plans based on storage and the number of users. JIRA is a great option for front as well as back end developers as it has excellent features that make teamwork super-easy and it has been specifically designed keeping remote working teams in mind which makes working with a team a wonderful experience.
6) ClickUp
ClickUp is an online project management tool designed exclusively for teams looking to collaborate, manage, and organize their everyday work. No matter what the size of an organization or team is, ClickUp can work wonders for them. ClickUp is ideal for teams looking to enhance their productivity and improve their performance. It is used by over 100,000+ teams globally with big names such as Google, Uber, Airbnb, and various others.
Furthermore, ClickUp comes with over 100+ proprietary features which make it indispensable for teams. These are as follows:
Streamlined process management
Agile board view
Workflow automation
Multitask toolbar
Customized templates
Time tracking & 2-way calendar sync
Native integration with other tools
Complete customization of your space as per requirements
Real-time editing and syncing
Mobile applications and desktop version
As a ClickUp user, you can track a task completely from its inception to completion and be an active participant by staying updated with any new developments. ClickUp also offers 24-hour support to answer any queries made by users and assist new joiners. In a nutshell, ClickUp is a great tool for teams looking to work in collaboration and offers a huge number of features making office work easy.
7) Instagantt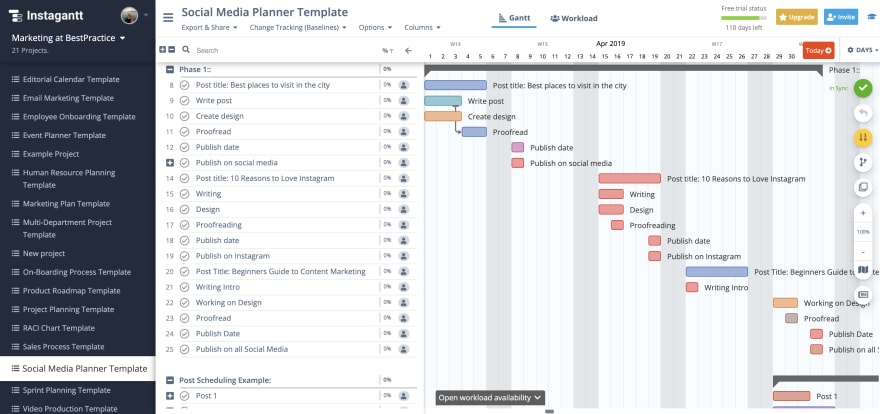 As the name suggests, Instagantt is an online Gantt chart tool for project management that helps teams to keep their everyday projects organized and helps teams stay on top of deadlines. From scheduling projects to setting dependencies and workload management, Instagantt is a boon for remotely based development teams looking to collaborate effectively.
Instagantt offers users multiple features which make it an asset for teams. The major features are:
Easy drag and drop with dependencies
Workload management tool
Kanban, board, and timeline view
Dynamic dashboard
Milestone and progress tracking
Scheduling and assigning tasks
Baselines and change tracking
File and document sharing
Risk management
Instagantt is available for use to existing Asana users and available as a stand-alone platform as well. Over the past few years, Instagantt has been immensely popular among users and facilitates seamless collaboration which makes it ideal for all kinds of teams both remote and those working out of an office.
Conclusion
Like all other teams, software development teams also greatly benefit from online collaboration and management tools. It is imperative for managers to invest in a robust collaboration tool that helps team members communicate, organize, execute, and deliver.
All the above-mentioned tools rank among the top online collaboration platforms on the web and are definitely an asset for an organization. If you are looking to take your dev team's productivity to the next level, you can begin by trying out these tools, and find the best of the lot.