Professionals, who never in their distant dreams imagined for this time to come, have started to refer to 2020 as 'The Year Of Working Remotely'. We've spent almost the entire year juggling between personal and professional life while working from our homes. But working from home comes with its challenges, and if professionals do not keep their work on the track, it could reflect poorly on their performance.
It is predominantly for the same reason that various organizations have employed the use of management and collaboration tools to streamline work for their teams, especially when we talk about dev teams. These tools are designed to make teamwork easy and accessible and with a myriad of features that make working with a team a wonderful experience.
A useful productivity tools can change the entire game for a team and increase its productivity manifold. In this post, I will share an unbiased compilation of the top 11 tools that can turn things around for organizations looking to enhance their collaboration and overall management in the year to come.
Let's take a look at the list:
1) ProofHub
When it comes to collaboration and management, ProofHub is the first thing that comes to mind since this project management software helps teams collaborate, communicate, and successfully execute projects on a single platform.
ProofHub has several features that make it indispensable for teams and streamline work to facilitate a smooth user experience. In ProofHub, you get a designated space for announcements and notifications on the ProofHub homepage. You also get personalized group and individual chat options for teams to have meaningful conversations. Not just this, it eliminates long email threads with discussion topics where team members and clients collaborate effortlessly.
ProofHub also lets you assign individual and group tasks through task lists, in which you can set a start and end date as well. You can create workflow stages by using Kanban Boards. The inbuilt timer and timesheets are a great tool to track employee performance regularly. You can grant or restrict access to projects by assigning custom roles to team members. The best part is that you also get an online proofing tool, which makes reviewing files and sharing feedback on them super easy.
2) Trello
Often referred to as the king of Kanban boards, Trello is a successful management tool with various boards, lists, and cards that make organization in a team a cakewalk.
Whether you're in an office or working remotely, whether you're working in a cross-functional team or outsourcing work, Trello is the best platform to collaborate with your team. Built-in workflow automation, sync with third-party applications, third-party integration directly in your workflow, and various other features help teams augment their productivity and generate excellent results irrespective of their working situation.
All the tools above make one thing crystal clear, individuals and teams have a wide variety of collaboration and project management software to choose from.
3) Scoro
Scoro is a fully interlinked, digitized management software enabling users to track real-time results. Users can create personally tailored, dynamic dashboards to track performance, saving themselves from shuffling between spreadsheets and tools.
The founders say that their primary objective behind creating Scoro was to build an all-purpose, fully interlinked collaboration, and that is what it aims to do. It includes a vast list of features such as time-tracking, group and individual chat options, integration with third-party tools, project overviews, automated billing with scheduled invoices, and many more.
Among its many features, the time tracking feature is the most popular one known to help teams save almost 1000 hours per month. All these features mentioned above and various others make Scoro an invaluable asset for teams looking to collaborate and communicate effectively.
4) Basecamp
Basecamp is a top-tier project management tool and real-time communication tool that helps teams streamline office work and work in cohesion. It allows users split up their work into separate projects and helps them organize the chaos of long email threads and cluttered files.
Furthermore, Basecamp has all the tools required for teams to get work done like message boards, to-do lists, scheduling tasks through Google, iCal, or Outlook, sharing documents and files, individual and group chats, as well as automated check-ins. The software has a simple and accessible interface, which makes it super-easy for users to get its hang.
Basecamp makes team meetings and collaboration easy as it brings all members under a single roof. You can access it on desktops as well as mobile phone applications as its ease of use is what makes it a hot favorite among users. Basecamp's subscriptions are scalable with different pricing plans as per storage and number of users.
5) Monday.com
Monday.com is among the top project management tools in the market right now, with various big and small organizations worldwide relying on it for their teams. Managers can plan, schedule, track, effectively execute projects and manage project spending without the hassle of compromising with the quality of work in any way.
Although monday.com is a relatively new software compared to its counterparts yet, it has successfully carved a niche for itself and has become massively popular. With inbuilt customizable templates and visuals, easy integration with existing third-party tools, automating repetitive work to reduce errors, viewing data as kanban, calendar, map, and 24/7 personalized customer support, monday.com proves to be an asset that improves coordination and collaboration among teams.
6) Time Doctor
When it comes to time management and tracking, Time Doctor stands out as a top-tier platform widely used by teams and individuals around the globe. The platform offers services such as automated screenshots to track consistency, grant access to clients, detailed reports and timesheets, integration with other enterprise tools, time alerts to remind you to keep yourself from wasting time, and many more.
Time Doctor also presents users with an offline time tracking feature and distraction alerts, making it impossible to waste time while working, and helps managers keep track of their team's performance. Furthermore, it has an inbuilt payroll setup that supports various payments and currencies, making everything even more organized and straightforward.
All in all, Time Doctor is a great tool to measure productivity, and its widespread use is a testament to its popularity.
7) ClickUp
ClickUp is a cloud-based project management software used by teams looking to collaborate and communicate under a single roof. ClickUp is an ideal tool for organizations of all sizes, big and small. It comes with over 100+ proprietary features such as collaboration tools, integration with third-party software, agile board view, custom notifications and announcements, task checklists, and many more.
On ClickUp, users can assign tasks and comments and even view activity stream display tasks to see the process of inception and completion of tasks first hand. Further, customer support and aid are offered over the phone to clarify any doubts that may arise while using the software. Thus, ClickUp is ideal for teams or individuals looking to enhance their productivity and improve their performance.
8) Chanty
Chanty is super easy to use collaborative software that has helped countless teams and professionals enhance their productivity. The most exciting feature is the chat through which one can stay in touch with their team using text message, voice call, or video conferencing.
Users can also share screens, exchange files, and bring all the apps they use under the same space making them more accessible and handy. Team leaders can also organize their group activity in TeamBook and gain first-hand control of all the information through smart notifications.
Besides these, countless other Chanty features make it an indispensable asset for teams looking to amplify their productivity.
9) Hubstaff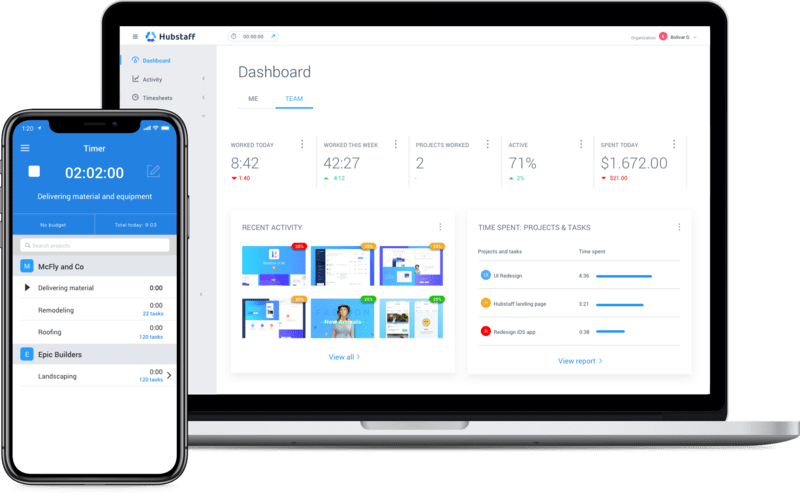 Hubstaff is a collaboration platform that enables team leaders to monitor their staff and track time to improve workflow and maximize productivity. Hubstaff helps make working in a team a pleasant experience with its comprehensive list of features that positively impact a team's performance.
The best feature of Hubstaff is the time-tracking feature, which helps track individual and collective time spent on a particular project. Further, this time spent on each project can be managed directly from Google Chrome and the Hubstaff dashboard. The software also integrates with more than 30 management tools, thereby simplifying things even further for users.
The platform helps generate detailed timesheets, enabling managers to evaluate their performance from the Hubstaff dashboard directly. Among its many other great features, Hubstaff also offers GPS and geofence time tracking feature that helps individuals clock in and out and sends automated reminders to your team.
10) Instagantt
Another excellent management tool is Instagantt, which, as the name suggests, helps teams stay organized and on top of work. It is an intuitive tool that allows teams to plan, connect, and collaborate easily.
Instagantt makes working as a team easy through Gantt charts with easy drag and drop for task dependencies, timeline view, a workload management tool, board & kanban view, a dynamic dashboard, and various other features.
Instagantt is a user-friendly Gantt chart platform that has helped various teams increase productivity by providing easy solutions to everyday office work, no matter if you're working remotely or out of an office.
11) TeamWave


TeamWave is a powerful, straightforward, easy to use, and super affordable Work Management Software. You can manage your sales, projects, teams, clients and marketing – everything in one single place. With TeamWave you can streamline workflows, get things done faster and scale your business with confidence.
Top TeamWave Features
Sales Management: Visual Sales Pipeline, List View, Sales Reports and Forecasting, Email Integration, Activities and Tasks, Setup and Track Sales Goals,Custom roles
Contact Management: Track history, Tag and sort contacts, Create custom fields, Share contacts with the team
Project Management: Task management, Estimate and Track time of projects, Use Project templates, Organize files in one place, Share notes and ideas, Collaborate with clients, Create project milestones
HR Management: Time-Off Management, Automatic Check-ins, Custom Roles, Noticeboard to share workspace stories
12) Harvest
Harvest is a time tracking application with an intuitive layout that has become popular among teams looking to allocate and manage time effectively. It provides useful insights to team members and leaders about how much time is being spent on a particular task, total project costs, and the invoice and billing.
Harvest helps teams schedule work, gain access to critical data, create timesheets, third-party integration, and much more. Its sister application called Forecast enables one to schedule future work and leaves no room for confusion, making Harvest a one-stop solution to collaborate with your team.
The commendable efforts of the virtual communication and software industry have made office work possible in 2020. These communication and collaboration tools have made virtual connectivity problems a thing of the past and have made tracking progress and time management at work accessible.
Now, as a team leader, you can choose a befitting tool that shall benefit your team and make them more productive than they already are.
All the best!