If you're reading this post then there are good chances that you also belong to the community of millions of remote workers who have had to work from home due to the outbreak of dreaded COVID-19.
It's not just pandemics like novel coronavirus that make remote working necessary. As a working professional, you might be required to switch over to remote work due to many reasons. In this context, it becomes crucial that you have the right work from home tools to simplify your work.
If this is your first time, you might be wondering: How not to lose productivity when working remotely? What tools do I need to get things done the right way? What is remote working and can I achieve desired results while working from home?
Whether you're a WFH rookie or veteran, after reading this article you will get to know about some of the best work from home tools for managers and team members that can help you get the most out of your work. Read on to know more about it.
Top Remote Working Tools For Project Management
ProofHub is a highly functional, all-in-one project management software that allows project managers, team members, and clients to collaborate through a common, single platform. ProofHub is an all-in-one application, which means the users do not need to waste time juggling various tools, so they can optimally utilize time.
ProofHub does not charge per-user, which is another USP of this amazing work from home tool for project managers, team members, and clients. Some of its powerful features include Kanban boards, Gantt charts, Proofing, Chat, Timesheets, Reports, and much more.
The free trial is available while the paid plan starts at $45 per month, that too with unlimited projects and unlimited users.
ProofHub is now available free of cost to schools for the rest of the year 2020, to ease their struggle of task planning, organization, and management due to the outbreak of COVID-19. Click here to know more about this offer.
JIRA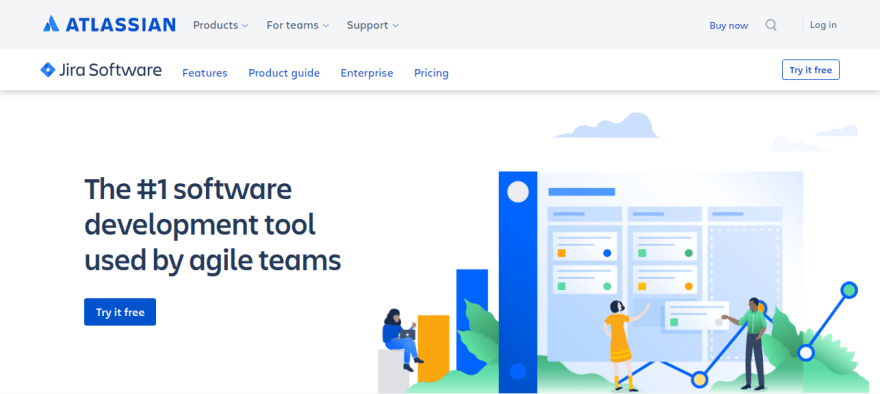 Jira is a project management platform that is designed for requirements and test case management to agile software development. Jira is also used to track issues and bugs related to your software and Mobile apps.
Teams use Jira for planning, tracking, and reviewing work on a daily, weekly, and project basis. It is continuously updated to support the latest trends in software development. There is no free trial of Jira while the paid plan starts at $10 per month.
Top Remote Working Tools For Team Communication
Slack is one of the most popular team communication tools, which is basically designed to replace email as your primary mode of communication for the whole company. It offers several robust features such as file sharing, voice and video calling, advanced search modifiers, app integrations, automated reminders, easy note-taking, etc.
Slack allows instant one-on-one or group discussions to work together effectively. Many teams have reported that using Slack has resulted in improved team communication and internal transparency within their companies.
Available on: iOS, Android, macOS, Windows, and Linux
Pricing: Free plan is limited to access to 10,000 of your team's most recent messages and 10 integrations with other apps. The paid plan starts at $2.67 per month.
Chanty is a very simple, affordable, AI-powered team chat app for small and medium-sized teams. It may be labeled as "simple", but has enough powerful features for teams to work simply and effectively.
You can communicate instantly in public and private channels, organize all your files, tasks, links, and conversations into folders, turn messages into tasks with just one click, and much more. Chanty's built-in task manager and intuitive interface make it a strong Slack alternative.
Available On: iOS, Android, Windows, macOS, and Web.
Pricing: The free plan is limited to 10 people on a team while the paid plan starts at $3 per user for each month.
Flock is an online communication and collaboration platform that not only offers regular communication features like instant messaging, audio and video calls but also screen sharing, built-in polls, code snippets and more. Flock offers a freemium version with unlimited message history and unlimited integrations. It is convenient, real-time, and makes communication seamless.
Available On: Windows, macOS, Android, iOS, and Web
Pricing: Starts at $4.50 per month, per user
Top Remote Working Tools For Graphic Designers
Venngage is a reliable infographic design application that enables users to create easy to understand and stunning infographics, presentations, reports or social media visuals with the help of a wide range of customizable templates.
Venngage user interface provides all the right tools required to generate visually appealing graphics. It's affordable and helps you make a big impact on the visitors, thus creating better chances of improved conversions.
Venngage offers a free trial for students and the paid plan starts at $49/month.
Zipboard is an easy to use website annotation tool for web designers and developers. Zipboard makes it simple for project managers, developers, clients, and testers to share real-time design feedback. You can manage and assign tasks while reviewing your web projects.
It is packed with useful features such as Web Design and eLearning, Simplified Issue Tracking, Review and Feedback, and Collaboration to easily test and track bugs in your web projects.
The paid plan starts at $39/month.
Top Remote Working Tools For Document Collaboration
Google Drive is a built-in tool in every Gmail account for storing, maintaining and sharing digital documents. It is helpful in narrowing down the communication gap within teams. Its powerful scripting engine enables accessing data from various sources a breeze.
It is considered as one of the essential work from home tools every pro must use because of the amount of storage, additional features, and quick links to services like Maps and YouTube. It is free for storage up to 15 GB and the paid plan starts at $89/month for storage up to 100GB.
Bit.ai is labeled as the World's most powerful document collaboration platform. It works well for companies of all sizes and helps teams with document tracking, real-time collaboration, content management work organization, document tracking and more. Bit also helps teams create multi-dimensional digital documents for communication.
It has an intuitive user interface, easy to navigate, and requires no learning curve. The free trial is available for users and the paid plan starts at $8 per member, per month.
Top Remote Working Tools For Client Interaction
Krisp is a highly effective work from home tool that helps in eliminating unwanted, disturbing background noises during real-time calls with a single click button. It is counted as one of the best noise-canceling tools and works well with any communication apps and headphones.
Krisp is very easy to set up and use. It can remove background noise from both incoming and outgoing calls so you can listen as well as speak without noise.
It is available free of charge for occasional users while the paid plan starts at $ 3.33 per month.
Acquire is a multi-channel customer service software that allows users to streamline conversations with customers through real-time communication tools and capabilities. It is an advanced communication platform with multiple co-browsing features, easy to use user interface, voice call, text messaging with screen sharing, speech recognition, live call recording and much more.
Customer engagement greatly improves as your customers can easily connect with your customers and vice versa. The basic plan is free of cost while the paid plan starts at $35 per month.
Wrapping It Up
As more and more companies switch to remote working in the days of the novel coronavirus, many professionals lack the right work from home tools, which can lead to low productivity and failure to accomplish tasks efficiently. Depending on the type of work you do, using the best tools will help you save time, improve productivity and quality of work.
Remote working is here to stay. So, having the best tools for work is crucial for proper planning and collaboration among teams, managers, and clients to achieve successful results that are up to everyone's expectations.
Best of luck!
Posted on by:
Nandini Sharma is Assistant Marketing Manager at ProofHub- a leading project management and collaboration software.