I'm going to say sorry in advance that I didn't take printscreens while I solved this one - so I've nicked some others from the internet to explain it.
Today I tried to update my windows 10 install on my Gaming PC. However I kept seeing the following error:
"Windows 10 couldn't be installed - We couldn't update the system reserved partition"
I opened up Disk Management (Windows Key + R then "diskmgmt.msc")
I could see the System Reserved partition was full but it only had 500MB assigned. It looked something like this... except the first drive was full: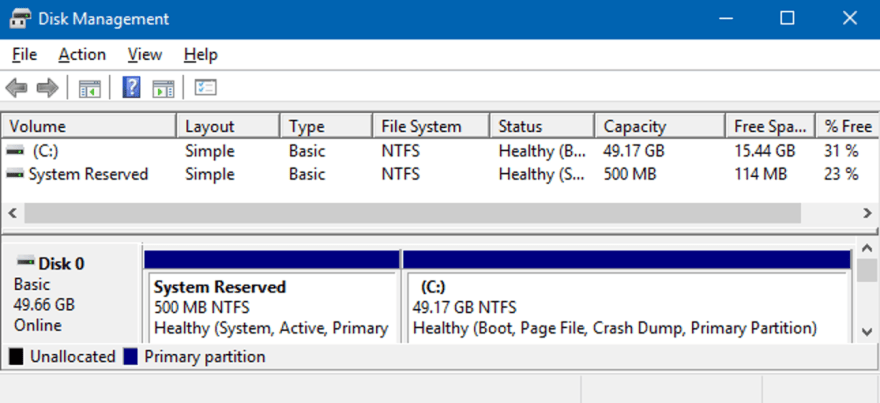 The rest of the disk was my 245GBish C: drive and it had a lot of free space. Of course the logical step was to extend the system partition.
That didn't work because there was no unallocated space. Next step was to unallocate a few GB's from the big C drive. I did that, it all worked and I still couldn't extend.
The disk looked something like this, my Reserved Drive was on the far left, in the middle was the rest of my big C: drive and the far right was my 3GB of unallocated space:

Turns out you can't extend a drive into space that isnt directly right of it in this table.
To solve this issue, I used a piece of software called IM-Magic Partition Resizer: https://www.resize-c.com/ - They haven't paid me for this post by the way - I just found this software and it did the job.
I used the free software to move the C: over to the far right, meaning my unallocated space would now be directly adjacent to my System Reserved space. I then activated the changes in the application.
My system rebooted, and I saw the command line interface running the changes. I was only 10% this wouldnt trash my PC. Luckily it didnt, the script finished and then windows booted.
Now my partitions were in the correct order, and I could extend my System Reserved partition into the unallocated space. Now my system looks like this:
I've just retried my system updates and it worked!