Mobile applications have been at the center of innovation for a few years now. With growing markets, upcoming modern technologies and evolving customer behavior, mobile applications are helping businesses to remain relevant and competitive. Some of the most popular apps are making life simpler for millions of people worldwide.
Did you know!
As per the mobile app development stat, eMarketer estimates that American adults will on average spend more than 4 hours with mobile Internet, with 88% of that time within apps.
These mobile apps are available for download based on purposes such as business, lifestyle, entertainment, education, sports, and others, to make life easier and comfortable.
Unfortunately, most downloaded applications fail, some of them pay mediocre fare, and only a few of them stand out from the crowd by being exclusive and useful to users.
And, the outstanding and most popular apps are the ones bringing the digital revolution. Therefore, through this article I will make your life easier with these updated lists of the top 11 most popular apps.
Let's get started!
What are the Most Popular Apps in 2021?
To help you develop an out-of-competition mobile app, we've bumped up the most popular and top installed apps that inspire businesses to continually innovate and grow. Let's check out.
1. WhatsApp
It is one of the most popular and widely used chat applications that supports communication between international phone networks. It has many chat features like video calling, audio calling, chat message delete, emojis, status, and more.
According to statistics WhatsApp users are continually growing from 2015 to 2021.

2. Facebook
It is the most popular social networking website and application in the world. The Facebook app is available for Android, iOS, Blackberry, and all other major mobile platforms.
The application is used almost everywhere in the world for social and business communication. The app has over 1 billion - 5 billion downloads.

3. Instagram
It is a photo-sharing and social networking application that became popular mainly due to its high quality and unique features such as square image format, filters and the lack of a website variant.

Yes, the app only works on supported mobile devices and there is no web version.
4. Netflix
Netflix is ​​a subscription-based video-on-demand app. It is the world's largest subscription Over the Top (OTT) media service for users to watch movies, TV shows, and documentaries on multiple devices including mobile.
This app constantly updates its huge list of movies with latest and acclaimed movies and shows in many genres. Interesting content and the availability of exclusive phone subscriptions have made Netflix one of the top popular phone apps among millennials.

At the end of 2020, Netflix had more than 204 million paying subscribers, and 47% of Americans prefer Netflix over any other video streaming service.
With a pandemic restricting the majority of the population to their homes, Netflix has seen significant increases in sign-ups and viewership via lockdown to become one of the most popular apps by 2021.
5. Uber
Uber is the world's leading on-demand cab service app for riders, being accessed by more than 103 million active users in 400 cities across 70 different nations. Uber is a technology-based platform that connects riders and drivers together.
One of the most used apps in the world, Uber helps users bring a ride without waiting for a long time. By including Google Maps in their apps, they show the user as well as the driver the exact location at the time of booking, and the estimated time to reach the pick-up point.

The app service has simplified the payment process by incorporating a payment gateway (other than cash payment) associated with the user's credit or debit card and mobile wallet. In addition, after every ride, both the driver and the rider are requested to rate each other and share their feedback.
6. Airbnb
Airbnb is an accommodation booking app that helps users plan their vacations with locals.
While the aggregating platform lists apartments and boutique stays, the primary idea is to encourage homestays with the city's locals. Airbnb has a global presence, with millions of users opening their homes to tourists.

With the help of technology, Airbnb has created an exceptional user-friendly app that enhances the convenience of online booking. Users can search for suitable accommodation using multiple filters and also explore activities to do in the area.
With options ranging from villas to private rooms and shared spaces, Airbnb has proved to be a popular choice for leisure and business travelers.
7. Amazon
Amazon is one of the largest multinational tech companies that offers digital streaming, cloud computing, eCommerce and Artificial Intelligence (AI). It is a perfect example of innovation through technology.
In the commerce segment, Amazon has set up a number of unique processes that have created exceptional value for its customers, with the cashless store being one of them.
The app is light, as well as fast to use. This enables you to search and filter different types of products on different parameters with just a few taps.

The Amazon eCommerce app provides a seamless shopping experience with simplified checkout, fastest delivery options and easy navigation. And you also get the latest updates about the status of your order. To create an amazing app like Amazon you can also hire ios app developers at a fractional cost as the number of ios users has increased incredibly.
There are approximately 25,000 sellers with more than $ 1 million in sales on Amazon, and 200,000 sellers with more than $ 100,000 in sales.
8. YouTube
YouTube is considered the world's most preferred video platform for the people, and by the people. One of the most successful apps, it is a treasure trove of news and entertainment, it helps millions of creators to shoot and share unique content with their audiences.
The YouTube mobile app lets users subscribe to videos and also updates them with the most relevant and trending content on the platform. By signing in to YouTube on a mobile phone, users can receive channel subscriptions, receive regular notifications, and make recommendations.

The app has more direct navigation, autoplay of video features, full-screen playback and queuing features. Each visitor spends 11m 24s per day on YouTube, on average, based on data received from Alexa.
9. Snapchat
It is a social networking cum messaging application that can only be accessed through a dedicated mobile application. Look at the figures.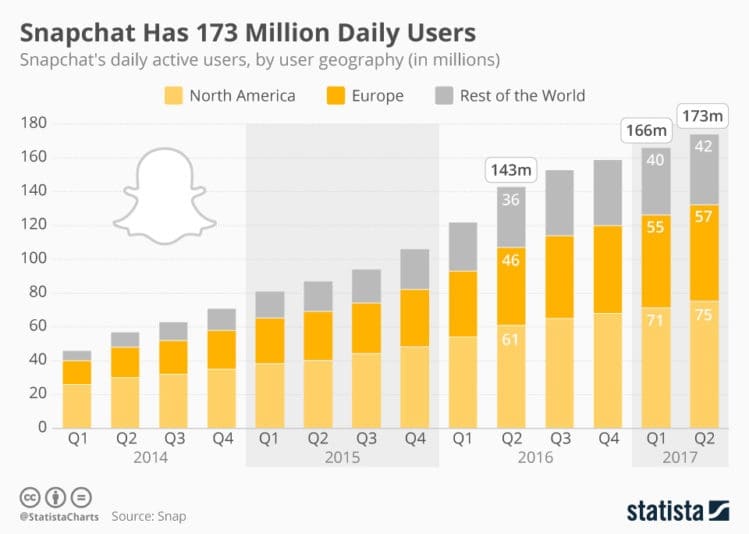 Yes, even Snapchat does not work on the regular web. The app allows users to chat with other Snapchat users and send messages, photos, short videos, and more.
10. Twitter
It is a microblogging website which is also available in the mobile app version.
The app works like a social news feed where you can follow other users, see the latest news and updates from industry leaders, and share your own thoughts about anything via a "tweet".

11. Google Pay(Tez)
Google Pay is a mobile payment app by Google, it is an app for all your payment needs. The fastest payments app has more than 1 billion - 5 billion downloads in the recent year.
With Google Pay, you can send and receive money very quickly, pay bills, buy online, recharge your phone and dish, pay at offline stores, bank to bank money transfer can be done. It is a simple and secure mobile payment app.
Bottom Lines
A mobile application helps accelerate business development and provides a personalized user experience. The most popular applications mentioned above are efficient at leveraging technology to become globally successful.
You can also reach the best mobile app development company in india to build a feature-rich application with the help of a skilled team of developers and designers, who can take your business to new heights.