Conversions can be influenced by the tiniest of details, and in the case of online stores, even the ecommerce icon set you're using can be a decisive factor in turning unique visitors into repeat customers. Animated SVG ecommerce icons made with SVGator will help lift your UI/UX work to new dimensions with an intentional approach for engaging customers.
Intentional engagement is easier to achieve when you add animated and interactive UI elements, like icons, into the mix. While we won't brush aside the importance of backing up your UI/UX designs with optimal performance, going the extra mile is what we stand for here at SVGator.
With user-centric designs in mind, we're happy to release our Free Animated Ecommerce Icon Bundle to help you get a headstart on creating the ultimate online shopping experience on the web, and on mobile with in-app animations! You can download both the animated and static ecommerce icon packs free. Read on to see how you can customize your free animated assets with SVGator.
Before we get to the goodies, go on a deep-dive with us to learn how animated ecommerce icons are changing the digital market game. Tips on must-haves and how you can design and animate your own ecommerce icon pack are included!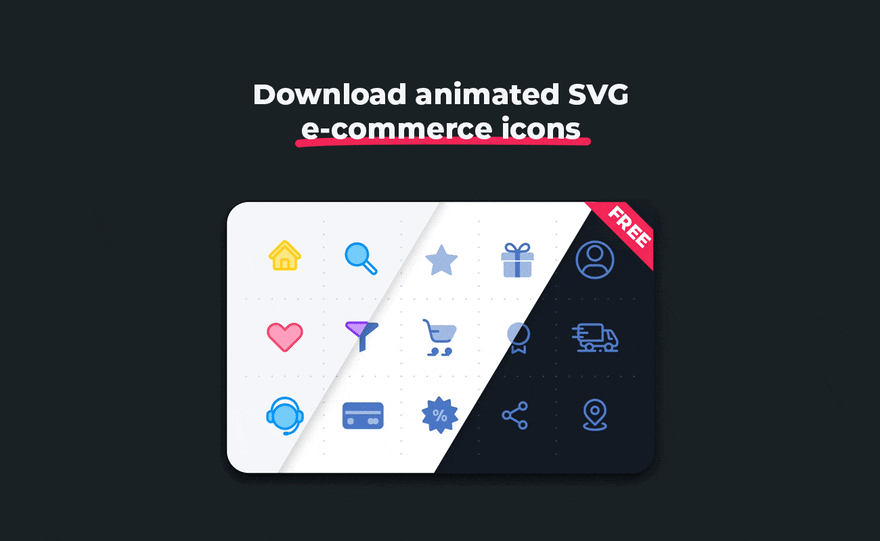 Create the Ultimate Online Shopping Experience with Animated Ecommerce Icons
Designing the greatest ecommerce customer experience is much like setting up a physical store. The main intent is to create the ideal atmosphere for the end goal: sales, a.k.a conversions. In both circumstances, the mission is to build an emotional connection and trigger that strong impulse that makes shopping feel like therapy.
Chain stores take advantage of that "feel good" state, attracting customers with a relaxing ambiance, strategic product placement, etc. On the web, and on mobile, we shape the ultimate user experience using performant design, easy-to-navigate layouts, and captivating and intuitive user interfaces — which include icons!
The potential of using animated ecommerce icons is sometimes overlooked because we're so focused on getting all the other crucial features sorted first. However, this should become an essential element in your eCommerce personalization, marketing, and branding strategies. While integrating your payment solution is vital, you can miss out on having a much more customer-centric UI if your iconography is simply an afterthought in the development process.
But why animated icons? The answer is linked to the five key objectives that the perfect ecommerce icon pack will help you achieve:
User engagement via interactivity
Animate your online store icon pack with SVGator and use hover effects and on-click/on-tap triggers to boost the interactivity factor, and user engagement along with it. Turn your price tag icon into a party popper with discount percentages you offer, or reveal what payment options you offer with an interactive wallet icon. Animated assets are ideal for a memorable online shopping session!
Branding
The best ecommerce icons for your brand are those that you can easily blend in with the rest of your branding strategy including your video marketing campaign. That's the reason why SVGator's animated free vector ecommerce icons are entirely customizable. Use them to strengthen brand recognition by customizing the online shop icon set to be in line with your brand's aesthetic, or include your mascot in the ecommerce app icon. The editing possibilities are endless and only a few clicks away!
And to take your brand strategy a step further you can create entire animated videos that will have a lasting impression on your audience and boost the success of your brand awareness campaigns. Use the services of a leading video animation company to bring the best results for your marketing strategy.
Performance
Animated vector ecommerce icons won't hinder your store's performance, be it on the web or on mobile. The exported files (.svg, .js, .dart) are optimized and lightweight — ideal for lightning-speed loading and the smoothest transitions. Get tips from SVGator's React Native and Flutter implementation guides for even smaller file sizes using Single Player Mode.
Usability
Improved usability on an ecommerce platform relies on efficiency. For example, in a text-heavy design with lots of product descriptions, an animated online shopping icon set will help anchor content, making it easier for users to navigate the store's UI.
What better way to secure the efficiency of your customer-centered design than by guiding the user at all times with engaging visual cues? Do this with animated discount tag icons for your "Sales" section, or with a morphing "payment-options" icon for quick and easy checkout.
Style
While online transactions aren't as glamorous as a shopping spree at the stores of NYC's Fifth Avenue, the endorphins associated with retail therapy are still there. Choosing the right UI elements is one way to recreate that shopping experience that online buyers desire!
Animated icons are the finishing touches of a UI that instills the feel of a high-end shopping session.The truth is that presentation sells, and the flair of your online shop's icons should help you achieve this. Like the soft-touch packaging of a luxurious brand, the ecommerce icons you use should be aesthetically pleasant and enticing.
Stick around and find out how you can create your own animated ecommerce icons with SVGator and export them ready-to-use for the web and for iOS/Android apps with no code writing at all!
Animated Ecommerce Icon Essentials & SVGator Freebies
UI design trends typically get reflected across all of the digital brand assets of an ecommerce business, from mobile onboarding screens to buttons, toggles, and, you guessed it, icons. Animating interactive UI elements is a future-proof approach that's compatible with any popular design style.
Create smooth color transitions for gorgeous gradient icons, or put in motion isometric, doodle, monochromatic, gliph, or minimalist icons. Whatever trend fits your shop's UI best, SVGator will always export your animated ecommerce icons as lightweight, ready-to-implement files (web and mobile exports!).
Your essentials, in terms of ecommerce icons, have to be lightweight, on-brand, discernible, and informative. Animation is the cherry on top! So, which ecommerce icons are must-haves?
Animated Ecommerce Shopping Cart Icon
A captivating shopping cart icon is an indispensable asset for any ecommerce store's UI. It is the visual cue that is most likely to help you increase conversions. An animated cart icon will garner attention easily, making the user's journey from browsing to hitting the "confirm order" button shorter.
Make the icon interactive with hover effects or on-click/on-tap triggers to make checking the cart feel even more like a personal interaction with your brand.
Animated Ecommerce Store Icon
Guide website visitors to your online store with a bubbly animated store icon! There's nothing worse than seeing sky-high bounce rates after you've put in the effort to create an outstanding online shopping experience. Setting your animated shop icon to start "on load" will instantly increase the chances of your marketing efforts being rewarded with an increased conversion rate. Push your store front and center by focalizing the user's attention on the goodies that are just one click away.
Animated Ecommerce Payment Icons
The days of "cash or card" are long gone, and now there are countless online payment services that customers can use to complete their online transactions. Wrap up these crucial pieces of information conveniently with animation! You can morph icons to display the most popular payment options, or simply use the animated icon to indicate where the user can easily find out more about all the available payment methods on your ecommerce platform.
Animated Ecommerce Filter Icon
Product filtering is one of the most convenient features an ecommerce platform can have. If your online store has a generous selection of products, it's easy for customers to get overwhelmed and just bounce off the page. Animate your filter icon to make it easy and intuitive for shoppers to shortlist their searches and hit the "Buy" button quicker!
Animated Ecommerce Customer Support Icon
Just as providing excellent customer service is a crucial part of building a user-centered ecommerce business, making customer support easily accessible to users is a must. When a client is searching for ways to contact you while shopping, frustration levels are already on the brink of rising due to the difficulties they've encountered. Use an animated customer support icon to preemptively make it obvious to users that you're there to help every step of the way!
Animated Ecommerce Gift Box Icon
Gift box icons are versatile and can signify different things, depending on the extra perks that your online store has. Shops typically use this icon to indicate that they sell gift cards, offer gift wrapping services, or that the item is suitable for gift-giving. Animating this icon can eliminate any sense of confusion and make the icon's intent clear from the get-go, making the shopping experience on your mobile app or website that much more intuitive.
Animated Ecommerce Trust Seal Icon
Trust seal icons are essential UI elements that help you build up your online store's image as a trustworthy, authentic, and reliable place to shop from. Cyber fraud of all kinds makes it hard for businesses to prove themselves to their customers, especially when it comes to newer prospects. An animated trust seal icon will help move users past that psychological barrier, and increase the chances that they will go through with their online purchases trustingly.
Animated Ecommerce Discount Tag Icon
Sale tag, price drop, discount tag icons — they're all meant to increase the sense of urgency that speeds up the decision making process behind online shopping. But when your ecommerce platform's UI is saturated with static red sale tags, the effect is not as impactful. Escalate the conversion influence of deals that clients won't want to miss out on with an animated discount tag icon. Captivating and effective!
Animated Ecommerce Shipping/Delivery Icon
In the era of contactless deliveries, finding shipping information for the physical products that you're selling should be foolproof. Use an animated delivery icon to:
redirect users to a comprehensive "Shipping & Delivery" page

guide shoppers to the "Delivery" section during checkout

indicate that you offer a shipping rates calculator

highlight that the product the customer is currently viewing includes free shipping
Interactive animation easily guides the user's attention to these key details that all customers look for when shopping online!
Animated Ecommerce Icon Set (FREE!)
One of the seven principles of icon design is consistency, which is paramount to creating a cohesive user interface and smoothening the business communication between shoppers and your online store's UI. To help you implement consistent iconography within your design, we've created an ecommerce icon set that includes all the essentials needed for an outstanding online shopping experience. And you can download it for free!
What does the free animated ecommerce icon set include?
Static SVG ecommerce icons (including all of the must-have icon types listed above!)
All static icons included in the free ecommerce icon pack come in three different styles: Outline, Solid Duotone and Colorful Duotone
Animated SVG ecommerce icons
Interactive animated SVG ecommerce icons
Animated SVG icons in .dart format for Flutter
Animated SVG icons in .js format for React Native
Terms of use:
Free for personal and commercial use, without an attribution obligation.
The perks don't stop there! You can fully customize all the free-for-download ecommerce icons with SVGator and align them with your brand's image with just a few clicks. No code writing and no extra plugins/software installs required!
Let's find out how!
How to Customize Your Free Ecommerce Icons With SVGator
Static Ecommerce Icons
Customize and animate the free static ecommerce icons from SVGator with the Free Forever Plan by creating a new project and importing the icons into the editor.
Change the stroke or fill color, size, etc. using the animator's intuitive interface.
Once the icons have an on-brand appearance, you can move and animate the icons as you please — going as subtle or as effervescent as you see fit.
You can apply this iconography designing method with any imported icon, as long as you have it in .svg format. If you're on a short deadline and don't have time to create your icons from scratch in our editor, you can use an icon marketplace like Iconfinder. Import your downloaded ecommerce icons from there to customize and animate them with SVGator.
Animated and Interactive Ecommerce Icons
Customize animated ecommerce icons with the Pro Plan by simply accessing the SVGator library and adding them to your project. You can fully customize these animated assets and turn them into sale-magnets, as part of the ultimate online shopping experience!
The work behind the smooth transitions and impeccable style continuity has already been done by SVGator's team of designers. All you have to do is make the animated icons match your store's identity.
You can also define the interactivity settings of the animated icons as you see fit, and export them to be used on the web (as .svg files) or on mobile apps (as .js files for React Native or as .dart files for Flutter).
Conclusion
Get a headstart on selling more, increasing customer retention rates, and offering a top-notch online shopping experience with our free animated ecommerce icon set! Guide shoppers with engaging and usability-centered iconography that you can easily customize to fit your brand with SVGator. Get started here!
Download SVGator-made animated ecommerce icon essentials and find out how each of them can help you secure more online sales!