Hi Taskaders  🎉
We've worked hard to make Taskade work better for you! Here's what's new:
Contents [hide]
⚡️Calendar Drag & Drop
You can now drag and drop calendar items to change task deadlines and ranges across all your projects and workspaces. Learn more.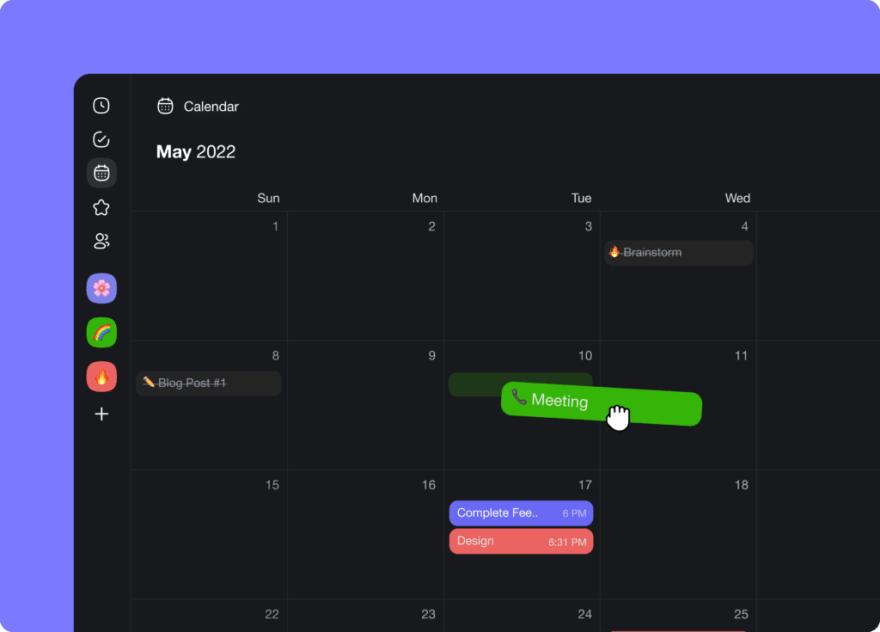 taskade calendar
⚡️ Search Filters
Filter search results by projects, tasks, and comments. Find what you are looking for across all your projects, folders, and workspaces. Learn more.
taskade search
⚡️ Browse Templates
Select the perfect template for your next project in the new project sidebar. Browse and search over 300 pre-made templates instantly. 
taskade templates
🎉 Other Improvements
Taskade for Desktop v4.2.2 Update: 

Screen sharing during video chat fixed
Open a new tab with CMD + Left-click (Mac)
General performance improvements and bug fixes

Taskade for Mobile v3.3.30 Update:

Fixed My Tasks and task dates being out of sync
Fixed due dates automatically and incorrectly adding time
Shared projects are now displayed for iPads and tablets
Bug fixes and performance improvements

New: Assignment menu for faster task and project assignment
New: Added options for timer & reactions to /slash command
Workspace admins can edit project settings regardless of project role
Improved My Tasks and Calendar display of tasks
Download Apps sidebar menu is now closeable
Bug fixes and performance improvements
| Thanks again for supporting Taskade, and as always, don't hesitate to reach out or visit our help center if you need help. We're here for you! 😊
--- Team Taskade 🐑
P.S. Want to help us improve Taskade? You can also suggest a feature. |