Hello to all! I hope you enjoyed my last article. Here are this week's top alien articles. These are the articles posted outside Dev.to, hence the moniker "alien". 👽
I hope you guys enjoy them!
1. 10 Common Design Mistakes… and How to Avoid Them
Many of us have made or are still making a lot of mistakes while designing. And there can be many reasons for this, like lack of planning, selecting bad typography, inadequate padding and spacing, messy iconography and more, that can have a very bad impact on our platform. This article by Maria Pisarenko explains some of those mistakes and how they can be avoided.
2. What Nature Can Teach Us About Notifications
Notifications play a very vital role in our life. Whether it is game notifications, message notifications or email notifications, it always helps us to keep an eye on the latest updates. But have you ever noticed how different type of notifications affects our mind? This article by Emmi Laakso explains some interesting stuff related to notifications.
3. What to Expect When Building A Minimum Viable Product (MVP)
What is MVP, why is it needed, what should be your expectations while building an MVP and what should you do after building an MVP? This article by Melissa Southern answers all these questions that will help you understand why we need this approach.
4. Preload, prefetch and other tags
Did you know about preload, prefetch, preconnect, dns-prefetch and prerender link relation type? Ivan Akulov explains all these in detail with their syntax and when to use them which will help you increase the app's performance.
5. Executing arrays of async/await JavaScript functions in series vs. concurrently
It becomes tricky while trying to execute async/await functions in series or parallel. This article will explain and help you understand how you can implement both these cases.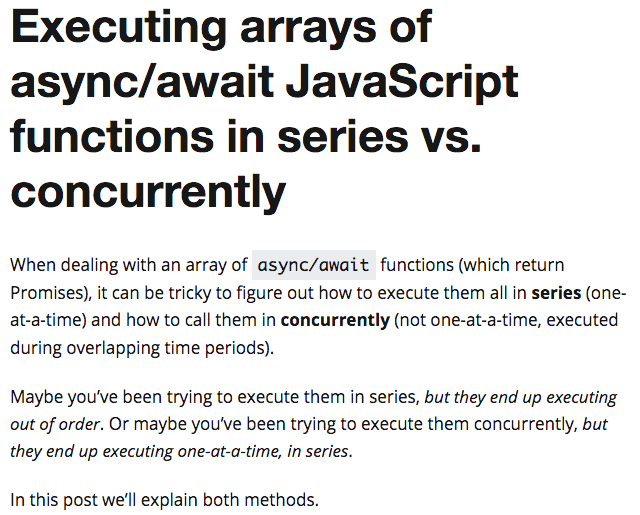 Let me know what you think!
Tell me in the comments which article you found most useful! Also tell me about your favorite dev blogs and share what you've been reading recently. Have an awesome day! ❤