Last updated May 6th, 2020
Gnome is one of my favorite desktop environments for a Linux system. Its modern and sleek approach to how a desktop should be laid out is unique and I love it. However, extensions help make the experience much better, so here's a couple of my favorite extensions that I use daily. I'll try to keep the descriptions brief and will provide all links.
1. Bluetooth Quick Connect
Bluetooth Quick Connect adds a toggle for bluetooth devices in the Gnome bluetooth menu. It works as expected and it's insane to me that this functionality isn't built into Gnome.
Gnome Extensions | GitHub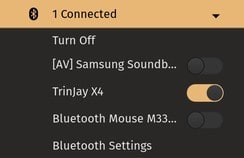 2. Clipboard Indicator
Clipboard Indicator is a clipboard manager that allows you to go back in your clipboard history. It sits on the top panel and does its job well.
Gnome Extensions | GitHub
3. Disable Workspace Switcher popup
This is an extension that gets rid of the little overlay that is displayed when you switch workspaces.
Gnome Extensions | GitHub
4. Fullscreen Notifications
The Fullscreen Notifications extension allows notifications to be displayed when a user is in a fullscreen app (F11). Useful if you still want to get notifications while gaming or something.
Gnome Extensions | GitHub
5. Run With PRIME
Run With PRIME adds a "Run with PRIME" option to the menu of all apps. This is extremely useful for people like me who have laptops that have two GPUs (Intel Integrated and Nvidia). This should only be used when running in hybrid graphics mode.
Gnome Extensions | GitHub
6. Impatience
Impatience is an extension that allows you to set the global animation speed for the Gnome shell.
Gnome Extensions | GitHub
7. Pixel Saver
Pixel Saver is an extension that removes the title bar and puts the window controls in the top bar when in fullscreen.
Gnome Extensions | GitHub
8. Refresh Wifi Connections*
Refresh Wifi Connections is an extension that adds a refresh icon to the Wifi menu.
Gnome Extensions | GitHub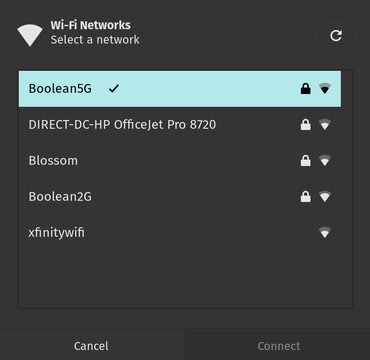 9. Remove Dropdown Arrows
This extension removes the dropdown arrows found in many of the menus in the top bar.
Gnome Extensions | GitHub
10. Remove Rounded Corners
Removes the rounded corners on the top bar.
Gnome Extensions
11. Top Panel Workspace Scroll
Allows switching of the workspace by scrolling on the top bar.
Gnome Extensions | GitHub
12. Transparent Top Bar
Makes the top bar transparent under certain conditions.
Gnome Extensions | GitHub
13. Middle Click Close
Allows you to close windows in the overview by pressing the middle (scroll) button.
[Gnome Extensions}(https://extensions.gnome.org/extension/352/middle-click-to-close-in-overview) | GitHub
Well, that's it.. for now! I'll continue to update this list with more extensions if I find more ones that I find useful, or if some break or have issues with new updates
If you have any questions or suggestions, feel free to email me at topik@topik.tech or join my Discord server.