Last updated April 19th, 2021
Extensions help fill in the hole of customization and functionality left by GNOME. More is being added with every update, but there is still a lot that isn't there. Below are my favorite GNOME shell extensions that I use with daily with my system. I will provide links and note what versions it is compatible with. The list is not in any particular order.
A word on compatibility: Some extensions don't work on the latest versions simply because of the required version in the metadata.json file. Adding any version to this file will make Gnome try to make it work, and sometimes it does. However, since the extension doesn't officially work on said version, things will probably break.
1. Bluetooth Quick Connect
Bluetooth Quick Connect adds a toggle for bluetooth devices in the GNOME bluetooth menu. It works as expected and it's insane to me that this functionality isn't built into Gnome.
Works on 40 and 3.38
Gnome Extensions | GitHub
2. Clipboard Indicator
Clipboard Indicator is a clipboard manager that allows you to go back in your clipboard history. It sits on the top panel and does its job well.
Works perfectly on 3.38, but the official version seems to be broken on 40. The fork works fine.
Gnome Extensions | GitHub
There is a fork of Clipboard Indicator that aims to add image support and works well on Gnome 40. Check it out here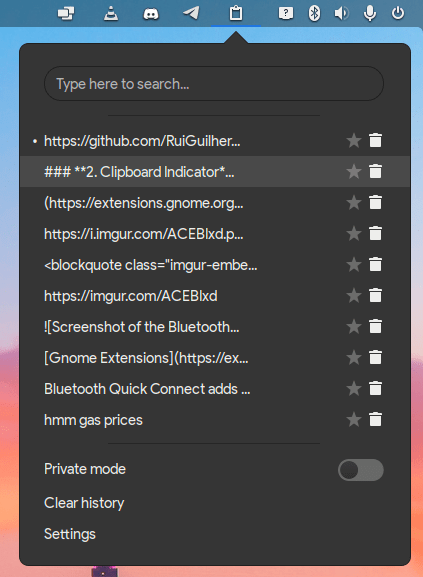 3. Disable Workspace Switcher popup
This is an extension that gets rid of the little overlay that is displayed when you switch workspaces.
The version on extensions.gnome.org works fine on 3.38, but the latest version from the Git repo must be used on 40. It's just one command, it's simple.
Gnome Extensions | GitHub
4. Fullscreen Notifications
The Fullscreen Notifications extension allows notifications to be displayed when a user is in a fullscreen app. It's useful if you still want to get notifications while gaming or something.
Works on 40 and 3.38
Gnome Extensions | GitHub
5. Impatience
Impatience is an extension that allows you to set the global animation speed for the Gnome shell.
Works on 40 and 3.38
Gnome Extensions | GitHub
6. Pixel Saver
Pixel Saver is an extension that removes the title bar and puts the window controls in the top bar when in fullscreen.
Works on 40 and 3.38
Gnome Extensions | GitHub

7. Remove Dropdown Arrows
For GNOME 3.x users only. This extension removes the dropdown arrows found in many of the menus in the Gnome 3 top bar.
Works on 3.38, not needed in 40
Gnome Extensions | GitHub
8. Remove Rounded Corners
For GNOME 3.x users only. Removes the rounded corners on the top bar.
Works on 3.38, not needed in 40
Gnome Extensions
9. Top Panel Workspace Scroll
Enables switching of the workspace by scrolling on the top bar.
Works on 40 and 3.38
Gnome Extensions | GitHub
10. Transparent Top Bar
Makes the top bar transparent under certain conditions.
Works on 40 and 3.38
Gnome Extensions | GitHub
11. Middle Click Close
Allows you to close windows in the overview by pressing the middle (scroll) button. The button can be changed.
Works on 40 and 3.38
Gnome Extensions | GitHub
12. App Indicators
This extension adds application icons to the top panel with menus that can serve many different uses. This extension is originally from Ubuntu.
Works on 40 and 3.38
Gnome Extensions | GitHub

13. User Themes
This is a simple extension that allows the shell theme to be changed from the default theme.
Works on 40 and 3.38
Gnome Extensions | Gitlab
14. Notification Banner Extension
This extension moves notifications to the upper right of the screen.
Works on 40 and 3.38
Gnome Extensions | Github

15. Hide Top Bar
This extension auto-hides the top bar. When the mouse is brought near the top, it reappears. If you're like me and like to have a few things on your screen as possible, this is a must use.
Works on 3.38, no 40 support yet
Gnome Extensions | Github
16. DuckDuckGo Search Provider
These extensions allow you to make DuckDuckGo searches from typing in the overview panel.
Works on 40 and 3.38
Gnome Extensions | Github

17. Disconnect Wifi
This extension adds a disconnect option to the Wifi menu, and a reconnect option when a network has been disconnected.
Works on 40 and 3.38
Gnome Extensions | Github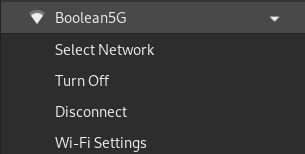 18. Draw on Your Screen
This extension allows you to draw on your screen using various tools, similar to Windows Markup.
Works on 3.38, no 40 support
Gnome Extensions | Gitlab
19. System Action - Hibernate
This extension adds a hibernate option among the power options in the menu.
Works on 40. Despite what it claims, it does not work on 3.38
Gnome Extensions | Codeberg

20. X11 Gestures
This extension adds Gnome 40's one-to-one gesture functionality to X11. Touchégg must be installed for this to work. Note that it is not as smooth as the default Wayland gestures.
Works on 40 only, as 3.38 does not have built-in gesture support.
Gnome Extensions | Github
20. Screenshot Locations
[Gnome Extensions]
Screenshot Locations enables you to change the location in which screenshots are saved. The fact that this isn't a built-in feature is simply ridiculous.
(https://extensions.gnome.org/extension/1179/screenshot-locations/) | Github