A month ago, I posted on twitter that I was learning git rebase at work and how scary it felt.
Zahra Khadijha 🤍

I'm learning a lot about git rebase and it is intense

19:49 PM - 14 May 2021
It got a lot of engagement from people feeling similarly about rebasing and some in the same boat as me where they felt that they didn't understand it.
A month later, practicing, watching A LOT of videos on it and rebasing almost every day, it's not so scary anymore. So I wanted to write up a tutorial on the best way I understand it in hopes that it helps you, too.
Git Rebase
The first thing to understand about git rebase is that it's designed to integrate changes from one branch into another branch. Rebasing will take all of the commits you've made on your feature branch and move them on top of the master commits that other team members have made while you were working in your branch. As a result, you'll have a nice clean tree, like so in the image, where my_awesome_feature_branch is your branch after rebasing with the master branch.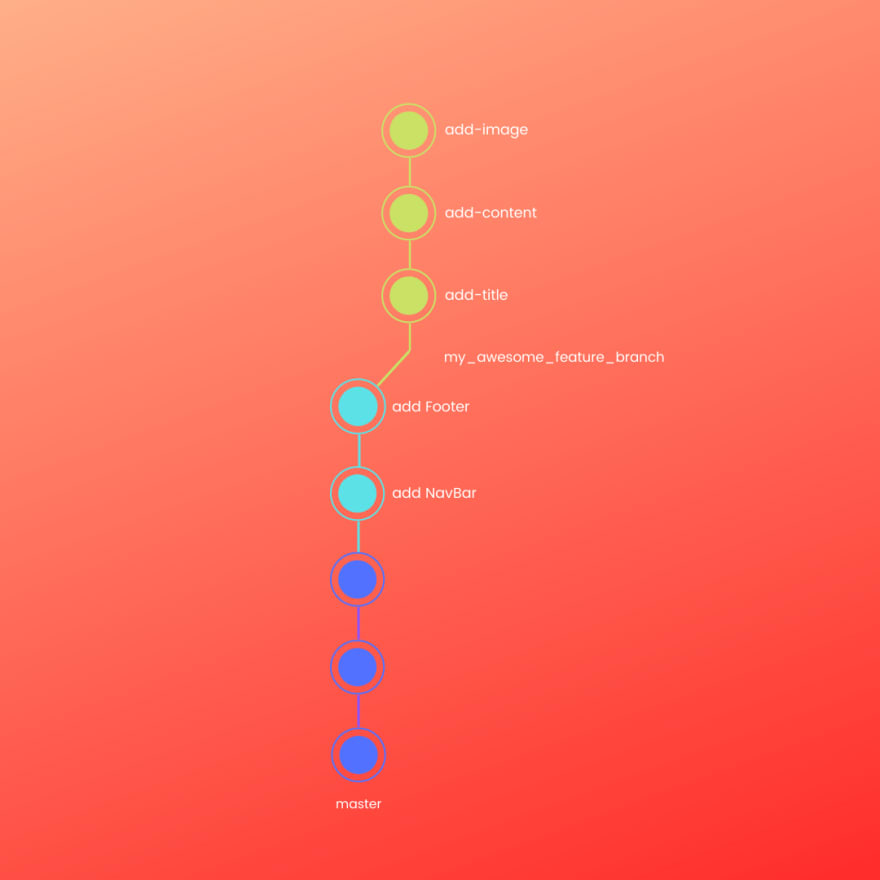 Here's HOW to Rebase
Let's say that that you got assigned to work on a really awesome feature on a massive project. This project is called The Really Cool Project. The first thing you'll always want to do is make sure that the local master is in sync with your remote master branch.
Open up your terminal, go into the project folder, and on your local machine, you'd want to run
Your local master branch should be up to date with the remote master.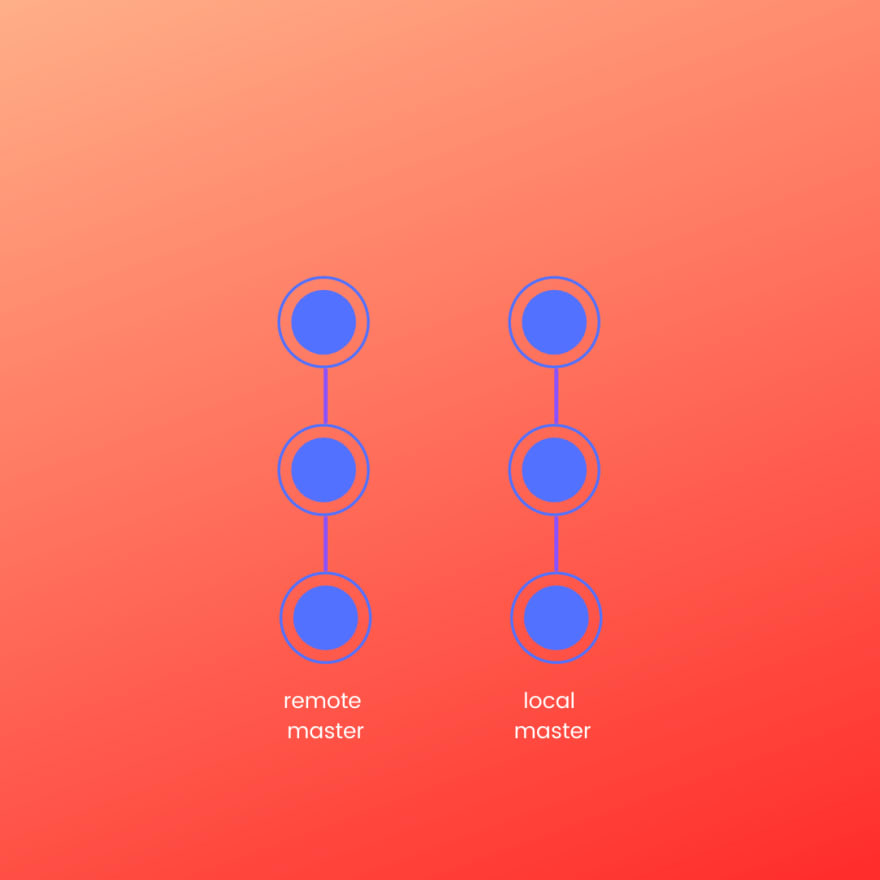 Next, you'll want to checkout into a new branch so that you can work on your feature without disrupting the master branch.
Run the following command

git checkout -b my_awesome_feature_branch

Now you should be in your feature branch, ready to build that awesome feature for your project.
You've decided that you want to add and style the title of this feature. So you make a commit within your branch

git add .
git commit -m "feature/add-title"
git push origin my-awesome-feature-branch

Your local branch now looks like this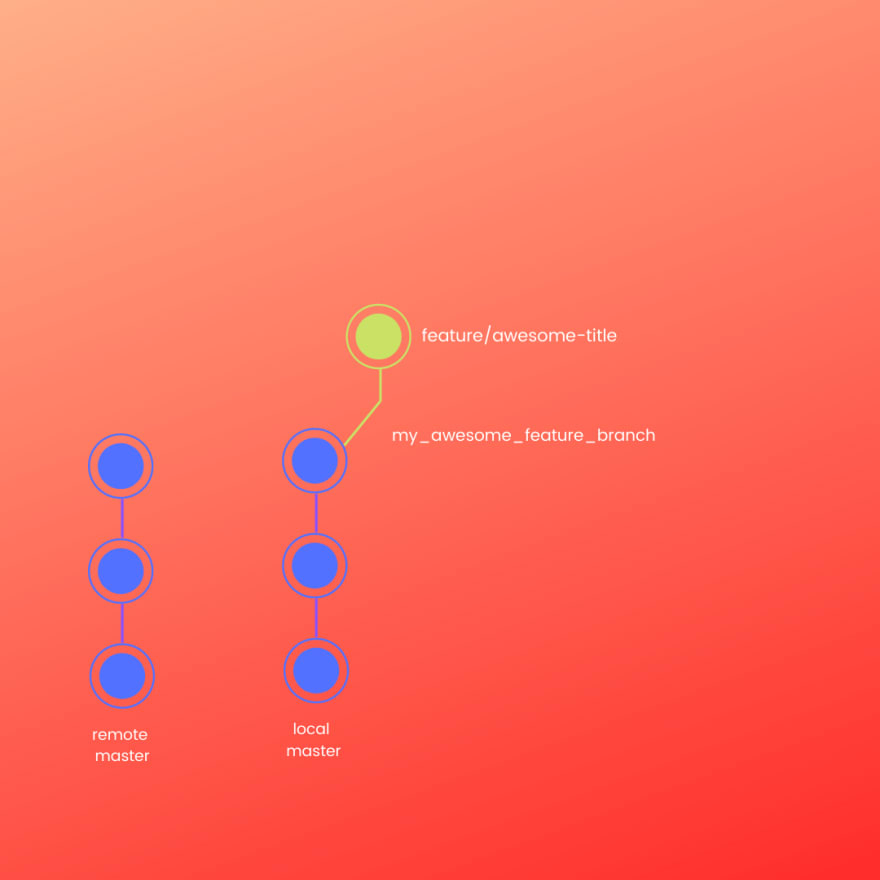 After making your first commit, you continue to work in your feature in your branch, adding more code and making progress on this cool project. You make another commit so your branch now looks like:
While you're working on your awesome feature, the rest of the team is working on some cool features too and they're merging their features to the remote master branch. Your teammate built a cool NavBar and finished it in two days, so it got merged into the remote master, while your other teammate built a cool Footer feature and it's also merged into the master branch. The git tree now looks like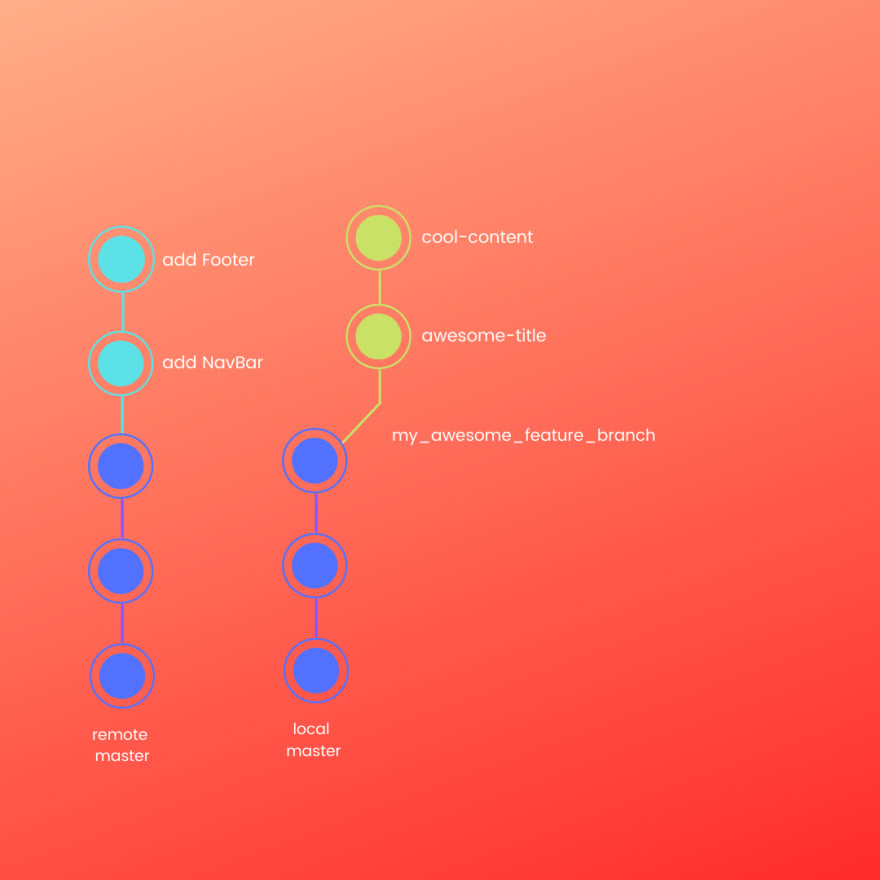 The remote master is not in sync with your local master anymore. And your feature branch is now behind and doesn't have the latest changes made in the development environment. You add another commit to your branch and decide that you're ready to merge your feature with master.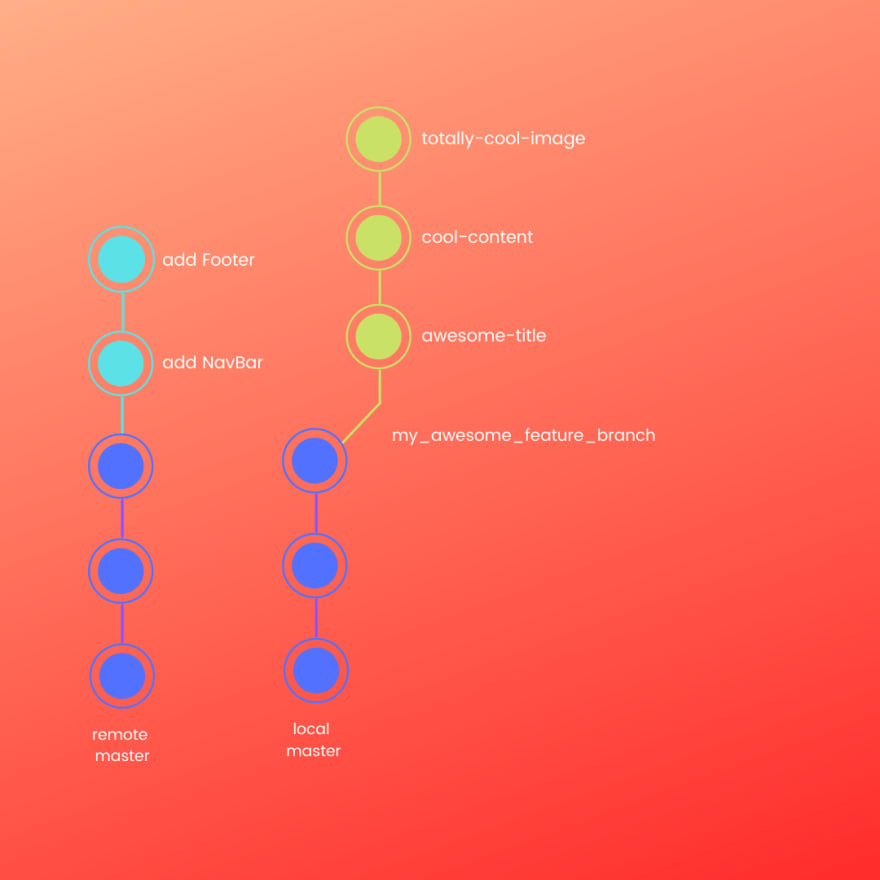 What you need to do now is rebase so that your feature branch is in sync with the remote master and that you're up-to-date with the latest changes to the master. This is the flow you'd want to run:

git checkout master
git pull

I now have all of my teams changes on my local branch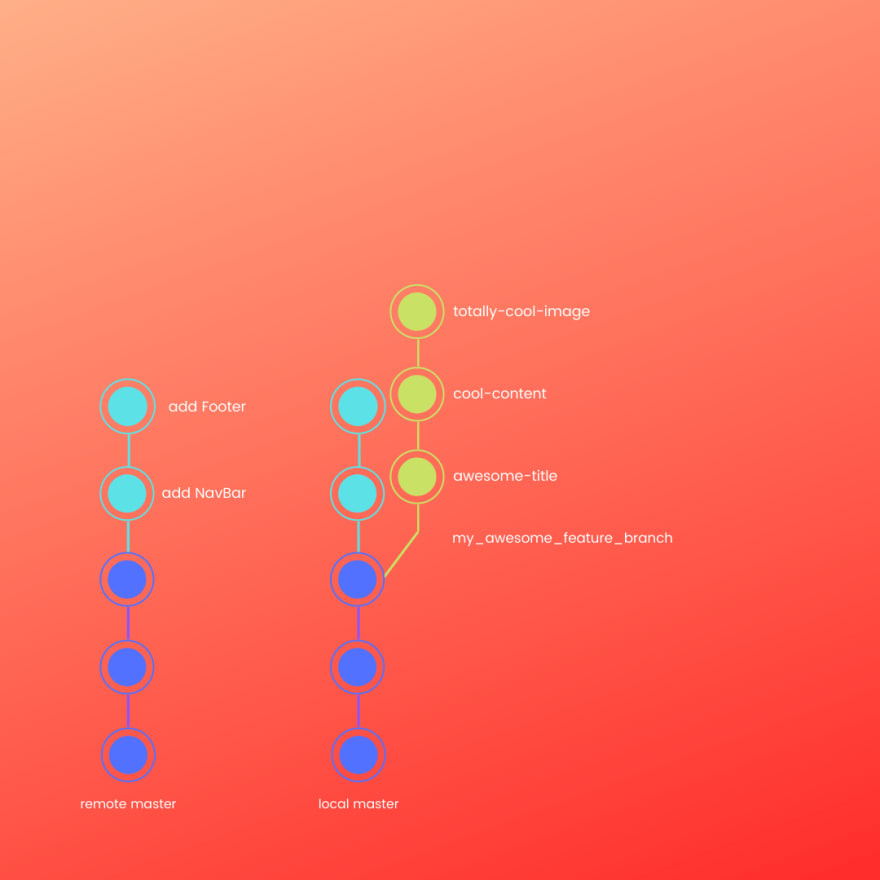 Time to REBASE!
So now I want to make sure that my feature branch will also be in sync with those changes so I'll check back out to it.

git checkout my-awesome-feature-branch
git rebase master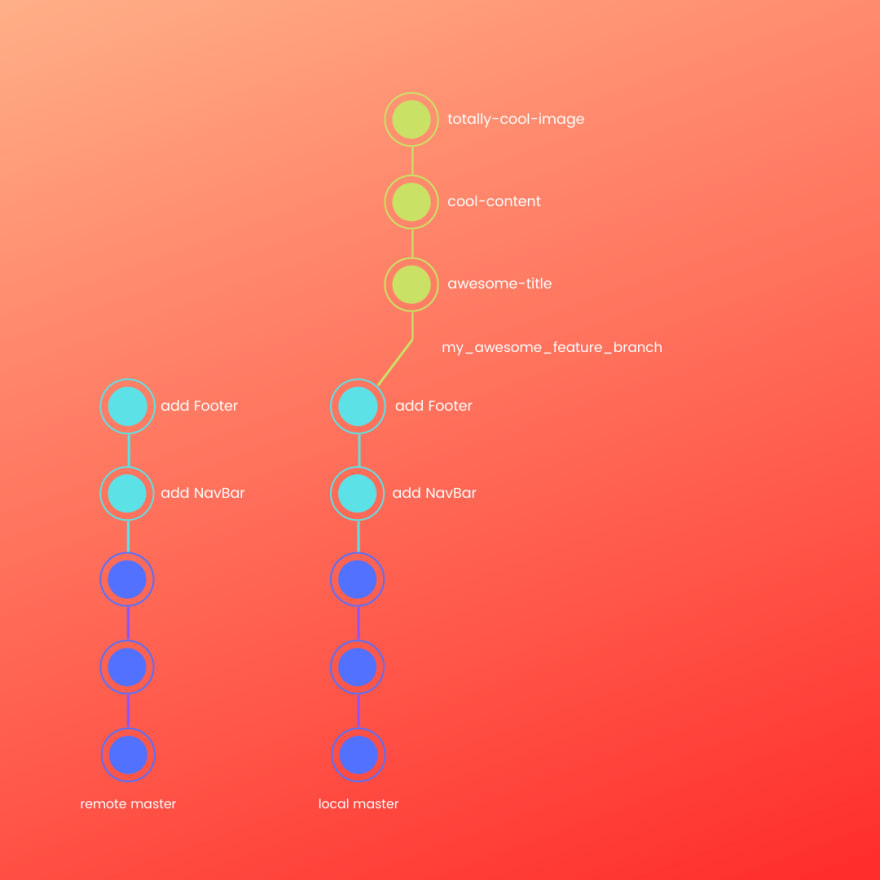 What just happened is that your changes have been integrated with the latest master branch. Assuming that you don't have any conflicts in your files, you're ready to merge into master. If you DO have a conflict in your branch, git will let you know and you'll have to resolve those conflicts. Usually those happen when you and another developer worked on a feature that required you to make changes in the same file.
Follow Up Reading: